Coupes on the King – 4/9/19
Eight racers showed up to run retro-Coupes on the King this past week. Racing was in the 4/4 format.
Coupes in Tech:
From the start it looked like the race might be a repeat of last week's Can-Am race on the King which saw John Weaver take the win with Dave Panich and Bob "Woody" Hazelwood in 2nd and 3rd. This week Weaver jumped out to an early lead as Dave and Woody gave chase. By the move to the inside lanes John had logged 159 laps and was 3 laps up on Dave with Woody another 6 laps back. Richard Payne was in pursuit, trailing Woody by just two laps while Tom Smith and Dan Savage were in a battle for 5th at 139 and 138 laps respectively. At the back of the pack Wayne Secore and Dick Griffin were tied with 134 laps each.
At the start of the second half Woody had a tire loosen which caused his gears to un-mesh (if that's a word), costing him some time…not once, but twice! Richard seized the opportunity and was able to slip by into 3rd place. By the time the checkered flag flew, the lap totals revealed four distinct sub-races as Weaver claimed the win by 4 laps over Dave, Richard took the bottom podium step by 2 laps over Woody, Tom held on to 5th place by 2 laps over Dan and Wayne pulled ahead of Dick by 2 laps to close out the field…some pretty close racing from front to back.
Weaver and Dave posted identical 4.436 second laps to tie for fast lap honors (John was experimenting with a considerably lower gear ration than usual which might explain why Dave was able to match his effort).
Final Standings, laps completed, fast-lap time and lane:
John Weaver             317/11         4.436      YL

Dave Panich              313/11         4.436      YL

Richard Payne          299/12         4.609      BL

Woody Hazelwood    297/12         4.554      RD

Tom Smith                 279/6           4.827      WT

Dan Savage              277/12         4.663      WT

Wayne Secore          264/12         5.054      WT

Dick Griffin                262/11         5.155      RD
UPCOMING EVENTS:
         MVH Tuesday Night Retro-Race Schedule for the remainder of April:
               April 16               Stock Cars on the Aristocrat
               April 23               Can-Am on the Figure 8
               April 30               F-1 on the Royal
         NERR Season Finale at 1010 Raceway in Bristol, CT:
               April 27               Can-Am on the King
Podium: (L to R):  2nd Place – Dave Panich, 1st Place – John Weaver, 3rd Place – Richard Payne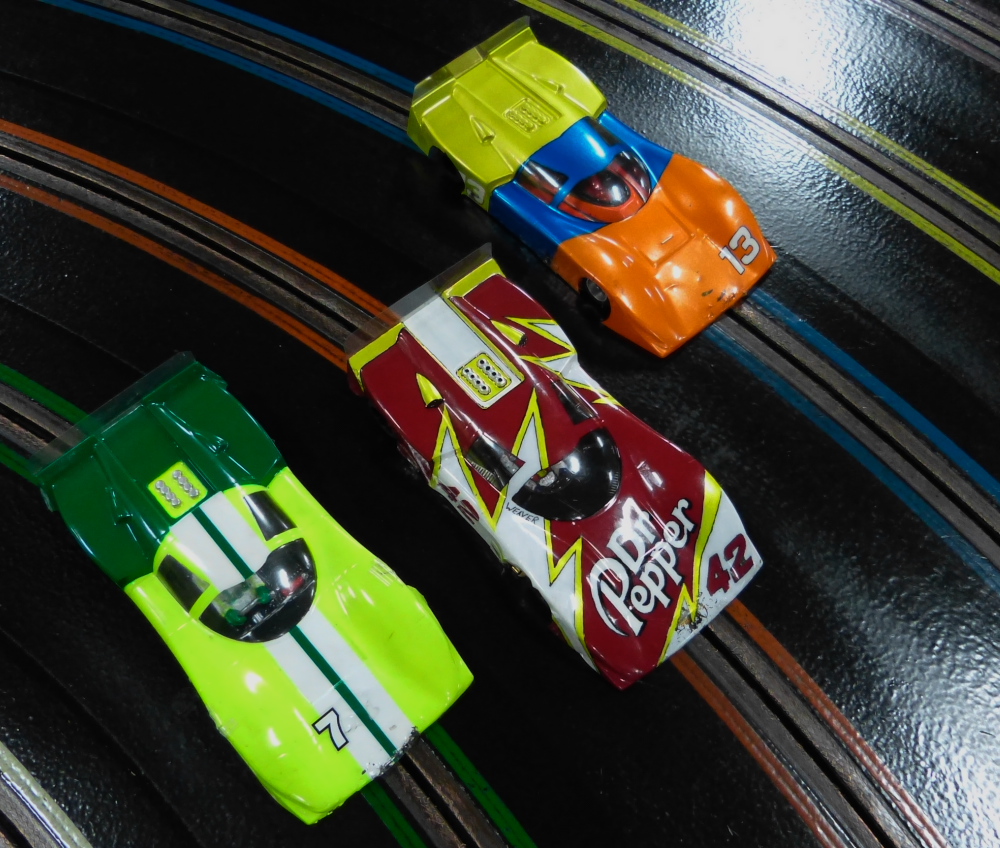 John's 1st Place Chassis: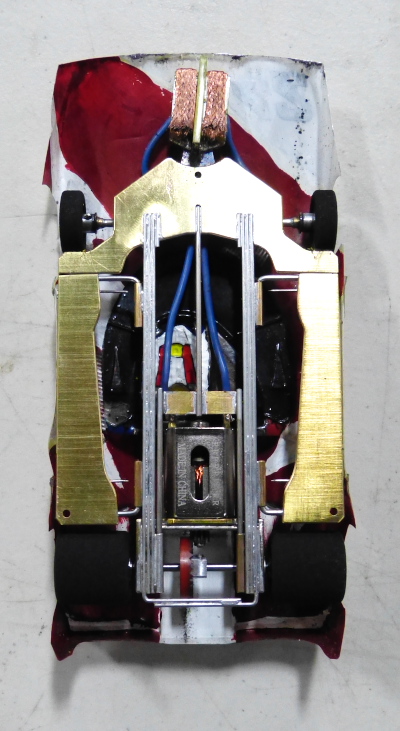 Dave's 2nd Place Chassis:
Richard's 3rd Place Chassis: