Can-Am on the Sovereign – 5/7/19
John Weaver and Ernie "The Ernstigator" LaChance joined seven MVH regulars to run Can-Am on the 220' American Purple Mile this week. There were just enough drivers to cover the corners and race four lanes at a time in the 4/4 format.
Cars in Tech: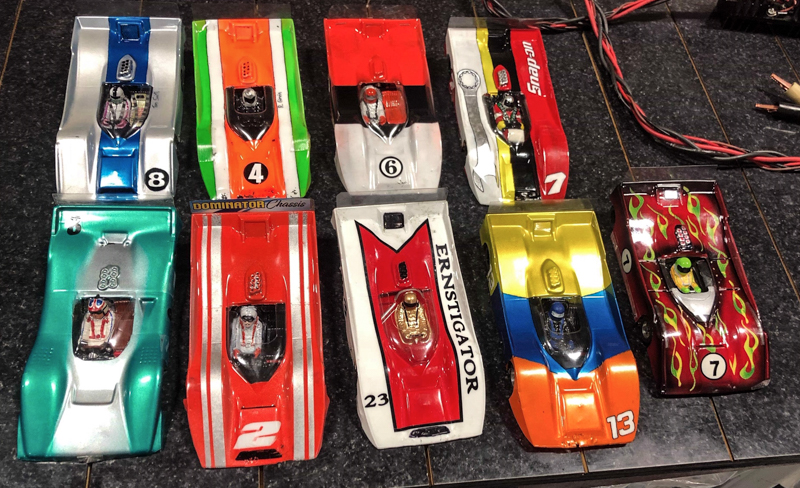 Weaver jumped out to an early lead and never looked back as his best lap time was almost a full 3/10ths faster than anyone else in the field. The fight of the night was for the other two podium positions as Ray Lee, Bob "Woody" Hazelwood, Richard Payne, The Ernstigator and Rich Girvin were all in the hunt. At the change to the inside lanes, Weaver was leading the field by 8 laps with a 94 lap total. Ray and Woody had both posted 88 and were followed closely by Richard P (87), Ernie (86) and Rich G (85). In 7th, Tom Smith logged 82 laps to Dan Savage's 79 and Wayne Secore's 72.
The race for the bottom two podium positions heated up after the move as Ray pulled away from Woody while Ernie was able to improve on his first half total, ultimately beating Woody by just 3 track sections to the final step on the podium. Dan and Tom had the other close race of the night as Dan slipped past Tom to take 7th by 10 track sections. Weaver won by a more-than-comfortable 10-lap margin.
Weaver also claimed the fast lap of the evening while Woody's 2nd fastest time was only good enough for 4th place. The Ernstigator drove well as his 5th fastest time got him to the podium.
Finishing order, laps completed, best-lap time and best-lap lane:
John Weaver            187/21    7.406      OR

Ray Lee                    177/29    7.687      GN

Ernie LaChance       173/30    7.851      WT

Woody Hazelwood   173/27    7.679      RD

Richard Payne         172/28    7.844      OR

Rich Girvin               168/18    8.117      OR

Dan Savage             163/27    7.960      OR

Tom Smith                163/13    7.913      RD

Wayne Secore         143/12    8.843      WT
UPCOMING EVENTS:
         MVH Tuesday Night Retro-Race Schedule for May:
               May 14                Coupes on the Aristocrat
               May 21                Stock Cars on the Figure 8
               May 28                Formula 1 on the King
         NERR 4 Hour Enduro at MVH:
               May 18                Coupes on the King
Podium (L to R): 2nd Place – Ray Lee, 1st Place – John Weaver 3rd Place – Ernie LaChance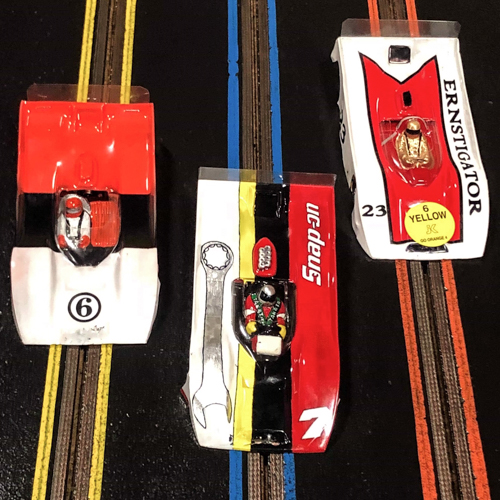 Weaver's 1st Place Chassis:
Ray's 2nd Place Chassis: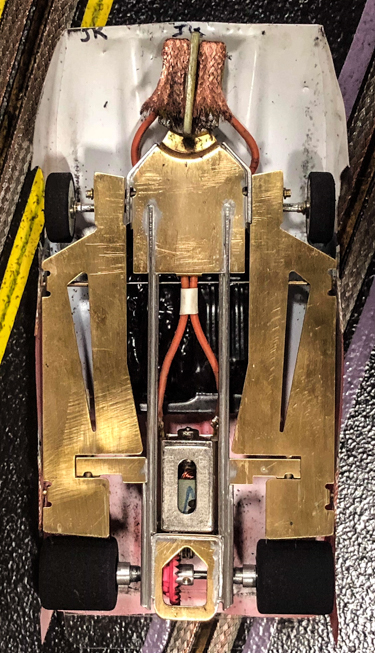 The Ernstigator's 3rd Place Chassis: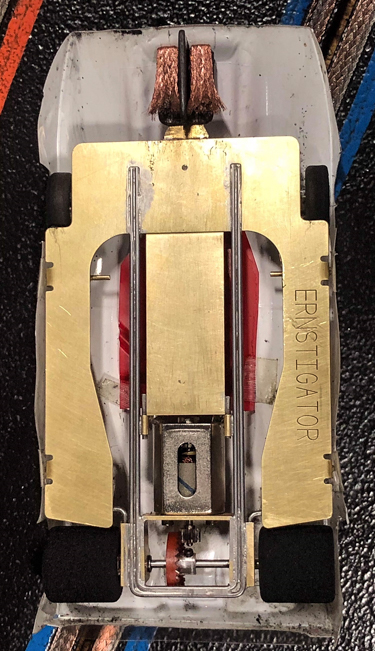 Thanks to Dan Savage for the photos. I was unable to attend the race