Retro Coupes on the Aristocrat – 5/14/19
We had a relatively large turnout for this week's MVH Tuesday night retro race, but not quite large enough to run all eight lanes. Thus, with 11 racers, we ran 22 heats in the 4/4 format, so there were plenty of marshals but it made for a really long evening.
10/11ths of the Field on the Tech Table
It looked like we'd be running with 10 entries until the absolute last moment when Dan Savage walked in to make it 11. With no time to warm up or test his car out, Dan got off to a shaky start with a smoked motor less than two full laps into the race. He switched to a back-up car that wasn't quite ready for primetime and struggled with it for the first few heats resulting in many of the frontrunners getting "savaged" early on.
By the move to the inside lanes, John Weaver had logged 141 laps and held a two-lap lead on Dave Panich. At 135 laps, Bob "Woody" Hazelwood was running 3rd with Peter Lentros and Ray Lee tied for 4th one lap back. In 6th place, Ernie "The Ernstigator" Lachance and Rich Girvin were in another tie with 128 laps to Richard Payne's 127. Several laps behind the frontrunners, Tom Smith was two laps up on both Wayne Secore and Dan who were in the final tie at 119 laps apiece.
With three ties in the first half things were bound to change with the move to the inside lanes, but as it turned out it didn't impact the podium. Weaver cruised to a 6-lap victory. Dave stayed in 2nd place, finishing 5 laps up on Woody who took the final podium spot. In the race to settle the first tie, Peter got the better of Ray, taking 4th by a 3-lap margin. In the closest finish of the evening, The Ernstigator took 6th over Rich G by 21 track sections. Dan was able to sort his back-up car out in the 2nd half, getting out of the tie with Wayne but also cruising past Tom to finish 9th.
Weaver posted the fastest lap of the night, a 4.495 on purple, as well as claiming the fastest lap in every lane (the race software on the Aristocrat tracks this!).
Finishing order, laps completed, best-lap time and best-lap lane:
            1)      John Weaver             292/24    4.495   PU
            2)      Dave Panich             286/7      4.595   BK
            3)      Woody Hazelwood    281/2      4.707   PU
            4)      Peter Lentros            279/19    4.747   BK
            5)      Ray Lee                    276/22    4.756   BK
            6)      Ernie Lachance         267/24    4.791   PU
            7)      Rich Girvin                267/3      4.922   BK
            8)      Richard Payne          265/19    4.770   PU
            9)      Dan Savage              246/3      5.012   BK
            10)    Tom Smith                245/6      5.276   BK
            11)    Wayne Secore          239/3      5.185   BK
UPCOMING EVENTS:
         MVH Tuesday Night Retro-Race Schedule for the rest of May:
               May 21                Stock Cars on the Figure 8
               May 28                Formula 1 on the King
         NERR 4 Hour Enduro at MVH:
               May 18                Coupes on the King, doors open at 7:00 am, race starts at 9:30 am
"All Jackal" Podium (L to R): 2nd Place – Dave Panich, 1st Place – John Weaver, 3rd Place – Woody Hazelwood
Weaver's 1st Place Chassis: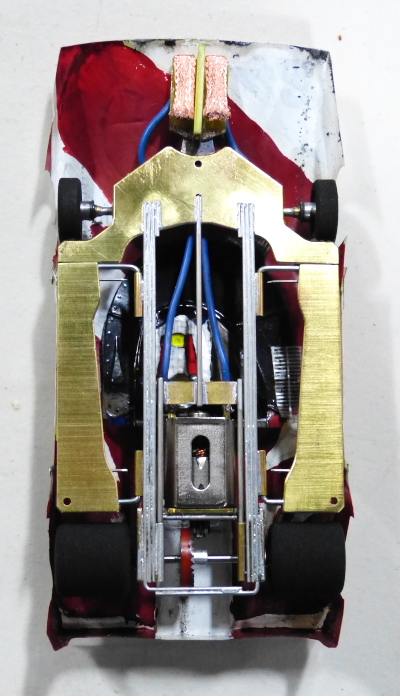 Dave's 2nd Place Chassis:
Woody's 3rd Place Chassis: