Our race meet for May fell on a rainy (snowy at my house) Sunday the 19th at Fast Track Hobbies in Rocklin. With weird weather, some personal commitments and the finale of the Nor Cal flexi series at Motown the day before, our turnout was still pretty good. This month we had most of the FTH crew including Jeffrey Cone, Richard and Buddy Matthews, Ray Williams, Gray Brown, Mike (POPS) Cassar, Randy Keil, and Randy Sizemore. The traveling contingent consisted of Herman James, Justin Colvin, John Wilbur and myself. We were also joined this month by well known So Cal racer Tim Woods who races at Buena Park Raceway. Tim dropped in unexpectedly but I was able to set him up with a Can Am and a Stock Car along with my spare controller. Tim got in about 30 mins of practice on the Kingleman and was ready to go.
Our first race would normally be Can Am but Pops was running late so we switched and ran Stock Cars on the Kingleman first to give him a chance to get to the track. We ran a center six format for this race and had good marshal coverage thanks to some volunteer work by Gary. Early on, it was obvious that Justin was the hare and the rest of us were the hounds. Justin was never really challenged and he cruised in with a 5 lap win. Herman ran a very clean race and managed to stay in the same time zone as Justin while I had a very good car but an inconsistent driver so I finished third behind those two. Richard was very good and he ran a solid fourth followed by Big John, Ray, Buddy and Randy K all with one lap separation between each place. Tim ran a good race as he learned the track and the unfamiliar car while staying out of trouble. Randy S (who is a reforming drag racer) was never a traffic hazard and he really ran a good race while learning about turns.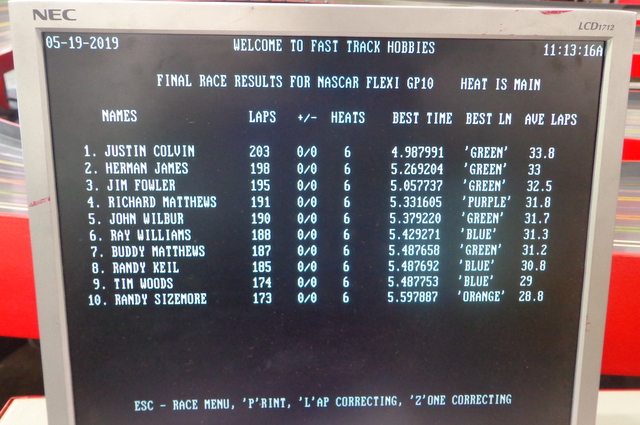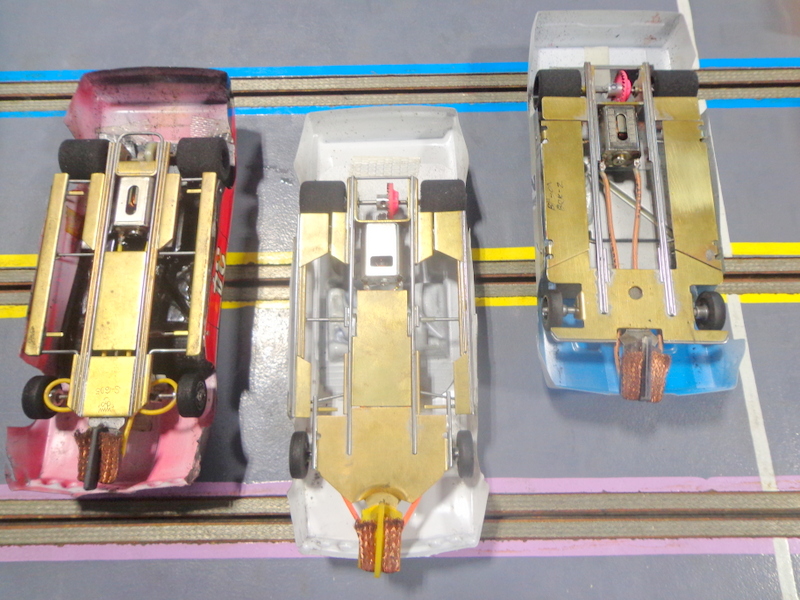 We stayed on the Kingleman for Can Am and with a field of 13 racers, we ran a normal 8 lane rotation. There was a four man lead pack at first with Herman, Jeffrey, Justin and Jim running similar speeds. I dropped out of that pack pretty quickly due to a series of mechanical issues. This left a pretty clear lead pack of three with each racer running good 38-39 lap heats. Herman wasn't running away but he did put distance on the next two each heat. Jeffrey was going very fast even running a 40 lap heat at one point but he wrecked a bit too much. Justin had a disastrous traffic heat on black which kept him from being closer to the lead.
Buddy and John were close for the whole race with Buddy being more consistent in taking fourth with John fifth. Ray was pretty much by himself in 6th with Gary and Tim following and only a lap between them. Pops ran a borrowed car to a respectable finish and the rest of the field had various issues causing pit stops or eventual retirement.
Our last race of the day was for F-1s on the flat Yellow Dragon road course. My Vertigo situation caused me to need a little time off my feet so we took a break before the last race and thanks go out to everyone for their patience. Tim elected not to challenge the 11 turn beast of a track with basically no practice at all but he did stick around to help turn marshal. With 10 racers, we ran center six and with Tims help, had good marshaling coverage. I started on white with a good 28 lap run and then went to sitouts. Justin ran a 29 followed by a couple of 28s for a lead in lap average. Herman started with a 27 followed by several 28s so he was in the hunt as well. Richard ran a very consistent race all day as did Buddy. When I came back in, I ran another 28 but then had a series of very inconsistent heats which dropped me out of contention.  Herman ran well but was not quite as consistently fast as Justin and settled for second. I finished with a very good 29 in my last heat and finished third by one lap over Richard who was followed in by Buddy. Ray and Gary finished on the same lap with Ray just squeaking in for sixth. They were followed in by Randy K, John and Randy S.
Thanks go out to Dwight and Crew, Randy K for helping with the sign ups and also taking care of track cleaning almost single handedly over the last week and Justin for punching in names. Kathy Wilbur directed all three races and Tim Wood and Gary did volunteer marshaling work when not racing.
Our June race will be at Motown and will be one week later than normal (on the 23rd) due to working around Father's day. The next race will be one of our two midsummer four race days and will include one switchup class where we will run Stock Cars as an additional race on the flat track.
Can Am – Hillclimb
Pro Coupe – Hillclimb
Formula -1 Korkscrew (switchup)
Stock Cars - Korkscrew