Formula 1 on the King – 5/28/19
Formula 1 returned to the King track this week at MVH with eight Tuesday night regulars on hand. The race was run in the 4/4 format with 4 marshals and the magic button for the lead-on marshal to trigger track calls.
F-1 Cars in Tech:
Ray Lee and Ernie Lachance set the pace with the only laps in the 4.5s while Woody Hazelwood and Dave Panich gave chase on their way to logging identical 4.609 best lap times. Fast laps don't always result in a front-running car which was exactly what Ernie experienced as he struggled to stay in the slot.
At the change to the inside lanes the standings were close throughout the field. The first four cars were each separated by two laps with Ray out front at 154 laps, followed by Dave, Woody and Ernie. Richard Payne was somewhat alone in 5th , 4 laps behind Ernie and 10 laps up on Wayne Secore. With 134 laps at the half Wayne was the "leader of the back", enjoying a one-lap lead on Tom Smith and a 2 lap lead over Dan Savage.
The inside lanes proved to be a challenge to the entire field as no racers improved on their first half totals. Ernie posted the best second half of the night while Woody struggled with braid issues that produced inconsistent results (putting him in a tie for the worst 2nd half of the night with Dave). When the dust settled, Ernie had capitalized on Woody's inconsistency to slip into 3rd place by one lap. Meanwhile, Ray continued to cruise, taking the win by 7 laps over Dave in 2nd place.  
Richard finished 10 laps off Woody's pace but 19 laps ahead of 6th place Wayne. Tom and Dan closed out the field separated by 2 laps each.
Ray had the fast lap of the evening. Clearly the white lane was the fast way around the King tonight as three quarters of the field posted their best lap on white.
Final Standings, laps completed, fast-lap time and lane:
Ray Lee                   305/16    4.546      WT

Dave Panich            298/14    4.609      WT

Ernie Lachance        295/13    4.562      WT

Woody Hazelwood   294/10    4.609      WT

Richard E. Payne     284/13    4.836      WT

Wayne Secore         265/4      5.061      RD

Tom Smith                263/2      5.155      RD

Dan Savage             261/8      4.875      WT                                               
Upcoming Events:
      MVH Tuesday Night Retro-Race Schedule for June:
            June 4             Coupes on the Royal
           June 11           Can-Am on the Sovereign
           June 18           Stock Cars on the Aristocrat
           June 25           Coupes on the Figure 8
Podium: (L to R):  2nd Place – Dave Panich, 1st Place – Ray Lee, 3rd Place – Ernie "The Ernstigator" Lachance
Ray's 1st Place Chassis:
Dave's 2nd Place Chassis: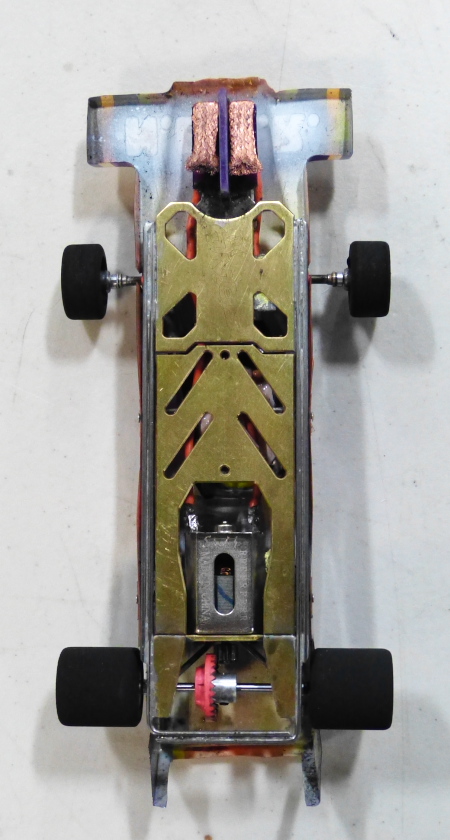 Ernie's 3rd Place Chassis: