Coupes on the Royal – 6/4/19
Retro Coupes made a rare visit (it has been over a year) to the 95' American Royal this week with a field of seven MVH regulars. Racing was in the 4/4 format with two marshals, one guy to run the computer and a few too-many track calls.  
Dave Panich jumped out to the early lead as Ray Lee and Ernie Lachance gave chase. By the move to the inside lanes Dave held a two-lap lead on Ray while Ernie was another five laps back. Peter Lentros was having some handling problems that put him off the pace of the leaders and limited his first half total to 162 laps while Rich Girvin was keeping him honest, just one lap down. At the back of the field Richard Payne and Tom Smith were tied with 156 laps each.
Richard P had the best second half of the evening (no thanks to Dave, who "Savaged" him multiple times), adding 5 laps to his first half total while Peter was also having a good second half, finishing 3 laps to the better. Four drivers equaled their 2nd half total while one driver (who will remain un-named) went slightly backwards but it was all academic, as the finishing order didn't change from the first half.
Dave took the win by 4 laps over Ray while "The Ernstigator" claimed the bottom podium step, 10 laps back. Peter was the "best of the rest", opening a 5-lap lead on Rich G while Richard P's second half total gave him a 6-lap advantage over Tom.
Dave's 3.835 lap on blue was good enough for the fast-lap honors with Ernie just off his pace and Ray the only other driver to post a sub-4 second lap. Peter and Rich G ended up with identical 4.054 best-laps.  
Finishing order, laps completed, best-lap time and best-lap lane:
            1)      Dave Panich            352/20      3.835      BL
            2)      Ray Lee                    348/9        3.945      WT
            3)      Ernie Lachance        338/21      3.898      GN
            4)      Peter Lentros           327/6        4.054      BL
            5)      Rich Girvin               322/15      4.054      YL
            6)      Richard Payne         317/23      4.163      YL
            7)      Tom Smith               311/15      4.234      YL
MVH Tuesday Night Retro-Race Schedule for June:
             June 11           Can-Am on the Sovereign
            June 18           Stock Cars on the Aristocrat
            June 25           Coupes on the Figure 8
Podium (L to R):  2nd Place – Ray Lee, 1st Place – Dave Panich, 3rd Place – Ernie Lachance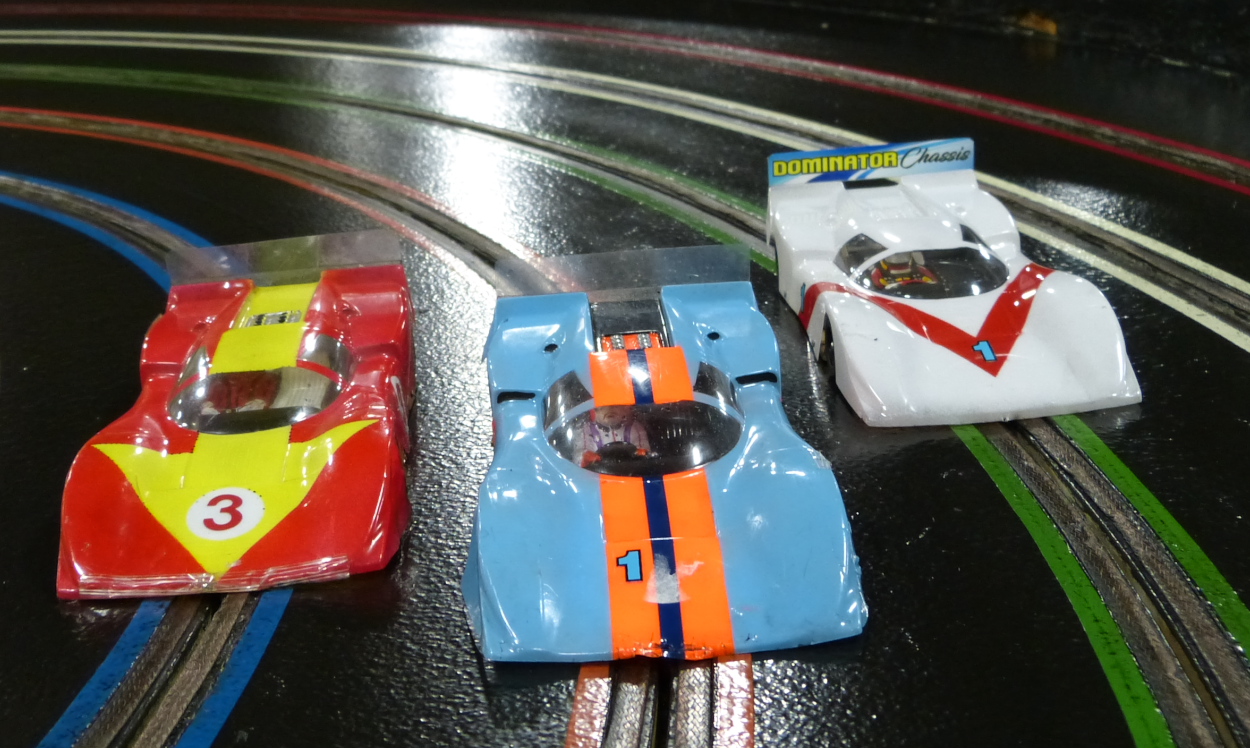 Dave's 1st Place Chassis:
Ray's 2nd Place Chassis:
Ernie's 3rd Place Chassis: