After having these field tested, the last 3-4 months, by some of the top racers in the country, and not hearing of any downside. I've decided to officially announce these.
Racers may of noticed these on quite a few, winning and podium cars, with the brass rectangle, visible in the top view of the post.  
While the top guys don't hit stuff, as much, they have related about taking some real bad hits in practice, with the post support doing it's job.  
The inspiration behind these, were racers, were occasionally still snapping their guide post, even on the stronger graphite version of the Red Fox guide, so I came up with a way to both Low CG, weight them, and provide even better post support than when I was pinning the original, "new" Red Fox non-graphite flag, starting a few summers ago, with a piece of .039" to .045" wire.  
Instead of using just common, 1/4" x .025", K & S brass strip, I had a somewhat complex shape, CNC milled, from top .025" brass, to both provide a .093" wide strip to reinforce the post, which is also, even wider at the non threaded part, at the base, to absorb the load, at the back of the guide tongue.  
The neat part is the vertical slot, in the back, of the post "seals" up, when threaded, as the bottom pic shows.  
With having the post supported, I'm now comfortable enough to offer the Red Fox dyed plastic, in a Low CG version.  
I will try to honor color choices, if possible,on the dyed plastic, but at least in the beginning, I won't be stocking many.  
New style in either graphite or plastic - unthreaded - $10.00 each  
New style in either graphite or plastic - threaded - $10.50 each  
Same $$ discount available to legitimate raceways, as I have with the original Low CG flag.  
I will continue selling the original Low CG flag.  
Before threading.
After threading. Nuts go on, no differently.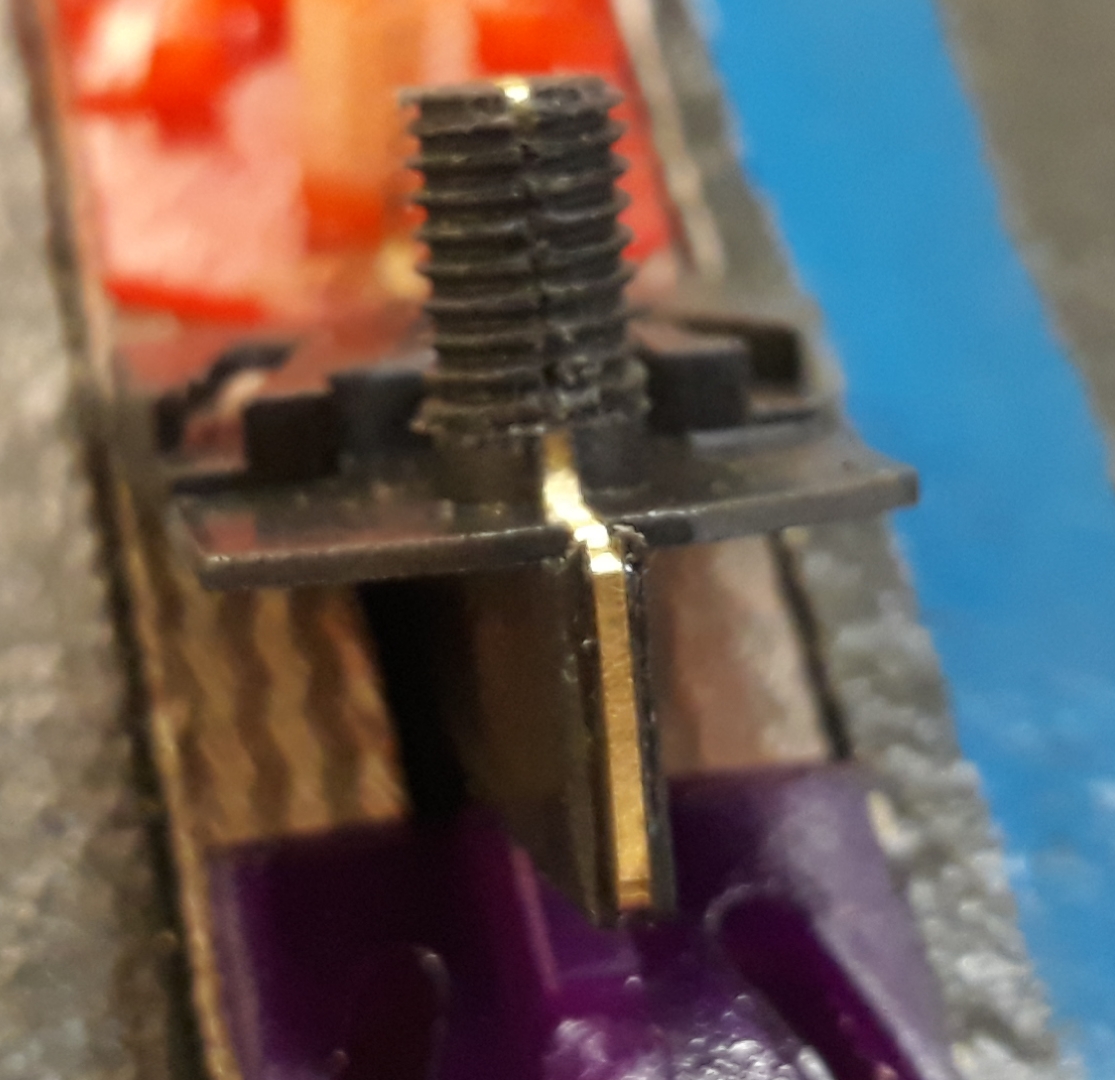 The reflection of the brass makes the pic less clear, but you can see how when the guide  hits something, the brass, at the base, absorbs the hit.  
The brass is glued throughout the inside of the blade, so the glued surface area, is infinitely more, than a piece of round wire.