The GRRR group had a good turnout last Saturday despite the fact that several racers had to work or were out of town. In all, we had 32 total entries spread across 4 1/2" Stock cars, Can-Am and GT Coupe.
I want to thank Ed Hoffman for hosting this round for the GRRR group. Fast Eddies I a top notch slot car facility, and if you are visiting Florida in the future please drop by; Ed would appreciate it I'm sure. 
Stock Cars:
First up was 4 1/2" stock cars on Fast Eddies 130 ft tri-oval. We had 10 entries in stock car and concours went to Doc Dougherty with a new Red Fox Charger.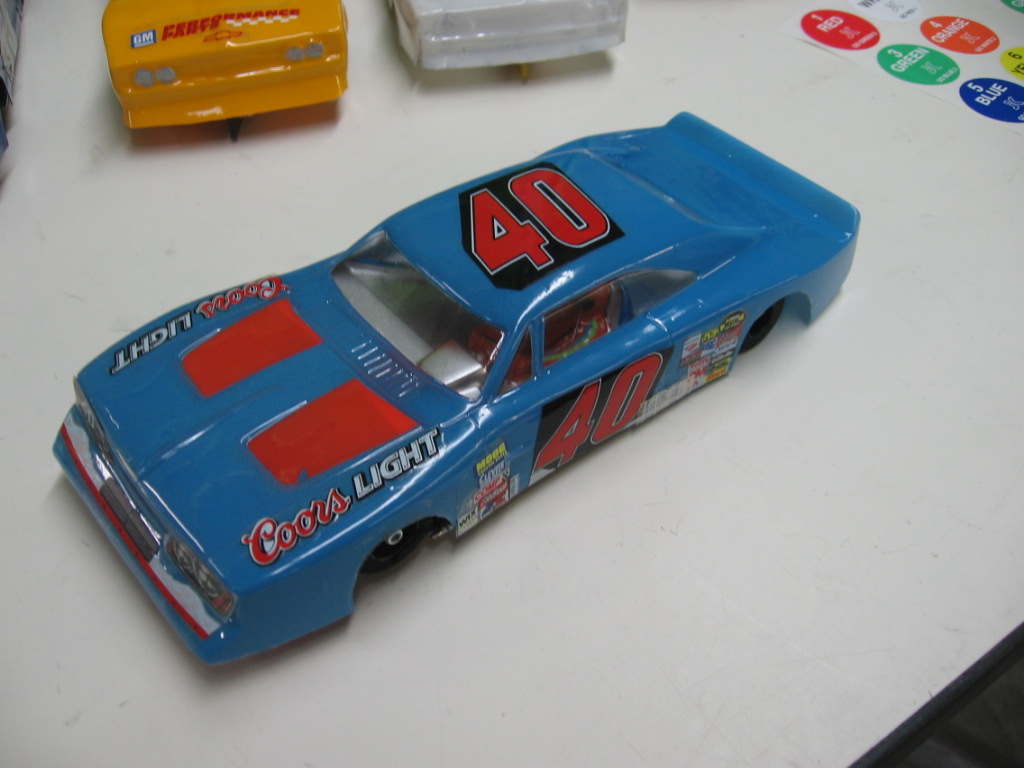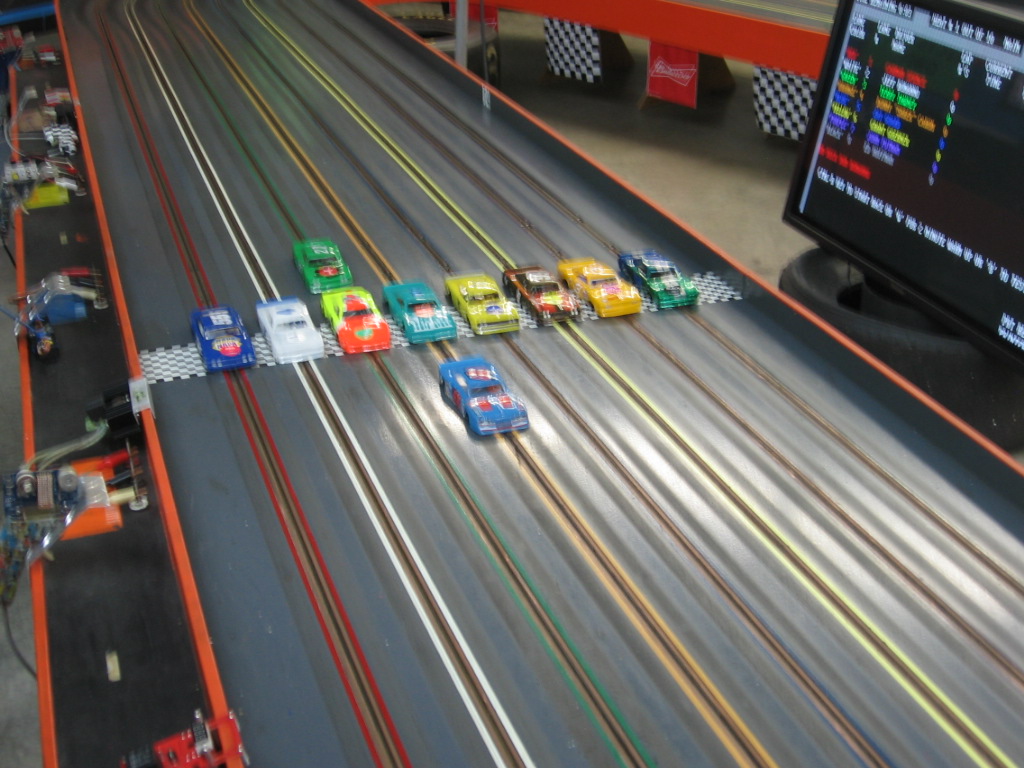 Qualifying consisted of fast lap for a 60 second time period. TQ went to Jeff Bonanno who is always fast no matter where he races.
We decided to run a 10 man round robin because we need only 3 turn marshals to handle this track. Mike Moock volunteered to take turn 3. Thank you. Mike might be the best turn marshal in the country.  Jeff battled with Jay Guard most of the entire race with Jeff taking the victory; Jay finished 2nd with his new stock car chassis, and Grant Goerner in his comeback race, finished in 3rd. Jay Guard had fast race lap with a 3.61 sec on purple.
CAN-AM:
We moved over to the 153 ft hillclimb for the Can-Am and GT Coupe races. Brian Ambrose had the entire field covered when he laid down a 4.51 sec lap to take TQ honors. His back up time was outstanding at 4.52 sec as well.
We decided to break the field into 2 mains in order to provide enough turn marshals. There was an issue with the computer after the B-main was completed so no print out is available for this report. Here are the typed results.
Can-Am B-main results:
Racer name      Total laps    Sections 
Jay Guard            289               7    
Doc Dougherty     285             18
Mike Moock         281               6
Donny Caron       277              16
TonyP                  274              12
Brant Goerner     265               10
Can-Am A-main results:
In this one, Brian Ambrose made good on his TQ effort and took the victory by 9 laps over Terry Tawney. Jeff Bonanno was a close 3rd place car.
Can-Am Combined Results:
Racer name       total laps
Brian Ambrose     301
Terry Tawney       292
Jeff Bonanno       291
Jay Guard           289
Doc Dougherty    285
Mike Moock        281
Eddie Hoffman   279
Mike Panko        278
Donny Caron      277
TonyP                 274
Grant Goerner    263
Don Bonanno         8
GT Coupe:
For the GT Coupe mains, we took the finishing combined results of the Can-Am races to determine who made which main for GT Coupe.
GT Coupe B-main:
Ed Hoffman showed the way in the B-main, finishing 6 laps ahead of Don Bonanno, who was 4 laps ahead of Mike Panko.

GT Coupe A-main:
Brian Ambrose backed up his Can-Am victory by winning the GT Coupe race as well. Doc Dougherty and Terry Tawney fought it out all race long for 2nd and 3rd; never more than 1 1/2 lap apart the whole race.
GT Coupe Combined Results:
Racer name         Total laps
Brian Ambrose       294
Doc Dougherty       290
Terry Tawney         289
Eddie Hoffman       282
Don Bonanno         276
Mike Panko            272
Donny Caron         269
Grant Goerner       266
Jay Guard             262
Jeff Bonanno        207