John Hale, owner of Santa Ana Raceways, passed on Friday 8/2/19 after a long battle with dementia.
He was the owner of Santa Ana Raceways, a model maker at Cox and created the Ferrari 206SP and Chaparral 2D bodies for them. Always an innovator he designed the Iso-Fulcrum chassis for Cox which was copied by every chassis maker in slot car history.
He will be long remembered for the July 4th weekend 28-hour Enduro races held at Santa Ana Raceways. After the shop closed in 1969 he was working innovating R/C Cars and holding the Sunday races at the Briggs Cunningham Museum in Costa Mesa, CA.
He owned Hales Hobbies until 1972, when he went to work as a world-renowned Ford Model T restorer, building the only Model T to win at the Pebble Beach Concours.
Many notable racers called Santa Ana Raceways their home track: Reedy, Husting, Morrisey, Gilbert, Tabor. Many spent their offtime during the week tweaking and tuning for upcoming competitions. Gene Husting set the very first sub-second scale 1/4 mile run on the strip at Santa Ana Raceways - .999 secs.  Jim Russell, Bud Anderson, Barris, Roth, and others were often seen in the shop.
Champion of Chamblee sponsored an "Around the World in 80 Hours" promotion for which John built a hand-routed round track in the parking lot. The slot cars ran for 80 hours and set numerous record, not to mention showing off the durable slot cars by Champion of Chamblee.
When John had spare time he volunteered his automotive knowledge and experience at AAR working with Dan Gurney and the guys there; all were big-time slot car enthusiasts and visited the shop whenever they could take time away from racing the Eagles.
John's wife, Dee Hale, is doing well in Yorba Linda, CA, at 97 years of age.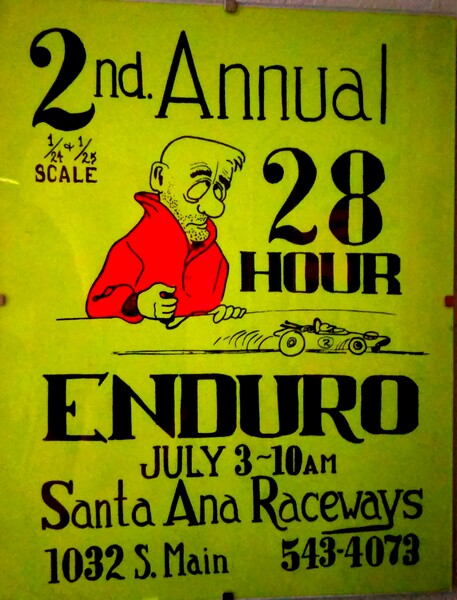 Thank you to everyone who made the shop and the history of slot cars possible.