We are back to normal three race meets this month with the important note that Can-Am will be a "switchup" race where we'll run on the flat Korkscrew instead of the normal Hillclimb venue.
Race order:
11:00 AM: Stock Car on Hillclimb.
Can-Am on Korkscrew.
F1 on Korkscrew.
Tuning setups: I have mentioned in the past... "don't fear the lead." That holds true but with an interesting variable.
This is the variable... Third Eye "Super NFET(3) E-Wire." The e-wire choke allows me to run lighter cars and still be controllable.
Stock Car:
New Red Fox Charger. This is trimmed so that cut line is left exposed and all cuts are parallel to cut line. No "raking" of the body please.
Stock Car for Hillclimb:
Parma Charger or Cyclone or RF Charger. Please don't show up with a .010" body.
Gears on Mini Brute are 9-29.
Tires are a tossup right now between Alpha or JK big full hub naturals or Koford Super Soft Wonder. (Didn't try any treated tires).
Car weight is 128 grams all up. No need for choke so far.
Can Am for Flat track:
Both of these are lighter than I expected with the top one at 106 grams all up and the bottom at 110 grams.
I run quite a bit of controller choke on these at this weight.
With no controller choke, I'd run at least 5-8 grams more.
Gears are a tossup between 7/27 and 8/29. With no choke, I'd for sure be at 7/27.
Tires right now are JK 8703 small hub. By race day that may change to 8713 or Alpha equivalent.
F1 on Flat track: Actually not much new here.
This is a new car and I'll be starting at 113 grams. May experiment with weight vs. ckoke.
Most other cars are 118-120 grams.
Tires are JK or Alpha small hub naturals.
Fronts are coated w/ CA glue.
Gears are comfortable at 8/29 and I doubt that I'll change that.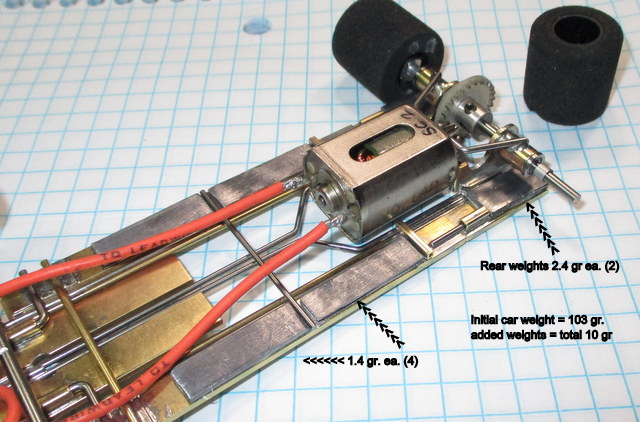 1064 Woodland Ave, Suite N
Modesto, CA 95351
(209) 544-2550