Coupes on the Royal – 8/27/19
It was retro Coupes on the American Royal this past Tuesday. A relatively large field of nine participated in the 4/4 format with 4 racers on-track, four marshals and one person to run the computer.  
Nine Coupes in Tech: 
Before the end of the first lap ¾ of the field was "savaged" with John Weaver's early lead sparing him from the carnage. And, of course, as the heat and race continued, he extended his lead, never looking back. Meanwhile, Peter Lentros, Ray Lee, Bob "Woody" Hazelwood, Ernie "The Ernstigator" Lachance and Dave Panich were all lapping within 1/10th of a second of each other and battling for the bottom two steps on the podium. Another episode of the "Battle of the Richards" was running towards the back of the pack with Richard Payne and Rich Girvin lapping just ahead of Dan Savage.
At the change to the inside lanes, Weaver had put 180 laps on the counter and was 11 laps up on Dave. Woody was two laps back with 167 while Ray (166), the Ernstigator (165) and Peter (164) were all in the hunt. Richard P's 156 put him two laps ahead of Rich G while Dan closed out the field, just one lap back.  
Ernie came on strong on the inside lanes, adding five laps to his first half total and breezing past Ray but just edging Woody to claim the bottom step on the podium by only four track sections. Dave took 2nd place by a comfortable 6 lap margin but was 18 laps off Weaver's pace. Richard P finished one lap up on Rich G with Dan just 13 track sections behind.
Weaver's race-best time of 3.788 was almost a full 2/10th better than Dave's 3.952 while Ernie managed to beat the 4 second barrier by 1/1000th with a 3.999. Peter, Woody and Ray were all just a few hundredths over 4 seconds, so there was quite a bit of close racing. Blue was the fast lane on the evening with 2/3 of the field posting their fastest lap on blue.
Finishing order, laps completed, best-lap time and best-lap lane:
           1)    John Weaver            359/6        3.788      GN
           2)    Dave Panich            341/21      3.952      BL
           3)    Ernie Lachance        335/25      3.999      BL
           4)    Woody Hazelwood   335/21      4.054      OR
           5)    Ray Lee                    333/19      4.062      BL
           6)    Peter Lentros           329/1        4.007      BL
           7)    Richard E Payne      314/15      4.226      YL
           8)    Rich Girvin               313/6        4.273      BL
           9)    Dan Savage             312/19      4.117      BL
Upcoming Events:
           September MVH Tuesday Night Retro-Races:
           NOTE: The schedule below has changed from the previously posted schedule!!!
                   September 3      Coupes on the Aristocrat
                  September 10    Coupes on the Royal
                  September 17    CanAm on the Sovereign
                  September 24    Stock Cars on the Figure 8
           NERR Season 7, Race No. 2:
                 September 28   Modelville Hobby in Ashland MA
                        Stock Cars on the Royal
                        F-1 on the King
Podium: (L to R):  2nd Place – Dave Panich, 1st Place – John Weaver, 3rd Place – The Ernstigator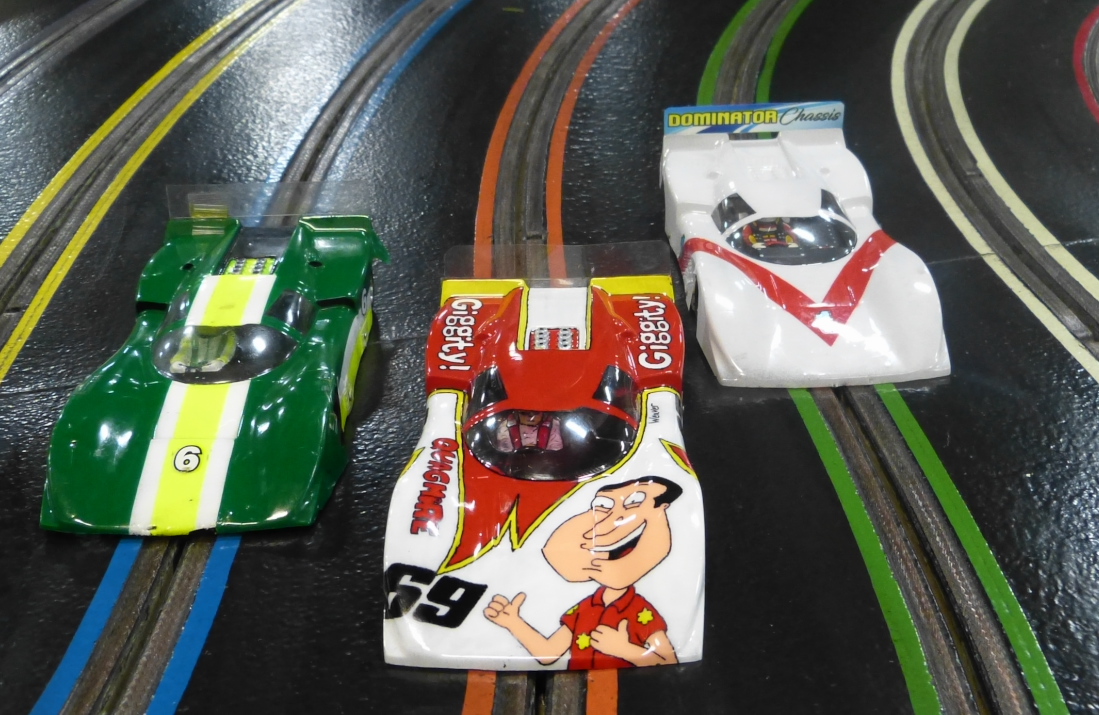 Weaver's 1st Place Chassis:
Dave's 2nd Place Chassis:
Ernies's 3rd Place Chassis: