Our next Vintage race is Saturday, September 28, at Dom's Raceway. Track opens 5 PM, free practice until  6:30 PM,  first race starts a few minutes after. Please call me with any questions - (609) 713-3696. Thanks, Dominick.

1) First race: mid-1960s era 36D-powered production chassis cars made by Gar-Vic, Cox, Classic, Renwall, Dynamic, and similar. . Any body from that time era is okay, original or reproduction.  Inline or sidewinder chassis only.  I have a few loaner cars ready if you want to try before you hunt one down for your own.

2) Second race: American Line Sportsman/hot rod kit cars sold by REH Distributing, also 36D motors. I have a few kits in stock for sale ready to race.  Also a few loaners will be ready if you want to try before you buy.

If any one would like to just stop by and take a look, you're welcome, too!

Dom's Raceway
118 Jonathan Holmes Road
Cream Ridge, NJ
pictures from some of our races: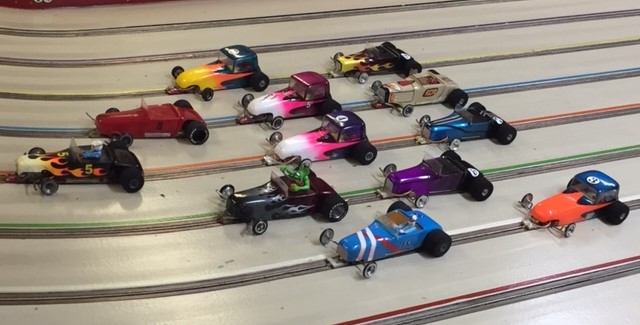 Whether you raced these types of cars back in the mid 1960s or have never raced them before, you are welcome to join in for the fun. We have loaner cars for both classes. Our group consists of both racers from the past and present, from young to old. We have racers coming from Pa, NY and NJ so far. At our last race we had 14 racers, with 5 that could not make it that had planned to be there, and even more that have raced with us in the past! 
   Dom's Hillclimb is clean, smooth and well maintained. Plenty of pit space, and a well stocked counter with new to vintage era parts, as well as Dom's own vintage re-issue bodies (clear and painted). And another bonus is all of the food provided between races. We race vintage cars for fun, so check us out, stop by and maybe see a few racers that you have not seen for a long time.
   Coming soon: 1970 era Vintage Anglewinders (any 1970's era anglewinder chassis, ProSlot PS-4001 Euro MK-1 motor, same era original or re-issue Can-Am body). Several cars already built, more almost race ready, so when enough cars are completed we will start racing these. My test cars handle great- smooth, quiet, very easy to race. 
  (note that the brass chassis car still has the older Plafit motor that is not available, so we are using the ProSlot motors now)