Retro Stock Cars on the Figure 8 – 9/24/19
Seven racers presented their retro Stock Cars to tech inspection this week with racing on the Figure 8. The race was run in the 4/4 format with two marshals and one person to run the computer.
Stock Cars in Tech:
In the early running the closest race of the night was between Ray Lee and Peter Lentros. By the move to the inside lanes, Ray had a slim one-lap lead on Peter but was 9 laps off race-leader Dave Panich's 198 lap pace. Richard Payne was running 4th with Ernie Lachance and Rich Girvin giving chase. Wayne Secore closed out the field.
Second half action saw Peter's car slow due to a lack of braid contact causing him to fall off the pace. Ray gave it a tweak and Pete came roaring back but it was a bit too late to make up his lost laps. Dave cruised to a 13-lap win over Ray who ended up another 8 laps up on Peter while Richard P was within striking distance but fell 2 laps shy of the podium. Ernie and Richard P were evenly matched and were often rubbing doors but Ernie's car's handling didn't measure up as he settled for 5th, 10 laps off Richard's pace.
Dave's 3.507 on yellow was the fastest lap of the evening while Ray and Peter were tied for 2nd fastest, Richard P and Ernie were tied for 3rd fastest and Rich G and Wayne were tied for 4th fastest. All the ties were on different lanes from each other. Pretty weird!
Driver, laps completed, best lap time/lane:
Dave Panich             395/2     3.507   YL

Ray Lee                   382/10    3.569   BL

Peter Lentros           374/10    3.569   PU

Richard Payne         372/10    3.678   BK

Ernie Lachance        362/10    3.678   YL

Rich Girvin               352/6      3.897   YL

Wayne Secore         340/14    3.897   RD
UPCOMING EVENTS:
         MVH Tuesday Night Retro-Race Schedule for October:
               Oct 1        Can-Am on the Aristocrat               
               Oct 8        Stock Cars on the Figure 8
               Oct 15      Coupes on the King
               Oct 22      Stock Cars on the Royal
               Oct 29      Can-Am on the Sovereign
                                (one month, 5 races, 5 different tracks...what a country!)
         Upcoming Races in the NERR Series:
               Sept 28    Modelville Hobby in Ashland, MA
                                Stock Cars on the Royal
                                F-1 on the King
               Oct 26      1010 Raceway in Bristol, CT
                                  Coupes on the King
                                Can-Am on the King
Cars on the Podium (L to R): 2nd Place – Ray Lee, 1st Place – Dave Panich, 3rd Place – Peter Lentros
Dave's 1st Place Chassis: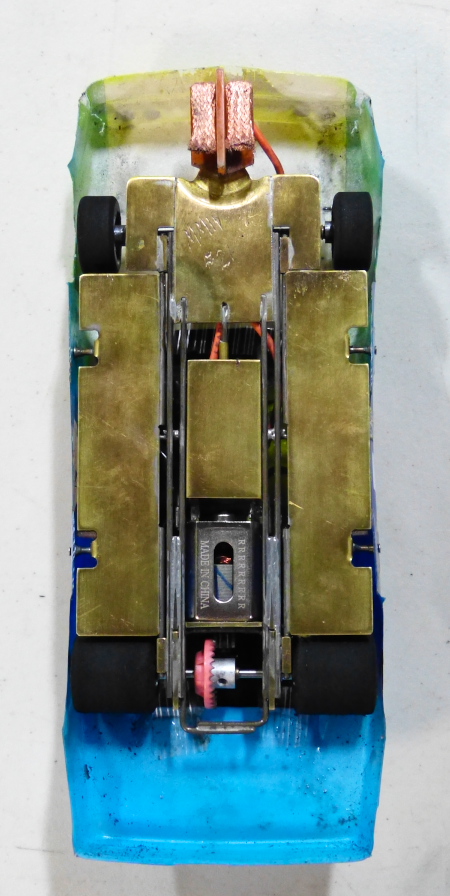 Ray s 2nd Place Chassis:
Peter's 3rd Place Chassis: