Greetings,
A few weeks ago, my wife and I were running our slot cars at Fast Track Hobbies, in Rocklin, CA.
She was running my first gen composite chassis, which I salvaged the angle motor bracket from my damaged stamped steel chassis, and bonded them onto the composite.
For some reason she got distracted and slammed full throttle into the guardrail at the end of the straightaway!
The noise was pretty loud that turned a few heads.
Well, I was pleased that my composite chassis survived without any damage, BUT, the stamped steel motor bracket took a big hit, got bent as well as bending the 1/8 axle?!
I repaired the motor bracket and it runs/handles just as well if not better than before.
Here are pix of the damage.
Big chunk of "quarter panel" broke off!
Slightly Bent - LOL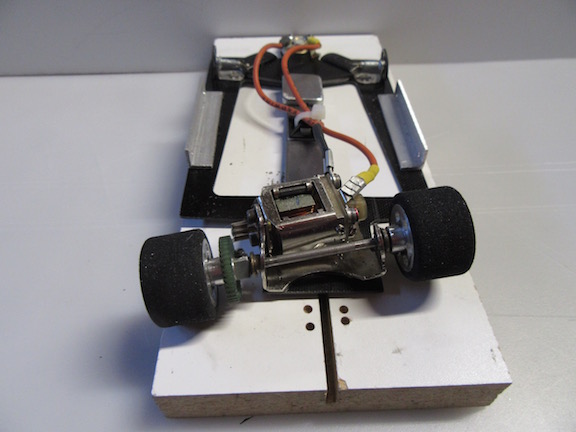 So, due to this "fortuitous accident" I felt inspired to fabricate my own version of an angle motor bracket.  I do enjoy the challenge - LOL!
Started out with aluminum C-Channel
I 'imagineered" the motor and axle brackets as a gestalt (2 pieces combined to produce a whole) - then hand cut, drilled and filed the pieces into this.
If you look closely at the following picture, you'll notice the hole for the axle bearing height is slightly below the motor shaft plane.  The purpose is to be able to run smaller diameter wheel/tire.  
I also slotted the motor bearing hole, as well as drilling slightly larger motor mount screw holes, so I could have east/west sliding adjustment to accommodate pinion/spur gear selection.  
Motor and axle brackets positioned and mounted onto the chassis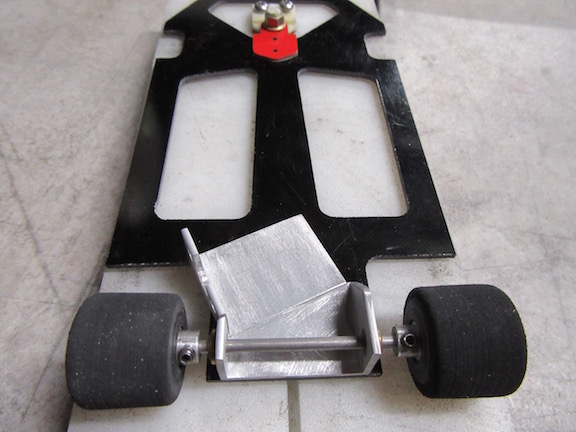 Motor, gears, axle and tires installed
It has a very smooth gear mesh - using 64 Pitch, 12 tooth pinion/39 tooth spur.
My Version 1- AW prototype handles very well, but the chassis was needing to run .880 or larger diameter tires - this version (2) allows me to run smaller .780 OD tires.
My next project is build an AW bracket to accommodate my CCW running motors.
Thanks for looking!
Ernie