Trans Am on the Jersey Devil
Race report by Tom Spellcheck. 
12 racers in the house, 7 in the B Main, and 5 in the A Main. Lapmaster results attached.
The B Main was a close race from beginning to end, with the top three never more than a lap apart, sometime all on the same lap.  Running the fastest on all but two lanes, Sal could have run away from the field, but crashed enough to be 3rd most of the race, keeping the turn marshals busy.  Frank Alivernini held the lead right up to the final heat, when he got a case of the "Red Lane Yips" and dropped to 3rd.  He nevertheless scored a personal best of 166.05 laps.  Tom Varinecz, who ran a conservative, smart race, ended up winning, with Sal coming in 2nd. 
Stan Brzezynski ran a consistent 4th, while Steve Russo stayed 5th throughout the race.  Steve Laughlin was 6th, recording a personal best of 156.14 laps in his second race on the Jersey Devil.  Darnell Wiggins had tire problems and retired after slip-sliding away for one heat.
"Disclaimer:" since I am racing in the A Main and not watching what everybody else is doing, my A Main reports are a combination of LapMaster results (see attached) and trying to recall some of what I heard and saw as I was racing.  While the attached results are accurate, my interpretation of how they got that way may or may not be 100% correct.  Apologies for any inaccuracies.
Much like last week's A Main, Spellcheck again ran the fastest on each lane and recorded the most laps on each lane, winning by seven laps over John Magno, who ran a conservative race to finish 2nd.  Rodger Airey, running a NASCAR body (perhaps in preparation for next week's Engleman race) finished 3rd.  Al Hernandez stayed 4th the whole time and Ray Carlisi, running his own chassis instead of a Spellcheck loaner car, was 5th.  Overall a very clean race.
Regular Mike Haskins was absent. 
Next hardbody race Tuesday, November 26, NASCAR bodies on the Engleman. 
A Main Stats 11-19-19.doc 64KB 9 downloads
B Main Stats 11-19-19.doc 79KB 2 downloads
A-Main Cars
B- Main Cars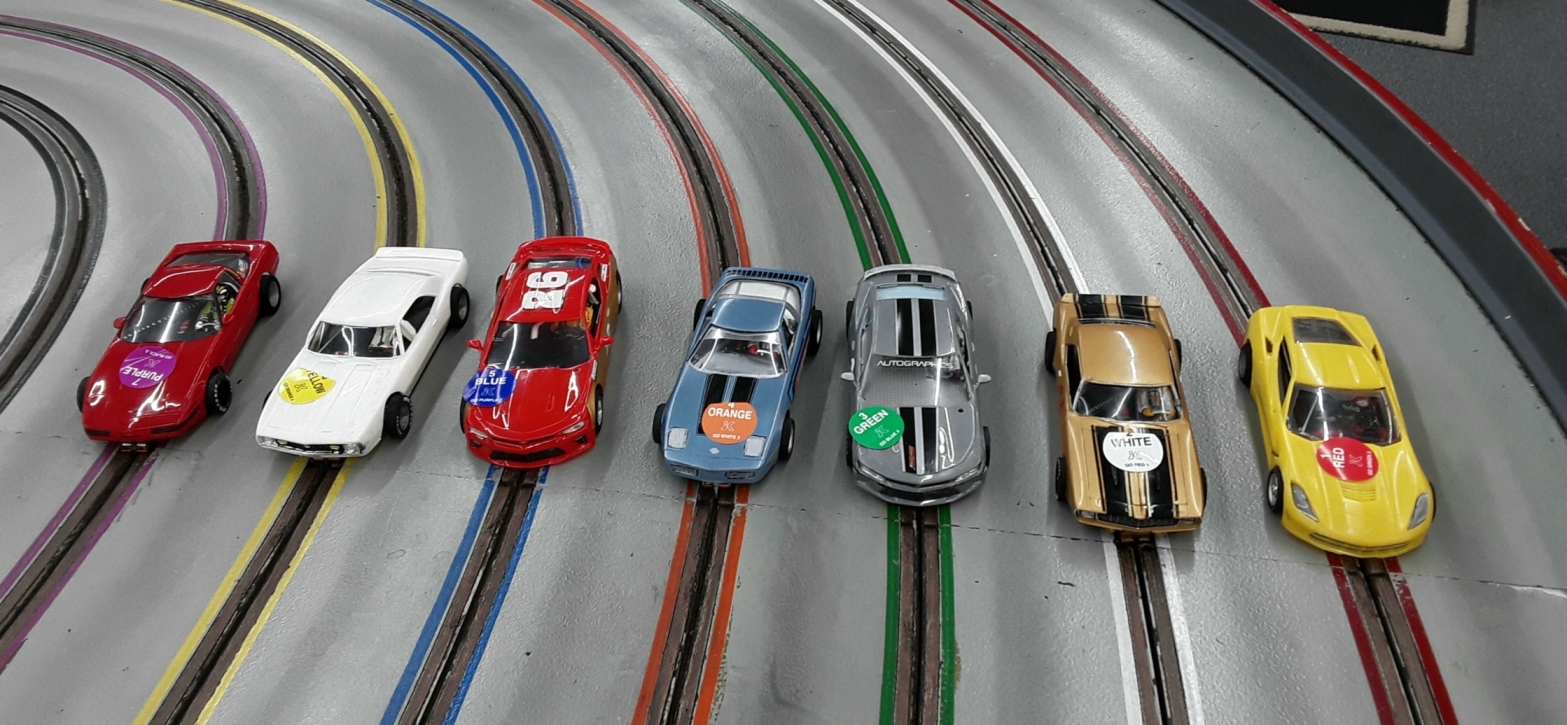 A Main Podium
B Main Podium