First timer build chassis/motor recommendations
Started by
Revtor
,
Nov 30 2019 08:46 PM
Posted 30 November 2019 - 08:46 PM
Want to build a 60s hard body 1/24 drag car. For a full size 1/4 mile. Any chassis/motor recommendations?

Thanks

~ Steve Maietta
---
Posted 01 December 2019 - 10:02 AM
It depends on exactly what time period in the sixties you want to recreate. Things were pretty dynamic, and designs changed
quickly. I posted some pictures of cars I built back then in another thread, but to save you some hunting, I'll show them again.
This chassis is under a buterate Maserati body, but is typical of what was being used for drag cars in the 1963/64 timeframe.
It is made from brass tubing and uses a padlock-type motor.
This chassis is made from aluminum tubing. Built in early 1964. Very few racers tried this because soldering aluminum is very
tricky. The motor is a Pittman DC-85 padlock type motor.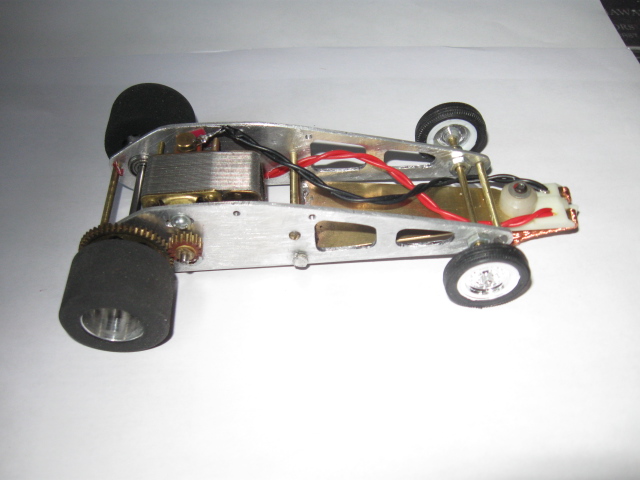 This chassis is made from aluminum strip stock cut by hand. Summer of 1964. The style is similar to the magwinders that
had taken over in the open classes. The motor is a Kemtron padlock type motor.
Of course there were a variety of piano wire cars built, with all sorts of motors to power them. This one was under a Cobra
body and ran in the sports car class. The motor is a K&B Bobcat 36D.
I also used a Classic Manta Ray chassis under a Willys body, so manufactured chassis are always a possibility.
Hope you get enthused and build a car. Be sure to post it once it is done. 
---
Posted 01 December 2019 - 11:37 AM
Thanks Dave, for the cool build pics!
I was thinking more of a modern chassis/powerplant combo, but using a 60's body.  In my mind I'd like no wheelie bars, so it's more "scale".  I guess it would be more for bracket racing rather than all out speed, and really, its more about building the thing for me at this point. 
thanks!
~Steve
~ Steve Maietta
---
Posted 01 December 2019 - 12:54 PM
You can use a Parma Edge chassis with the wheelie bars cut off. It would be the simplest way to go in a purpose-built chassis. You will
need to make body mounts, the pin tubes will not work with a heavy plastic body. If you are not interested in speed, an H&R hardbody
chassis is easiest of all. When I had my club drag strip, we ran those as a class alone. Slow, but still fun.  
hiline2 and Tim Neja like this
---
Posted 01 December 2019 - 02:48 PM
Thanks Dave, thats the info Im looking for. Any recommendations for a motor to fit that sort of setup?

~ Steve Maietta
---
Posted 02 December 2019 - 10:06 AM
The H&R chassis comes with their Lightning II motor, equal to a Falcon II or III or early Mini-Brute. The Edge is set up for a 16D, but
a Retro-Hawk would be plenty fast. FK types will have to be soldered in, the mounting holes are different. Wheels and tires are up
to your ingenuity, but I like the Pro-Track 242 series rears.
---
---