NASCAR/STOCK CAR on the Engleman
Race report by Tom Spellcheck. 
We had 12 racers present for NASCAR/STOCK CAR Hardbodies mounted on H&R chassis on the Engleman, 6 in the B Main, and 6 in the A Main. No regulars were absent. 
The B Main started out as a battle between Steve Russo and Sal Esposito, both running the fastest laps of the group.  They traded the lead back and forth until the fifth heat, when, tied for the lead, Sal dropped out with undisclosed mechanical issues.  That left Steve to run away from the pack, winning by six laps.  Tom "steady as she goes" Varinecz and Frank "driving like Miss Daisy" Alivernini ran 2nd and 3rd the rest of the race, with Tom coming in 2nd.  Frank earned a personal best number of laps in his 3rd place finish.  Stan Brzezynski ran 4th most of the time and Darnell Wiggins had enough problems to keep himself out of contention.
The A Main was a runaway for Spellcheck, who won by 9 laps, setting a new personal best and all-time best number of laps.  He and Mike Haskins traded lane records back and forth, overturning almost all the existing marks.  John Magno, not trying to set lane records, stayed ahead of the rest of the group to finish 2nd, recording a new personal best lap total (by about 15 laps!) in the process.  Mike Haskins, Ray Carlisi, and Rodger Airey ran on the same lap for most of the race, with Ray squeezing out Mike Haskins for 3rd right at the end.  Rodger was 5th with a demonstrably slow car.  Despite finishing last, Al Hernandez did post a new personal best lap total.
Next hardbody race Tuesday, December 3, Trans Am on the Jersey Devil 
A Main Stats Nov 26.doc 72KB 7 downloads
A- Main Podium
1st - Tom Spellcheck
2nd - John Magno
3rd - Ray Carlisi
B Main Stats Nov 26.doc 72KB 4 downloads
B- Main Podium
1st - Steve Russo
2nd -Tom  Varinecz
3rd - Frank Alvernini
A- Main Cars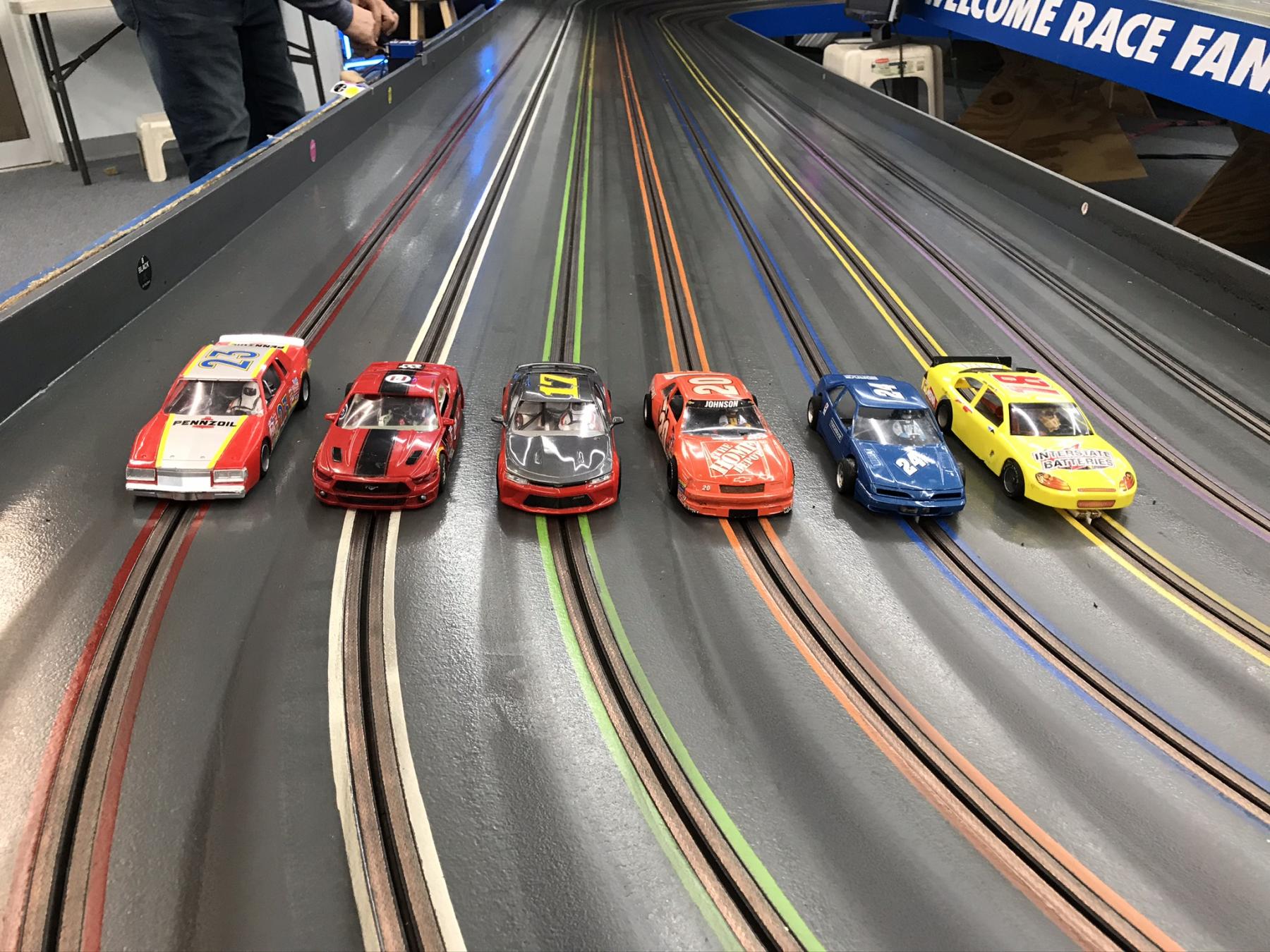 B- Main Cars less Sal's
RACE RULES

H&R Hardbody Rules Feb 2019.pdf 149.54KB 12 downloads