Mid-American Hardbody Series - Hobbystock Enduro February 8, 2020
Mid-America Raceway and Hobbies, Naperville, IL
Race report written by Brian Meharry
This race would go for one round of ten minute heats on the LTD road course, followed by a round of ten minute heats on the Lazy 8. Handout motors were given out at 2 pm for competitors to load in their cars and break them in. Tech opened at 2:45, and were racing by 3 pm on the LTD.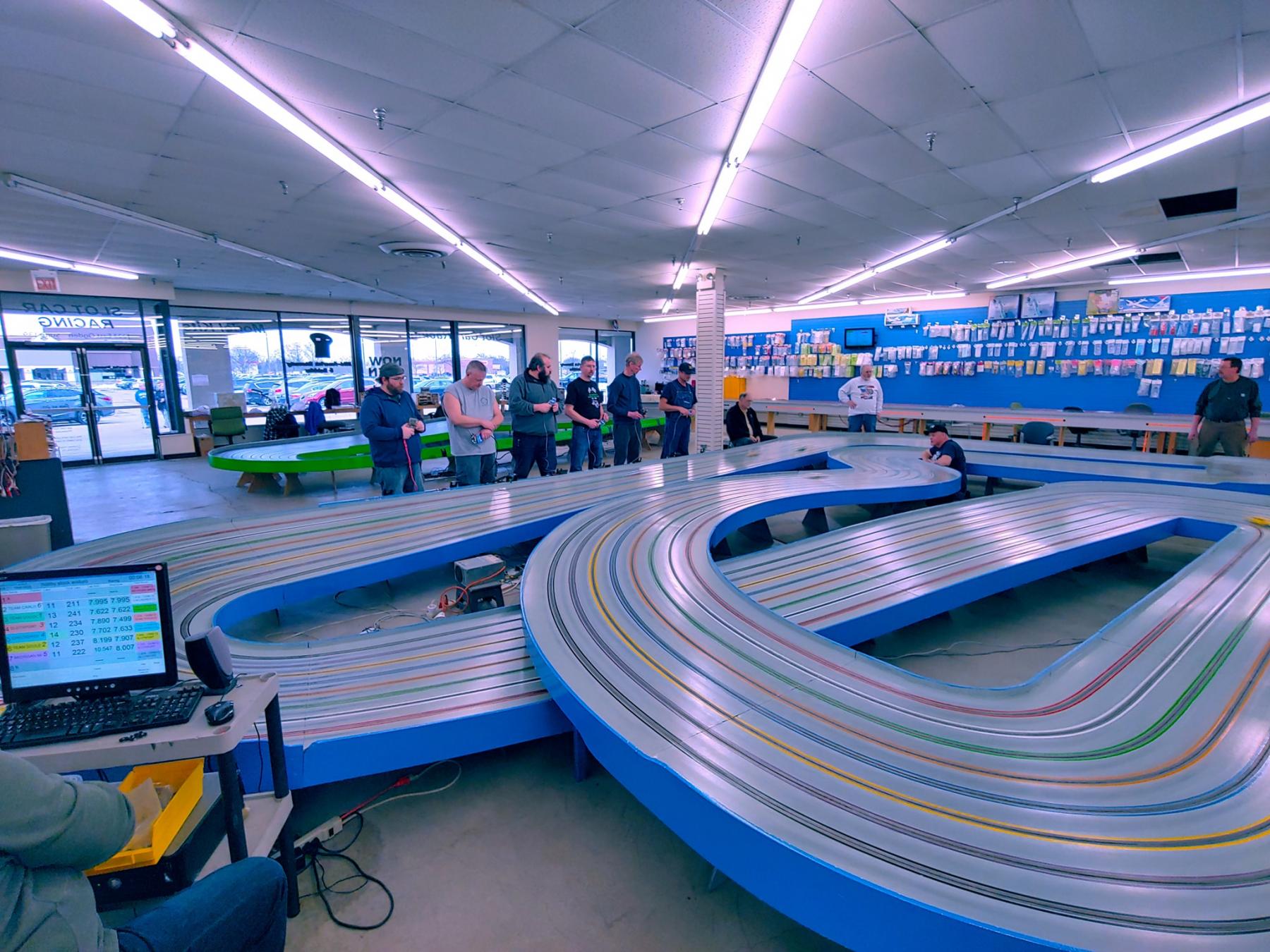 After a very un-eventful showing last month, team Voodoo showed up to redeem themselves with their "A" game. With their very sharp looking 53 Ford, Neal and Ken drove equally well to take the lead early on.
Team Slotsport and Soule tried to chase them down towards the end, but there would not be enough time in this round.
After round one on the LTD, the order looked like this:
VooDoo : 612 laps
Slotsport: 601
Soule: 600
Checkered Flag Racing: 589
Michigan Mafia: 554
Carlisle: 542
The cars remained in impound until the next round would start, and we were off on the Lazy 8 in just a few minutes.
Team Voodoo looked strong once again, but team Soule, Checkered Flag, and the Michigan Mafia, and Carlisle were in the hunt. Team Slotsport fell back in the field.
The racing was very tight throughout the second round. By the end of heat 6, team Voodoo was starting to slow down, and the teams of Soule and Checkered Flag had them in sight. From back in 5th place, Brian rallied to get the top 3 cars within reach in the 7th heat. His team mate Matt Newman drove the final heat, and with a little coaching from Brian on the sidelines, he walked around the the second and third place cars. With just 30 seconds to go, Matt took the lead.
Unbelievably tight results from the second round:
Slotsport: 1151
Voodoo: 1150
Soule: 1149
Checkered Flag Racing: 1148
Michigan Mafia 1087
Carlisle: 1590
After three hours of racing, the top three were:
Team Voodoo: 1762 laps (Ken And Neal Isler)
Team Slotsport: 1752 laps (Brian Meharry, Matthew Newman, and Jon Wrench)
Team Soule: 1749 laps (Rick Stagen, Eugene Richardson, Dick Soule, Mike Wenino)
Thanks to all that came out to race. Thanks to Roger and Robert for race directing.
The monthly Kids racing series is Saturday 2/15. Check the Mid-American Hardbody Series page for the dates for the remainder of the 2019-2020 Winter Series racing events.
This is a race report, not a discussion, contact the series organizers with your questions. Please do not PM me with questions. All that I know is contained in this report.