Here's a question that I'm sure you all will have an easy fix for. 
One of the nice things about being a beginner is that I can show you my entire fleet and it only takes a couple of pictures. 
As I was running my (2) cars the other day, I noticed the front tires of the Cox Chaparral were making contact with the track surface and rotating as they should...see?
However on the Strombecker car, they were not. As you can see by the photo, there is enough space between the tire and the track to insert this much of a round toothpick: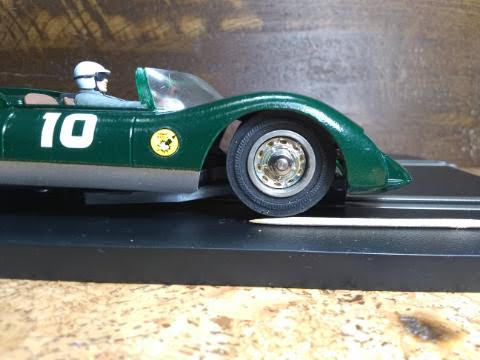 Now I think there are probably some regulations somewhere about all 4 tires needing to contact the track surface; and even if there isn't, this just looks and seems "wrong".
Everything appears to be "as intended". The slot on this Aurora track is a full 7/32" deep and both cars' guide shoes are at 3/16", so the track slot is not the issue. The upwards movement of the drop arm on this car is limited by where that arm meets the frame, so I don't think that can be easily addressed.
What/where else can I look to try to correct this? Am happy to post additional photos if that will help.
Thanks!
Mark in Oregon