1969 pro-cars have always intrigued me.  Probably because that is when I got involved after discovering a decaying Blue King track at the bowling alley next to Pietro's pizza.
We were having pizza made, the grownups were talking grown up stuff. So my brother and I went outside to watch the Chef's make the pizza through the front glass. 
Next door were the double glass doors leading to the Bowling alley and when someone went through the doors, the now familiar sound of tiny motors buzzing caught my attention.
I think Dad had to come find us for dinner that afternoon we both were so enthralled with 8 lanes of cars buzzing around.  Not an organized race exactly, just kids playing.

I went to dinner and begged my parents for a slot car of course.  But at that time we lived in Eugene and the track and Pietro's were in Salem where we were visiting my grandparents.
Once we moved back to Salem, I managed to get a car and controller eventually.

The car after restoration.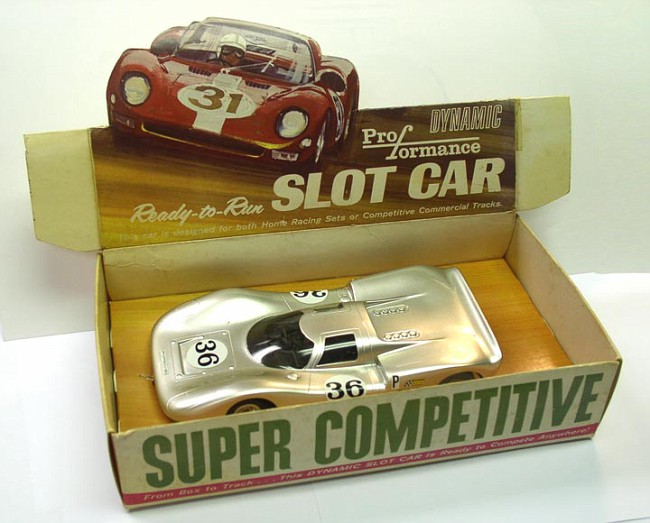 At any rate, I had never seen or been to an organized race until I attended and participated in one of the early Retro races way back in '05 or so.
Never saw a 1969 pro car until Philippe started posting pics of them and Rick was posting on Weird Harold using, not a photo, but a scanner to show his work.
Weird huh?  He didn't have a digital camera and used the scanner!
I have been hooked on the chassis designs of that era ever since.  1969 is my favorite slot car year period!

More coming.