Since this is indeed an "orphan", I thought it best to post this project here.
As I've mentioned before, listening to Sid Collins, the "Voice of the 500", was heady stuff for me back in the early 60s; it was my introduction, I suppose, to auto racing and left an indelible mark in my mind. So naturally enough, I have been drawn to Indy cars of that era...and earlier.
When I got back into this hobby (in 1/32) I of course had to do a re-build of the  Strombecker Watson Roadster. Now that I'm moving onto 1/24, I found that similar hard body models are/were lacking in this scale.
In the course of my (almost daily) eBay hunts, I discovered a model I did not know existed: the Aurora 1954 Indy winning "Fuel Injection Special", driven by Bill Vuckovich. When the chance came to obtain a rather crappy sample, I took it and it arrived today, just as you see it here (3 wheels and all):
After an hour or two of careful disassembly, here are the parts I think I can use to make some sort of slot car out of this mess: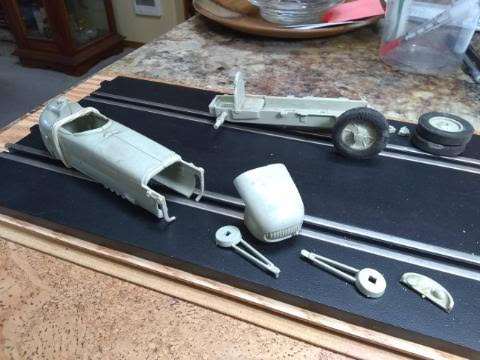 One of the advantages of buying old items like this is that they typically weren't very carefully assembled in the first place, so taking them apart all these years later can usually be done fairly easily.
I also purchased and received today this chassis:
I bought this because I need a chassis that is adjustable and does not have press-on wheels. It was listed as a Strombecker, but I'm not positive it is one: perhaps someone here can verify the make. It's actually a very nice chassis; runs well and is probably too nice for me to use on this project; but I'm going to try anyway. It'll need some longer axles (which are on the way) and obviously larger wheels and tires.
Any suggestions (short of looking for a different hobby) will be most appreciated. 
Mark in Oregon