Race Report by Tom Spellcheck
Photos by NJ Racer
13 racers present for Trans Am on the Jersey Devil, 6 in the B Main, 7 in the A Main.  We welcomed Monday night Group 10 racer Bob Afflerback.  Stan Brzezynski had to go back home to bring something he forgot and didn't get back in time to race.
The B Main was dominated by Steve "Runaway Russo" who won by 12 laps.  It wasn't so much that Steve ran away; he actually ran two laps off his personal best, despite being the only B Mainer under 8 seconds.  But the rest of the field ran five to ten laps off their usual pace.  Not sure what that was about.  Darnell Wiggins pulled his car after running 3rd for the first four heats.  Around the middle of the race, Frank Alivernini and Frank Staff were close but Frank Alivernini pulled away to finish 2nd while Frank Staff was 3rd.  Bill Sutton had body mounting issues which kept him from doing better.  Bob Afflerback acquitted himself very well for someone running a hardbody car for the first time.
The A Main was definitely not a runaway, with three racers recording new personal best lap totals.  Spellcheck, running a lap short of the all-time highest lap total, ended up 1st, with Al Hernandez 2nd (new personal best), Ray Carlisi 3rd (new personal best), and Mike Marciano 4th (new personal best).  Tom Varinecz was 5th, just shy of a new personal best lap total.  Ray, Mike, and Tom exchanged positions many times during the race, never more than a lap apart.  Tom might have finished higher had Spellcheck not sideswiped him during a pass, sending Tom's car to the floor.  (My apologies, Tom, I should drive better.)  Rodger Airey ran well off his usual pace, finishing 6th.  John Magno had a spectacular crash (as a rider, I believe) resulting in the body of the car broken in half.  The A Mains are getting faster, tighter, and more competitive each week.
Statistics attached. 
Regulars Mike Haskins and Steve Laughlin were absent.  Irregulars Leslie Folks, Doug Murphey, and JP Price were absent.    
B Main Cars
B Main Podium - 1st - Steve "Runaway Russo, 2nd - Frank Alivernini, 3rd - Frank Staff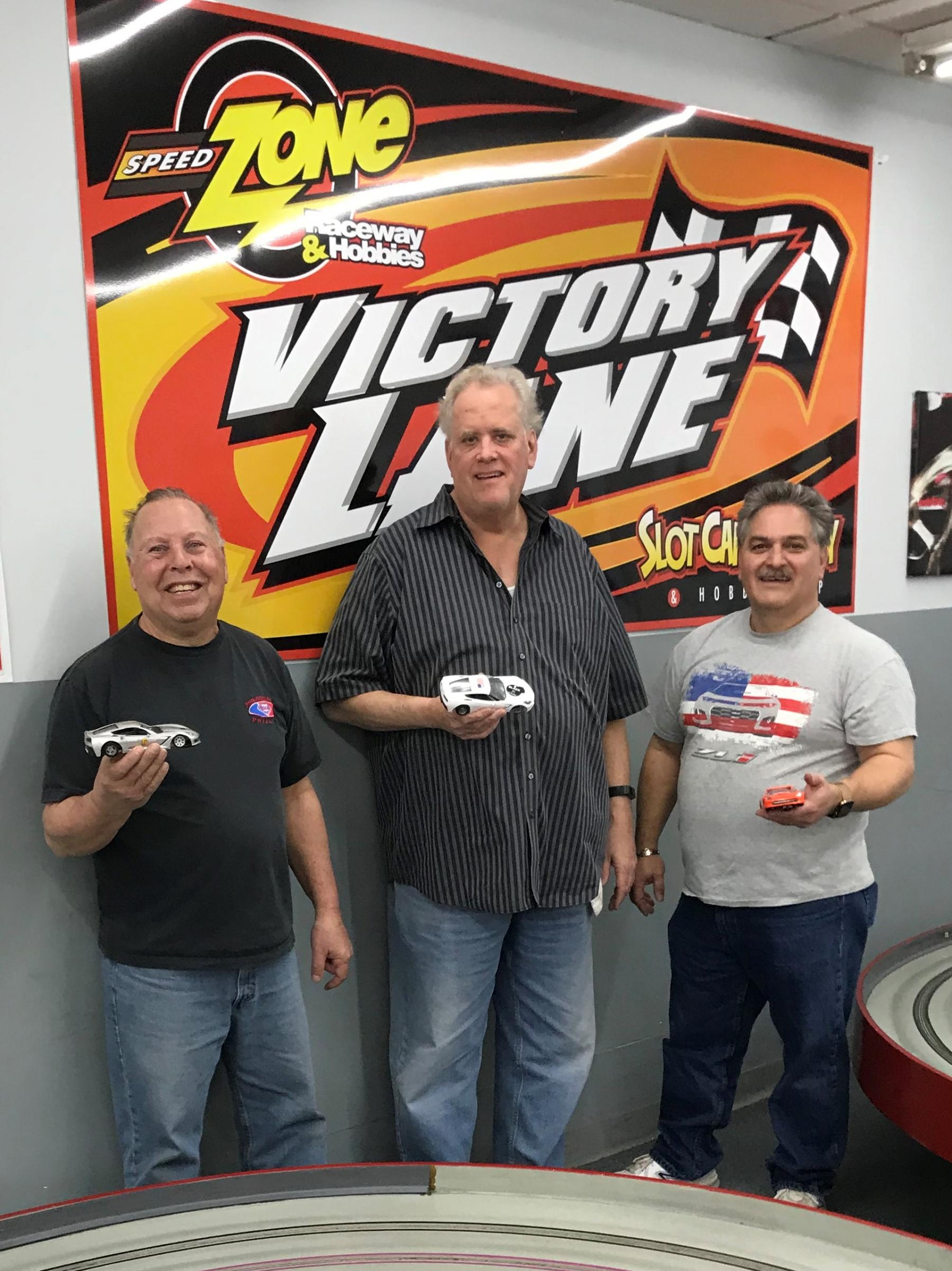 B Main Stats
B Main Stats March 10.doc 71KB 5 downloads
A Main Cars
A Main Podium - 1st - Tom Spellcheck, 2nd - Al Hernandez, 3rd again- Ray Carlisi
A Main Stats
A Main Stats March 10.doc 78KB 6 downloads