Report by Tom Spellcheck
We had 8 racers in the house for Tuesday night hardbody racing with H&R components and JK-25 motors on the Jersey Devil, 4 in the B Main, 4 in the A Main.
The B Main was a runaway for Steve Russo, who ran the fastest times on each lane, the most laps on each lane, and won by 5 laps over 2nd place Mike Haskins.  Frank Alivernini was never more than a lap behind Mike throughout the race, almost catching up at the end, finishing only one track segment behind.  Frank recorded a new personal best lap total in the process.  Stan Brzezynski once again had body-off-the-mounting-pins issues and finished 3 laps behind Mike and Frank.
The A Main should have been another win for Spellcheck, who ran the fastest times on all lanes except Red and Blue.  However, losing two laps remounting the body to the chassis in the second heat put him back to last place. It took the rest of the race to almost catch Al Hernandez.  Al ran a smart race to win by six track segments, almost matching his personal best.  Rodger Airey and Tom Varinecz swapped 3rd and 4th places all during the race, with Rodger finishing ahead of Tom by 5 track segments at the end.
Rob Geibel was absent, so Mic Byrd was race director for the A Main and Tom Varinecz was race director for the B Main.
Statistics attached.  Podium photos courtesy of Tom Varinecz.
Regulars Ray Carlisi, Mike Marciano, Steve Laughlin, and Darnell Wiggins were absent. 
Irregulars Leslie Folks, Steve Girone, Tony Lang, Doug Murphy, JP Price, Frank Staff, and Bill Sutton were absent.
Larry (sorry I didn't write down your last name) was present but did not race.  Frank Staff stopped by as we were packing up to leave.
Next hardbody race Tuesday, 9/15/20, Trans Am on the Jersey Devil.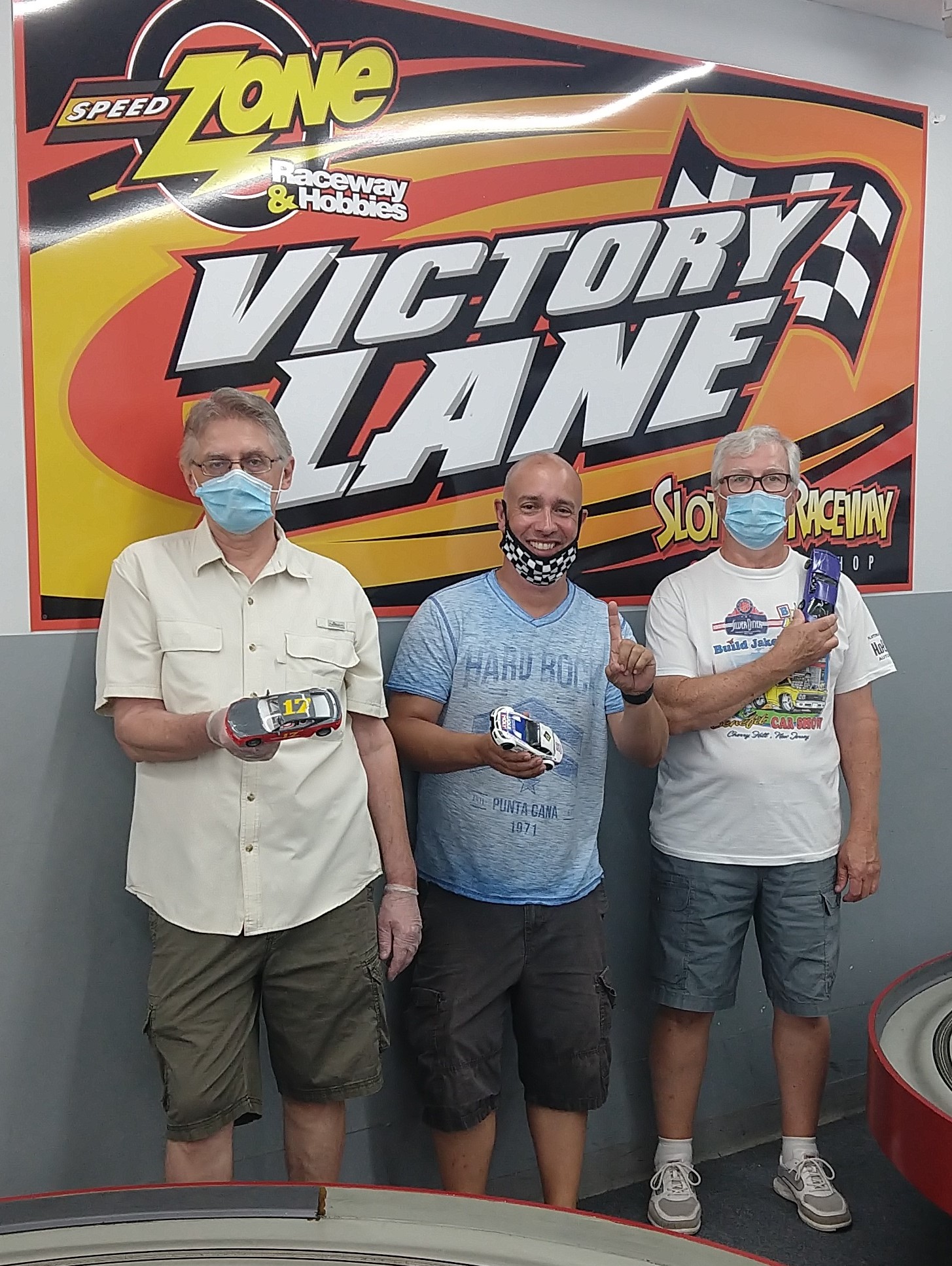 A Main Stats Sept 8.pdf
132.08KB
6 downloads

B Main Stats Sept 8.pdf
130.76KB
6 downloads

HardBody Rules Feb 2019.pdf
153.46KB
29 downloads