Can-Am on the Aristocrat – 11/23/21
Seven Can-Am racers were back on the American Aristocrat this week in the MVH Tuesday night retro series. Racing was in the 4/4 format with three marshals on the corners.
Can-Am Cars in Tech:
Racing took its toll on the cars early and often as John Weaver performed maintenance on at least half the field at one point or another. After starting out in the hunt for a podium finish, Bob "Woody" Hazelwood suffered the most severe setback on the evening as a trip into the wall in somebody else's lane degraded his car's handling. Soon after, he hit the wall again resulting in failures at multiple points in his chassis. He went to a back-up car but had fallen off the pace. Soon after, Peter Lentros began having handling problems which ultimately were attributed to his motor loosening in the bracket, giving Woody a chance to get back into the mix. Paul Ryer took a wall hit which also required some frame straightening. All-in-all, a challenging night.
In between repairs, perennially fast John Weaver was busy building a lead on the rest of the field. By the change to the inside lanes, his 151-lap tally put him comfortably ahead of Dave Panich by 7 laps. Peter was another 5 laps back and six laps up on Woody, who despite his chassis issues had logged 133 laps, putting him 1 lap ahead of Richard Payne and three laps ahead of Paul Ryer. Wayne Secore closed out the field.
After the move to the inside lanes Weaver opened his lead on Dave to take the win by over 17 laps. Woody's revitalized car closed the gap to Pete but fell less than a lap short of getting him to the podium as Pete took 3rd place, 8 laps behind Dave. The 2-lap gap between Richard and Paul stretched out to 11 laps as Richard claimed the 5th finishing position.
Weaver's 4.138 on purple took fast lap honors and, similar to his performance last month in Can-Am on the Aristo, again bested the existing NERR Can-Am lap-time and total lap records (Peter's fast lap was also below the existing record). When NERR races on the Aristocrat at MVH on December 4th it is inevitable that both existing Can-Am records will fall. The big question is who will be the new record holder?   
Driver, laps completed, best lap time/lane:
John Weaver             316/17    4.138      PU

Dave Panich              299/2      4.243      PU

Peter Lentros             291/1      4.228      PU

Woody Hazelwood    290/4      4.235      PU

Richard Payne          278/18    4.518      PU

Paul Ryer                  267/19    4.130      GN (time was a rider)

Wayne Secore          248/0      5.105      BK
UPCOMING EVENTS:
          Next Tuesday at MVH:
                   11/30           F-1 on the ROYAL (note that previously this had been shown as F-1 on the King, but in reality, racing will be on the Royal!)
          NERR Race No. 4 at MVH in Ashland, MA:
                   12/4            Stock Cars on the Figure 8
                                      Can-Am on the Aristocrat
Podium: (L to R):  2nd Place – Dave Panich, 1st Place – John Weaver, 3rd Place – Peter Lentros
John's 1st Place Chassis
Dave's 2nd Place Chassis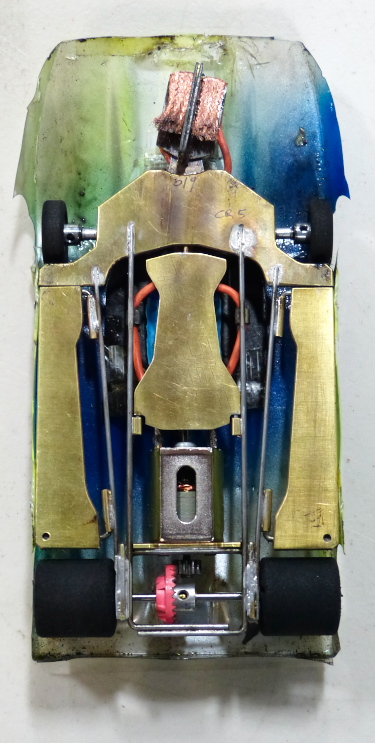 Peter's 3rd Place Chassis