In 1959, 34 year old Jim Russell was looking for something to do on a weekend when a friend introduced him to a novel new hobby called slot car racing. Russ, as everyone calls him, was hooked.

Then, in early 1963 while refinishing a coffee table, some Behr varnish spilled on one of Jim's cars. He didn't notice until after it dried but the effect was dramatic. Ever the entrepreneur, Jim decided to market his discovery and a new product and company were born.

Russkit was incorporated in November of 1963 but its first product, Russ-Cote, actually hit the shelves in the summer of that year. Russell had quit his job as an accountant and management consultant in April to concentrate on getting a product line together for the new company so he started selling out of his car while he put together the financing and organization for the enterprise. The timing couldn't have been better as interest in slot cars was just starting to climb.
(More on the early days of Russkit
here.
)
The summer of 1963: The very first Russkit product, Behr varnish is filled in small bottles and re-labeled "Russ-Coat".
In late 1963, the very first ad for the new enterprise Russkit appeared in the October issue of the Model Car Science
magazine: "Superleggera" (=featherlight) plastic bodies. (The same ad was run again in the November issue of MCS.)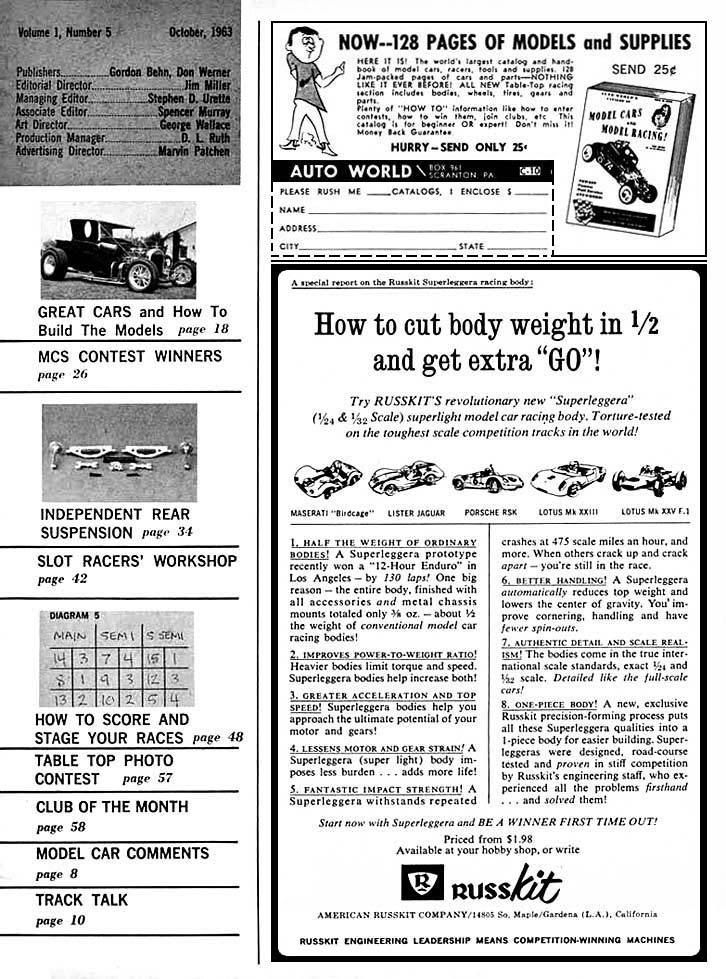 The next ad to be seen from Russkit wasn't until august 1964, this time in the Car Model magazine. And in color.
A future classic is introduced: The revolutionary pistol grip controller. Patent pending.
Another ad, another magazine. Model Car & Track, September 1964. Pistol grip controller again. Hairy stuff.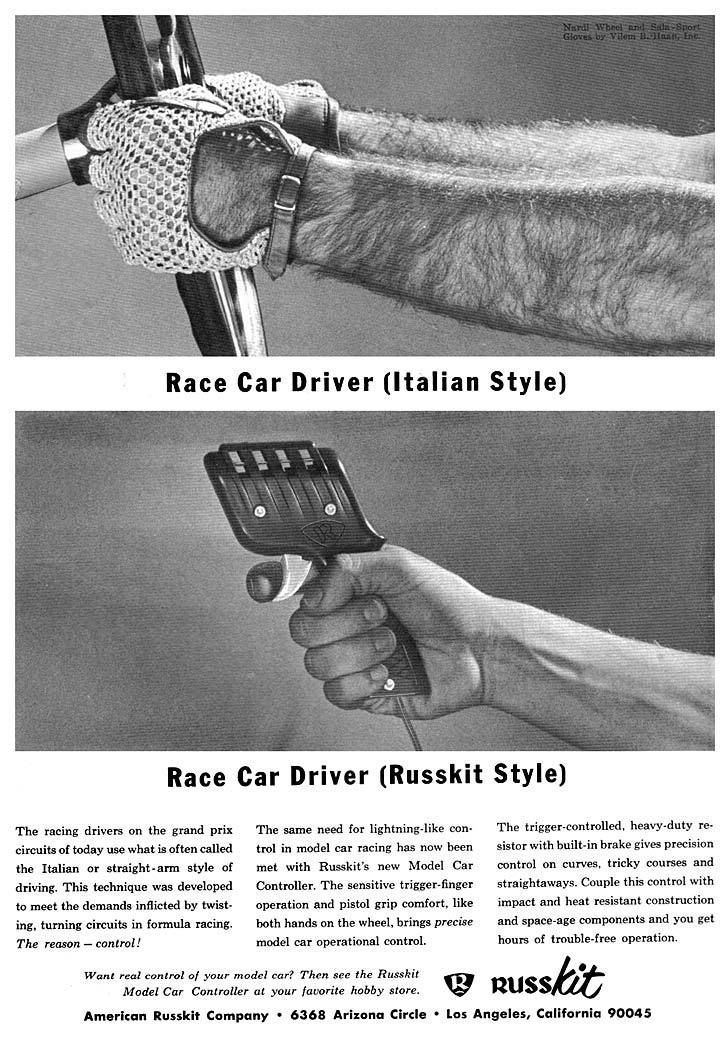 Another future classic: The Russkit 22 motor is introduced. Mabuchi becomes increasingly popular, and the small but
powerful motor is soon gaining huge momentum on the market thanks to the Russkit introduction. The first ad is seen
in Car Model in October 1964. (The same ad is issued again in Model Car & Track in November 1964.)