Single screw causes $2.2M in damage
Started by
NSwanberg
,
May 08 2021 11:00 PM
Posted 08 May 2021 - 11:00 PM
Remember the Steube bar! (ask Raisin)
SUPPORT YOUR LOCAL RACEWAY!!
"The denial of denial is the first sign of denial." Hank, from Corner Gas
Nelson Swanberg 5618
Peace be with all of us and good racing for the rest of us.
Have controller. Will travel. Slot Car Heaven
---
Posted 08 May 2021 - 11:43 PM
When Koford went to 459s and setups with aluminum endbells, we found out the hard way, that Loctite should be used when using an 0-80 screw in an aluminum endbell.
Mike Swiss
 
Inventor of the Low CG guide flag 4/20/18
IRRA® Components Committee Chairman
Five-time USRA National Champion (two G7, one G27, two G7 Senior)
Two-time G7 World Champion (1988, 1990), eight G7 main appearances
Eight-time G7 King track single lap world record holder

17B West Ogden Ave., Westmont, IL 60559, (708) 203-8003, mikeswiss86@hotmail.com (also my PayPal address)

Note: Send all USPS packages and mail to: 5858 Chase Ave., Downers Grove, IL 60516
---
Posted 09 May 2021 - 12:24 AM
Not quite the same thing but...
In liquid fueled rocket engines the level of cleaniness exceeds anything you might think of.
Why?
Liquid oxygen is highly reactive and is looking for something to combine with even if it's cyrogenically cooled. If there's just a fluid running through the system everything's OK but if there is a chip, small screw, or any other debris bouncing around, that added energy can create a situation known as "hardware rich" (HR). Just a burr on an edge of a part or joint can also create HR badness even if they were not to break off. All the object needs to do is bounce against a tube, wall, blade, valve, or anything else inside the engine (oxygen side) and you get a very expensive Roman candle.
In the series premier of Crime Story, Ray Luca is discussing with Phil Bartoli that the world is made of little things that make bigger things and those, the little things, are the important things to control.
Click
HERE
to contact Sonic Products. The messenger feature on my Slotblog account has been disabled.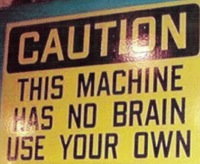 ---
---