[
 
 
As some may know, the McFarland Memorial Track Tour was the brainchild of friend and track owner, Bill Bostic. The Tour was organized to pay tribute to Northwest slot-car legend, Bob McFarland who passed away in February of 2020. Several private track owners throughout Oregon have committed to, or have already hosted Tour events. Electron Raceway held its Memorial event on 6/6/22. If you are not interested in reading the narrative, cursor down for images of the track and the cars

Electron Raceway is a custom, wood routed track and constructed in 2005. Rich Vecchio completed all of the work himself using only some simple hand and power tools. The Raceway resides in a finished/heated shop area of about 1,000 square feet located within a 2,400 square foot metal sided "pole barn".
Track specifications are described below.
Track Footprint - 24x18 feet
Track Surface - MDF finished with epoxy paint
Number of lanes - 4
Lane Spacing - 4.5 inches
Lane length - 90 feet
Minimum turn radius - 12 inches
Braid - Traditional (non-magnetic)
Track Power - Rivergate 13.6 volt, 70 amp power supply
Crash walls - Hardboard softened with rubber wall base molding
Timing and Scoring - Trackmate
Below is a track schematic and images of the track itself.
 
On race day, doors opened promptly at 3:00 p.m. ostensibly to give out-of-towners an opportunity to acquaint or reacquaint themselves with the circuit. The first to arrive were Gary Tipton and Gary Klein from Eugene, Oregon, followed closely by Bill Bostic from Vancouver, Washington. Others filtered in between five and six o'clock. In all, ten slot-heads participated in the McFarland Memorial Race

The race was billed as a fun event for OSCAR spec. or True Scale spec. Trans-Am Cars. Racers did not endure a drawn out qualifying session nor were their machines subject to tech inspection. A simple rotation format was used. Heats were two minutes in length and drivers rotated through the order twice. There was no set time between heats but drivers were encouraged not to dawdle. Heats began when racers and marshals were in place. The race was to be stopped in the event of a mechanical problem and restarted when the issue was resolved. No penalty was to be assessed to the offending driver.

Initial plans did not call for trophies, however, Rich, with infinite spare time on his hands, created, embroidered and framed awards for the top five finishers and the top finisher in the handicap competition. See image below for a sample trophy
 
Rich Vecchio, the Race Director, seeded drivers so that participants of similar abilities raced in each and every heat. Rich's historical slot car database provided the basis for handicaps. In the event that a particular driver had posted no recent historical data, (Gary Klein, Gary Tipton and Bill Bostic) Rich monitored practice and logged the best lap time for these individuals. These times were used to calculate a handicap and therefore seeding. The grid included both True Scale and OSCAR spec. rides. Bob, Rich, Ron, Lowell, and Mike, selected their True Scale Camaros. Mark and Joe selected OSCAR based Firebirds. Gary Tipton and Gary Klein ran their OSCAR based Challengers while Bill Bostic ran an OSCAR based Barracuda. It is interesting to note that Bill's rides were loaners supplied by Brian Trachsel. In fact Brian won the Trans-Am race held at Electron back in May of 2008 with the Barracuda (the Mustang appeared in practice but was not selected for the race).

This year's McFarland Memorial race started a few minutes after 7:00 P.M. and ran quite smoothly. There were very few problems and these caused only minimal delays. Track calls were few and far between due to the number and skill of the marshals. Racing action ended about 9:30 P.M. and everyone was on their way home before 10:00 P.M. 

As mentioned above, the race format was two times through with two minute heats. Below is a summary of Round #1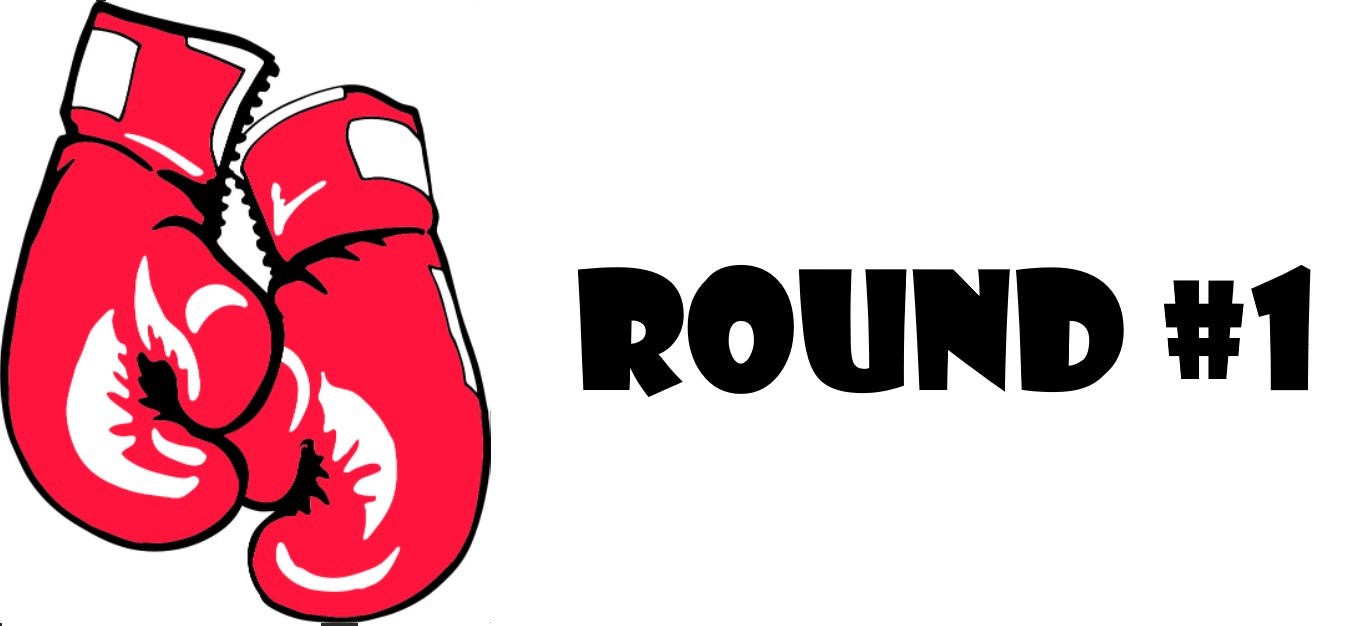 Heat #1 included three of the top seeds; Bob, Rich and Mark as well as the fifth seed, Ron. Bob and Rich emerged as the racers to beat posting lap totals of 23.4 and 23.2 laps respectively. Meanwhile, Ron and Mark finished the first heat a couple of laps behind the leaders posting 21.3 and 21.0 laps respectively. As the first round progressed, Bob opened the gap on Rich to finish the first round with 93 laps, a bit more than two laps ahead of Rich. Others were at least three and a half laps behind second place Rich.

Several others jockeyed for position in Round #1 battling for third place. Ron was first in the barn with 87.3 laps, however, Mark, Lowell and Joe were not that far behind and could challenge for the podium with a good second round performance.

The out-of-towners were very evenly matched. Bill Bostic finished the round with 79.8 laps while Gary Klein finished with 79.1 laps and Gary Tipton finished with 79.0 laps
 
With a bit more than a two lap lead going into the second round, Bob was in the driver's seat. All Bob had to do was to match Rich's heat totals to finish on the top step of the podium. In fact, Bob was able to increase his lead and won the race with 184.2 laps. Rich was second with 179.9 laps.

Meanwhile the battle for the bottom step of the podium raged on. Ron was first in the barn finishing with 173.4 laps. Mark, Lowell and Joe had a shot at overtaking Ron. Unfortunately, all three fell a bit short. In the end it was Ron, Lowell, Mark and Joe for third through sixth respectively. It is interesting to note that Lowell's fourth place finish was his best with a True Scale ride at Electron. His yellow Camaro is very quick and handles great. It certainly has the potential for a podium finish (Note: Ron sold the Camaro to Lowell in March of this year). I was somewhat surprised that Lowell even showed up to race. He has been suffering mightily from a knee issue for the past several months and has been in a lot of pain. On this particular evening, I could see he was having trouble but he soldiered on for the entire race.

The out-of-town crew continued to battle for position. Bill Bostic began getting the hang of the track and was able to open up the gap on the two Garys. In the end Bill finished with 161.3 with Gary Tipton at 158.3 and Gary Klein with 155.8. Bill's performance also let to the net winner's award.
The True Scale cars performed quite well against a gaggle of OSCAR based rides. In fact, the top four finishers were True Scale Camaros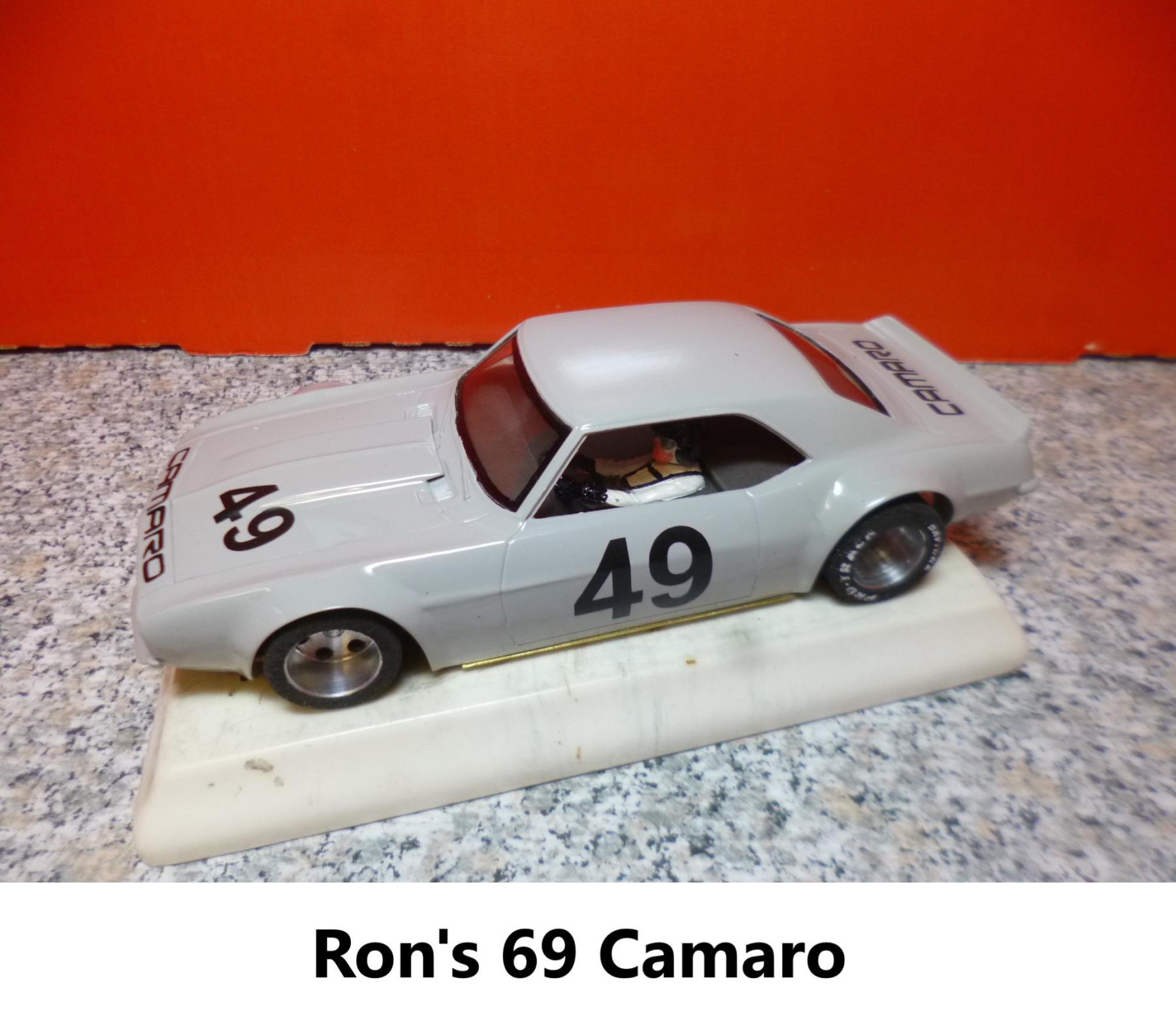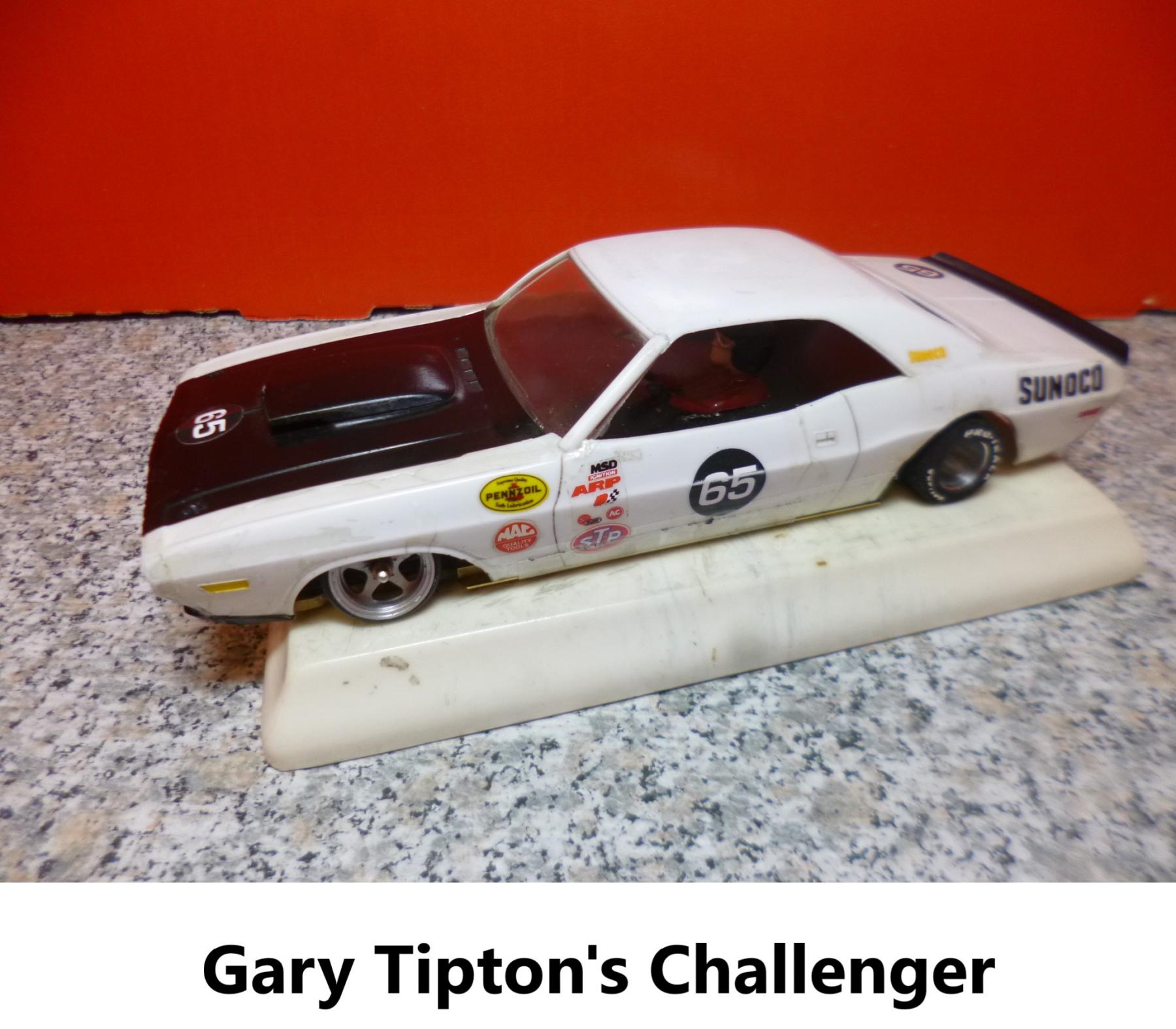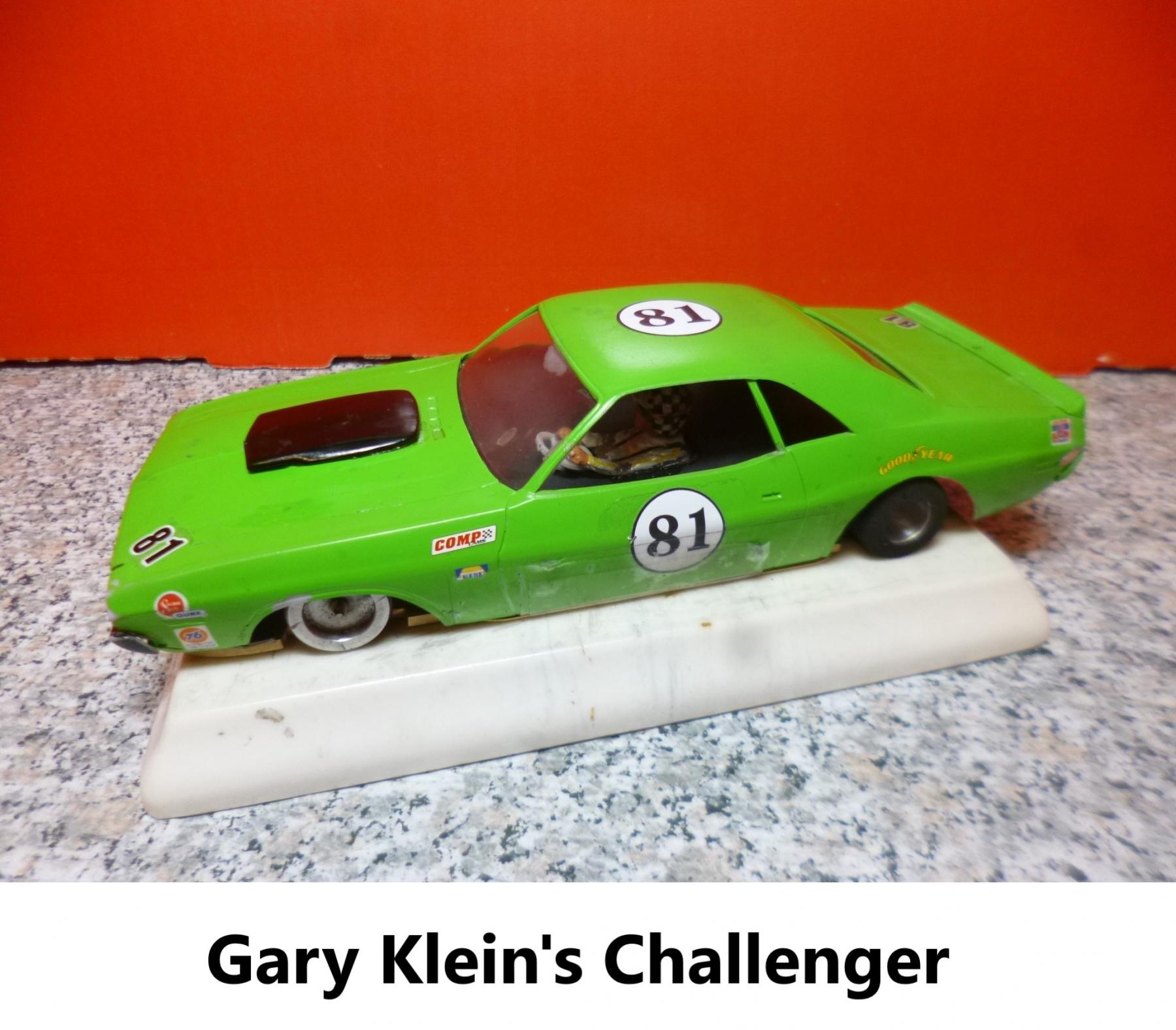 Below is an image of the cars as they finished in the handicap competition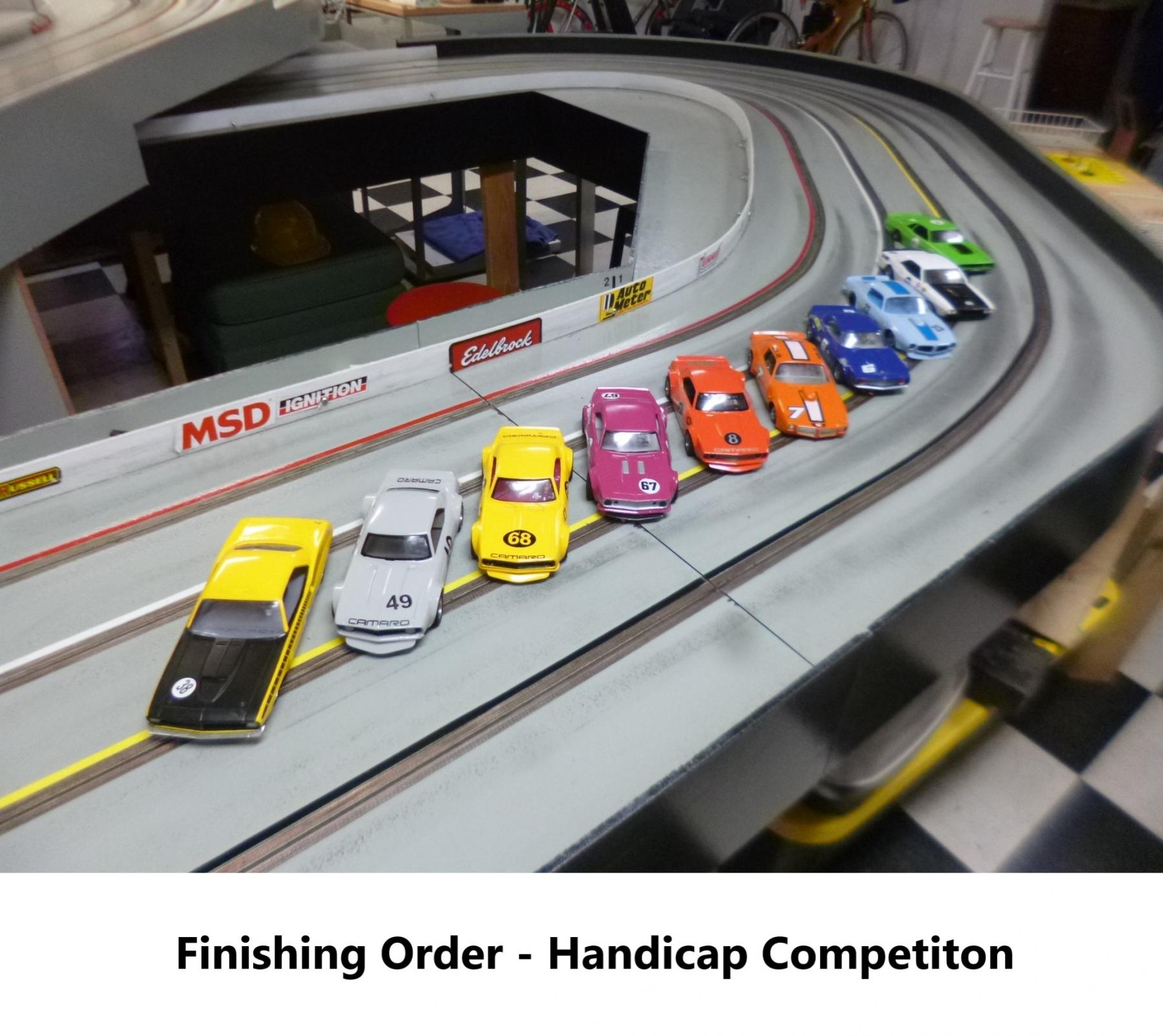 Below are images of two interesting cars that were seen in practice but not in the race; Ron's "Tire-bird" and Bill's Mustang