Eight slot-heads showed up to race Vintage ProTrack and NasTruck at STR on 11/21/22. Track conditions were excellent for both classes and records were challenged
In Vintage ProTrack it was Rich, Bob and Mark for first through third respectively
In NasTruck it was also Rich, Bob and Mark for first through third respectively.
These ProTrack cars are quite evenly matched. One can see this by looking at the results of the last contest shown in the table below. Fast lap times were in a tight range of 5.729 (Bob) to 6.051 (Terry) with most of the racers in the 5.8 to 5.9 second/lap range. As a result, almost anyone could challenge for a podium spot. That being said, I think that the battle for the podium spots will most likely be between Bob, Rich Joe, Mark and possibly Ron. 
Current Race
 

It is interesting to note that many competitors have recently switched to the Plafit Cheetah 4 motor. It is inexpensive and, at this point seems to be the best alternative. I swapped out a Falcon 4 for a Cheetah 4. The resulting gain was over .2 second/lap. The top three finishers and Lowell were all running Cheetah 4 motors. It is not a surprise that each ran personal bests.

Rich was first in the barn with 81.6 laps. Going into the final heat both Bob and Mark had a chance to overtake Rich but it would take a really good last heat. In the end, Rich prevailed with Bob, about a half lap behind and Mark a half lap behind Bob.

Meanwhile, the battle for fourth place was hotly contested between Ron, Lowell and Nick. In the end, Ron was fourth with 76.2 laps with Lowell less than a lap behind. Nick was sixth about a lap down from Lowell.

See detailed results below, images of the top three finishers as well as images of new rides introduced by Mike and Ron. To see all of the ProTrack rides click on the link below
 
http://slotblog.net/...ntage-protrack/
 
Lowell won the handicap competition with a personal best performance. Rich was second and Bob was third
 
In the prior contest, it was Rich, Mark and Nick for first through third respectively. Nick notched a personal best to stand on the bottom step of the podium. Some others had faster rides but lacked the consistency to challenge for the podium spots. See below for details of the prior race (see below for prior race results).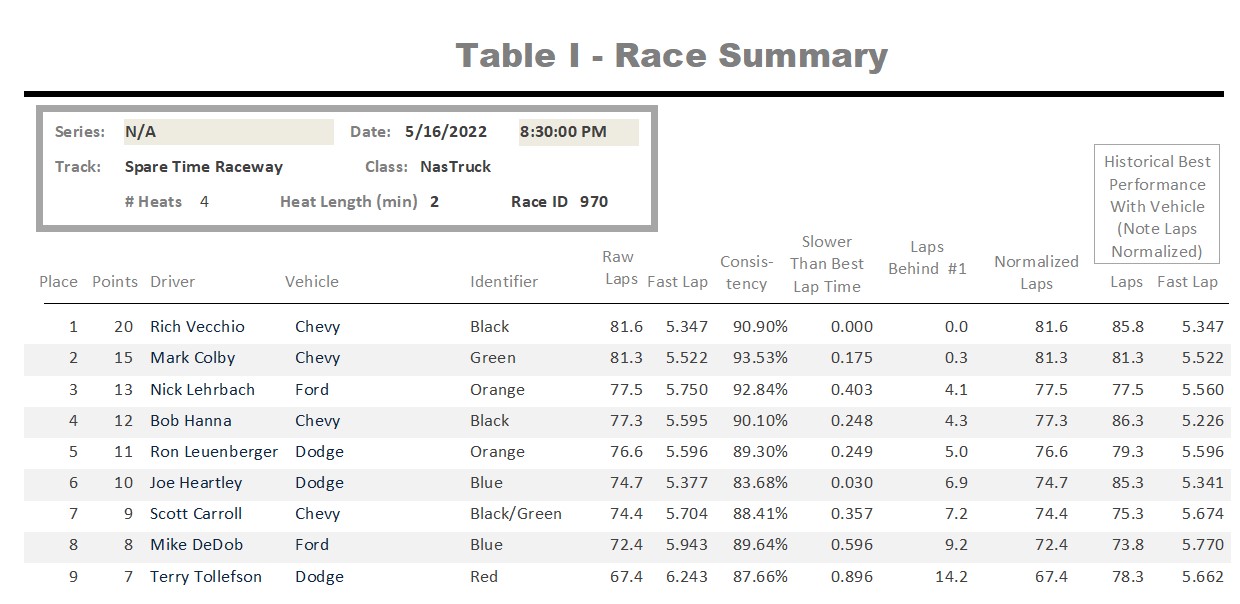 In the upcoming race, Nick will certainly be challenged and, I believe, all of the podium spots will be up for grabs. Bob holds the record for this class and will almost certainly vie for the top spot. Rich, Joe, Nick and possibly Ron will be in the mix for podium spots as well. It should be a good race


Current Race

Several incidents within the NasTruck race led to lower than usual consistency and lap total scores. In the initial heat, Rich was on the grid in the blue lane and therefore the first to finish his rotation. His lap total was 83.2. Again, Bob and Mark challenged Rich. In the end, Bob finished second, about a half lap down from Rich. Mark was third, about a lap behind Rich.

Others were evenly matched turning fast laps between 5.6 – 5.7 seconds per lap. Consistency won the day with Nick finishing fourth with 77.7 laps and a consistency of 91.12%. All others had consistency scores below 90%.

Below are the detailed results. Also, below are images of the top three finishers. To see images of all of the NasTrucks, see the link below

http://slotblog.net/...nastruck-class/
 
 

Lowell's personal best performance led to a win in the handicap competition. Mark and Rich were second and third respectively.