A trip down memory lane.
Jan.'68 (actually Dec. '67) was the beginning for the USRA (United Slot Racers Association) in SoCal.
I remember attending the initial meeting (Lynwood, CA). There was probably around three dozen racers or so in attendance.
Lynn Fletcher was elected President, Mike Steube - Vice President, Jeff Martinelli - Treasurer, Keith Tanaka - Secretary.
I'm not sure, but I do think Mike was elected V.P. (Hey Mike, is this correct?)
The intent of USRA was for the racers to determine what rules/regulations would be best for the racers. The magazine races in SoCal (Rod & Custom, Car Model, Model Car Science) set the stage, but the racers felt they needed to control what was happening, hence USRA was formed. USRA today is nothing like the original USRA. USRA has survived, but the end result is not what the founding members had in mind.
Below is a copy of the original USRA membership (thanks to John Cukras, by way of Tore Anderson I received this copy).
SoCal D3 will continue to look for and hopefully find the original members to let them know SoCal D3 is here in the spirit of the original vision of USRA. D3 is not associated with USRA. The vision of D3 is not to make the mistake(s) made by USRA in the early '70s (and thereafter). D3's focus is to support the local raceway(s) and provide a fun, low cost, creative (scratchbuilding), and supportive racing environment.
2009 will be the fourth racing season for SoCal D3.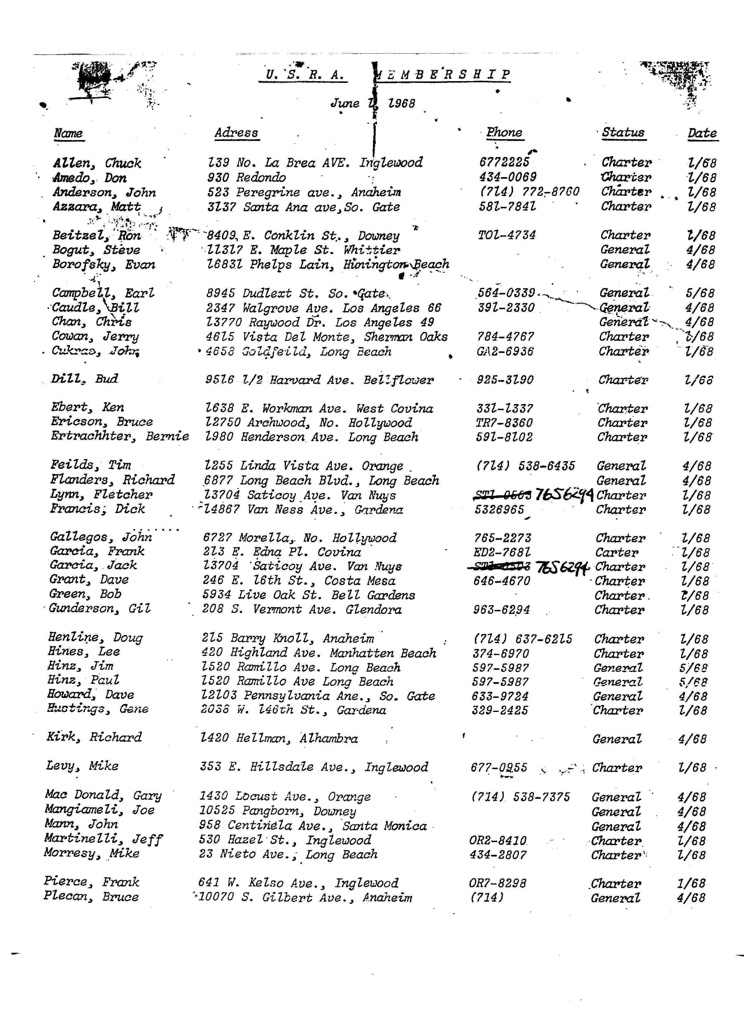 Keith