Here's another one of Rodney's amazing builds in his own words:
 
1966-67 was the beginning of the "lower and wider" generation of slot cars.  They were lower and wider than their full size counterparts for better handling.  This Dynamic "Handling Body" McLaren Mk2 is representative of one of the first low and wide slot car bodies.
With the lower bodies, smaller diameter wheels and tires are used.  This car has blue-colored sponge rubber rear tires.  The dye color affects the hardness of the sponge rubber.  Blue tires are stiffer than black tires, for example.  So slot car handling could be tuned with the choice of tire color/hardness of the rubber.  The wheels are Riggen.
The chassis is my representation of a scale space frame chassis with working suspension.  I got the idea to build this one after seeing a full size McLaren Elva at a local race shop with most of the body panels removed.  The rear suspension is basically a four link set up with coil over shocks.
All components on the car are from around 1966-67.  A Mura/Mabuchi-based motor (made locally in San Leandro back in the day) powers the car.
The car handles great, and there is no rear axle hop.
Rodney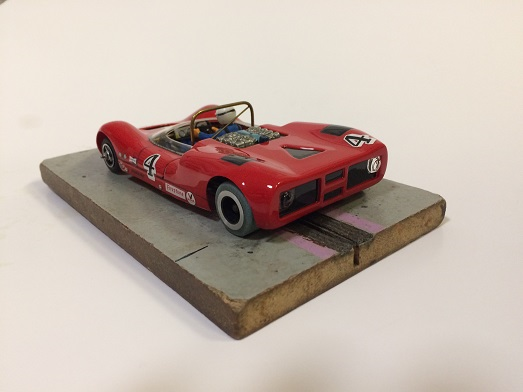 That's an amazing car. Thanks for sharing Rodney!