Bob Emott's 1968 California Arco Chassis
By Steve Okeefe
Additional words and pictures contributed by Tony P. and newsletter scans by Rick Thigpen
In late 1968, east met west in an Arco race in California. The results of that race were documented by Mike Morrissey in his November 15, 1968 Model Racing Journal (MRJ) race report "Steube Turns Back The Eastern Tide At Don's".
The article begins with: "The California Arco belonged to two guys; Mike Steube and Bob Emott. It was the ever-improving
Steube, with help from another incredible motor from his Dad, who ran away with the main event, and it was Emott who put no less than four of his cars in the main, driving one of them to second place."
Here's the entire article:
On the second page, there are fuzzy photos of Bob's chassis. That chassis has been occupying space in a storage box in Bob's garage for many years, and that box has, over those same years taken on the status of being something of an archaeological treasure trove of scratch building history.
Recently, Bob loaned the contents of that box to Tony Przybylowicz (a.k.a. "Tony P.") who took these photos of Bob's California Arco chassis:
Tony writes: "Bob Emott's second place California Arco Chassis. This one has real provenance as there is a tag on it telling where it was run. 4" wheelbase, .900" guide lead, four rails, three of .063 brass rod, one of .063 piano wire, .025 bat pans 3" wide with a .063 plumber rail. All the hinges still function!"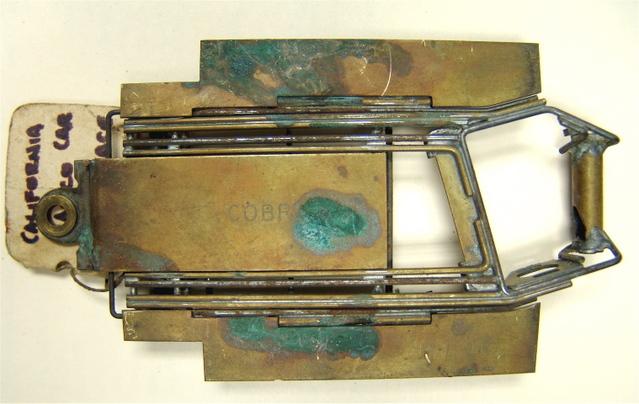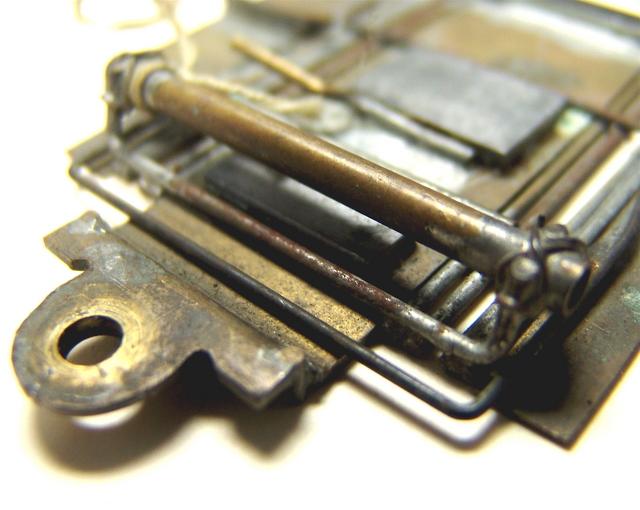 "The plumber hinge is behind the front axle. There is a piano wire "U" soldered to the plumber rails that rests on the front of the drop arm. When the plumber lifts up in the back the "U" pushes the drop arm down. The drop arm is a Cobra 1" model .063" thick."
"Lots of brass tubing lead wire retainers. You can see that one of the pieces of lead on the rear of the pans is still glued on. Bob probably ran this car with lead on the drop arm and rear of the pans."
"Another shot showing the lead on the drop arm and the use of a sort of "dropped axle" front end."
"I think I was the first to use this system with a solid axle as it was easier than trying to bend the rails around the motor cage and up to the front axle. The fact Bob would think it was worth using was certainly a honor." - Tony P.