Probably not a lot of interest for these......just something to look at and maybe think about.
For a while now, I've gotten an occasional inquiry about anglewinders. These have mostly been out of curiosity I think b/c this class in not widely accepted nationally. In Nor-Cal, we run them about 6-8 times a year but these are not the Retro Pro's that other areas run (those are practically wing cars). We run them with Coupe bodies, basic Can Am rules technology, and motors up to the P/S "Big Dog". These cars are generally .3-.5 tenths faster than our Can Ams on any given banked track.
Our July race will feature these little rockets on the 115' flat track @ Fast Track Hobbies in Rocklin, so I had reason to strip them down to convert to flat track setups. This was a good excuse to show some pics of the different ways I build these.
Here's a good basic example. This one will go about 106 gr and carry a Big Dog motor @ 7-38 for the flat track.
Handmade nosepiece w/R-Geo coined guide tongue.
Nosepiece is intentionally pretty large/heavy
Inside rail of the motor box is a one piece, 3-sided, open to the front, bent out of .062.
Other rails are 4X .055 main and all cross bits are .055.
Brass blocks at front and rear of pans are 1/16"
This car has been set up and run a fair bit but not raced yet.
I won't be surprised if this one needs some weight for the flat track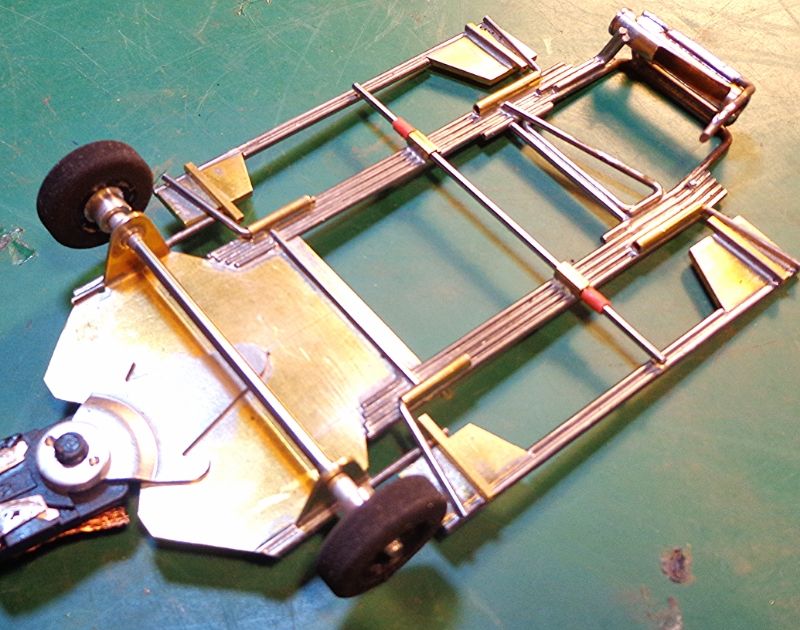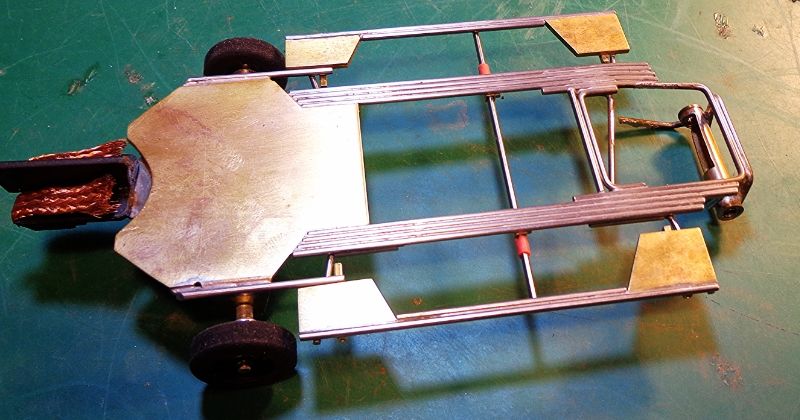 Here are some variations on the basic theme.
Left: 3X .055. Lightest and most flexible of this batch.
Center rail is one piece wrapped around the motor and running to the front.
This is a high bite car and for the flat track, will be set up with a mild motor @ 8-40/43
Middle: shown above, stiffest of this batch.
Right: 5X .047 middle flex, heaviest of this batch.
Nosepiece, cut up JK, anglewinder bracket is a Warmack.
This has generally been the fastest of this batch and will carry a good Big Dog @ 8-43 or 7-39.
I wouldn't be shocked if it ran better with the weight blocks on the pans moved to the rear.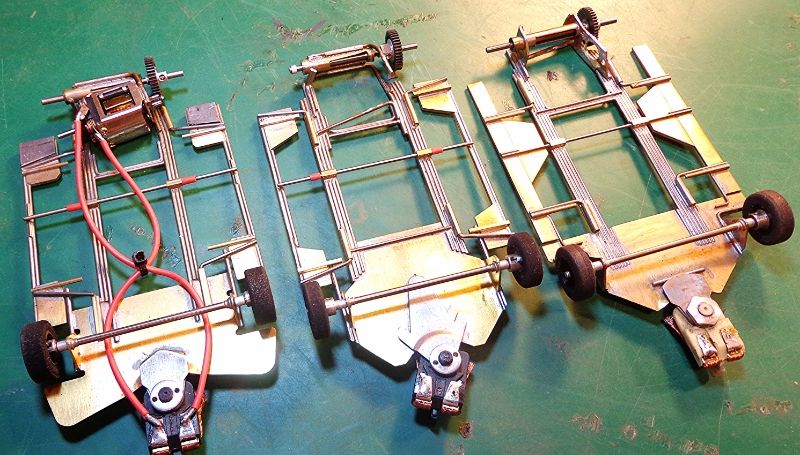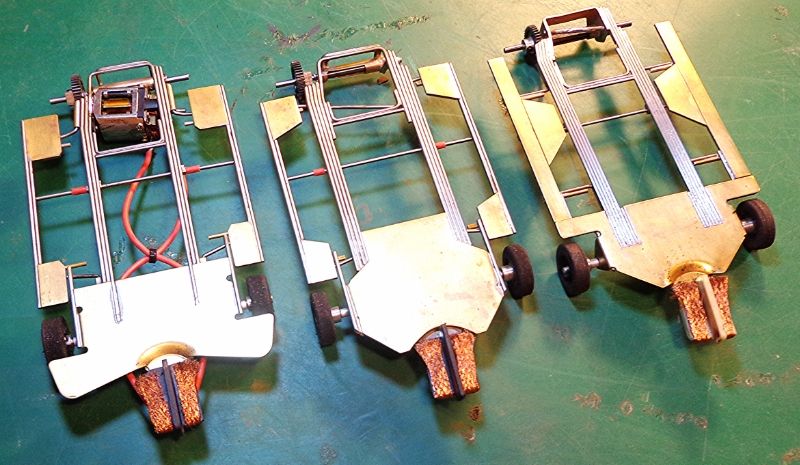 Here's a couple experimental frames;
Top: This is brand new, hasn't even been cleaned or tumbled yet.
Handmade nosepiece of .032 brass.
Perimeter main rail is single .062 wire, all motor box wire is .062. diagonals are .047.
Pans are 1/4" brass, rear corner plates and center plate are .032 brass.
Front shaker rail is 1/16" pintubing, rear shaker is .047 wire.
This frame is 10 gr. lighter than the lightest of the above. It would finish @ ~~ 92 gr.
This was built for higher speed tracks and is probably not ideal for this flat track foray.
I may set this frame up with a puppy dog for the initial testing on the flat track.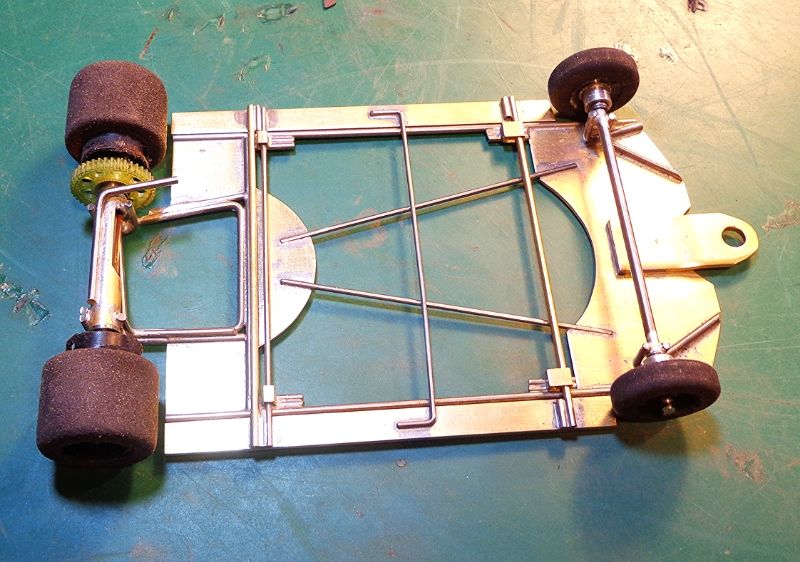 A 1/32 frame for our 1/32 Can Am (mini brute motor) class:
Handmade nospiece, rear tray and guide tongue.
Center forks are .062" and free in the front tubes.
Outer main rails are 2X .047. Pans are 1/4" brass.
Front shaker rail is .055 in 3/32" tubes, rear is .047
Nosepiece and rear motor tray are .032 brass.
This has been tested and @ 89 gr was too light even with a Mini Brute @ 3.3/1
This frame has since had some center weights suspended from the small transverse wire near the rear.
With the weights in place, this frame is now 98 gr and will be very competitive in class.