First up is this November 15, 1968 MRJ article, "Want To Get Exotic?  Try A Low-Profile Motor":
December 30, 1968 MRJ article, "Cukras On  - Motors - ":
February 30, 1969 MRJ article, "Setting Up The Mura/Lenz Motors For Can Drive":
Here's a bit of clarification on the Mura A-Can (16D) endbells. The Korrect endbell for this series is the early "plastic spring post" style shown on the top-right below. It's very much like a Mabuchi FT16D endbell but with pent roof brush hoods and made from a high temperature plastic: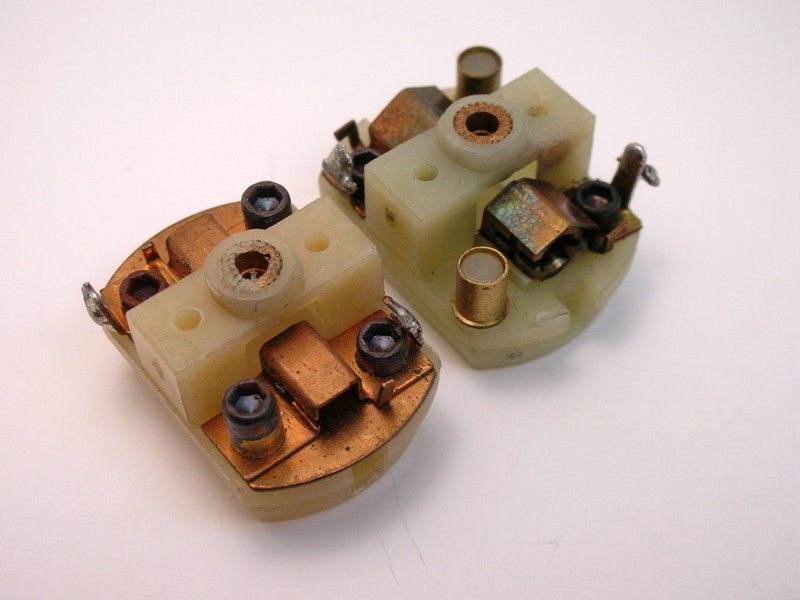 The later style on the bottom-left was redesigned after the introduction of the B-Motor to take the great B-motor brush hardware. The plastic spring post of the early version is replaced with a screw and brass sleeve. This style of endbell served Mura well into the 90's on their C-can motors.
July 6, 1969 MRJ article, "Bullet-Proofing The 16D-Size Endbell":
This article starts out saying it belonged in the June 16th issue but there wasn't enough room for it.
August 28, 1969 MRJ article, "Setting Up The Mura Super B":
This article was published after the last race in the series. But after reading it, it seems to describe how the Pros were working the bugs out and setting up the B-motor during the series.
Champion Motors:
Champion motors don't show up in this West Coast series coverage but they were available. I did some snooping to try and get some dates for the different motors.
The Champion 525 seems to have available throughout the series with its white bullet proofed endbell, black can with aluminum gimble bearing housing and DZ yellow and red dot magnets in a 2-piece shim.
I'm not sure when the black can with the large bronze bearing came out to replace the aluminum gimble bearing can.
The Team Champion Signature and Thumbprint motors with their black, molded in bearing endbells show up in a MCS Feb. 1969 ad.
Champion promoted the Orange Picker motor in the May 5, 1969 MRJ so perhaps one could have been used in the 5th and 6th Sports and GT car races.
I'd like to include Morrissey's article on setting up the Champion can for can drive, but he didn't publish it until December. The modification he did isn't rocket science but then hindsight is 20-20 I guess.

All this certainly isn't necessarily "gospel" but it's period published documentation I've come up with so far.