"NorCal V-town Rumble"
In Memory of Gene Husting - Drag Proxy
FINAL RESULTS!  from  EDDIE'S SLOT CAR WORLD
(Pictures and text thanks to Rodney Chew)
THE ENTRANTS!
What a great turnout!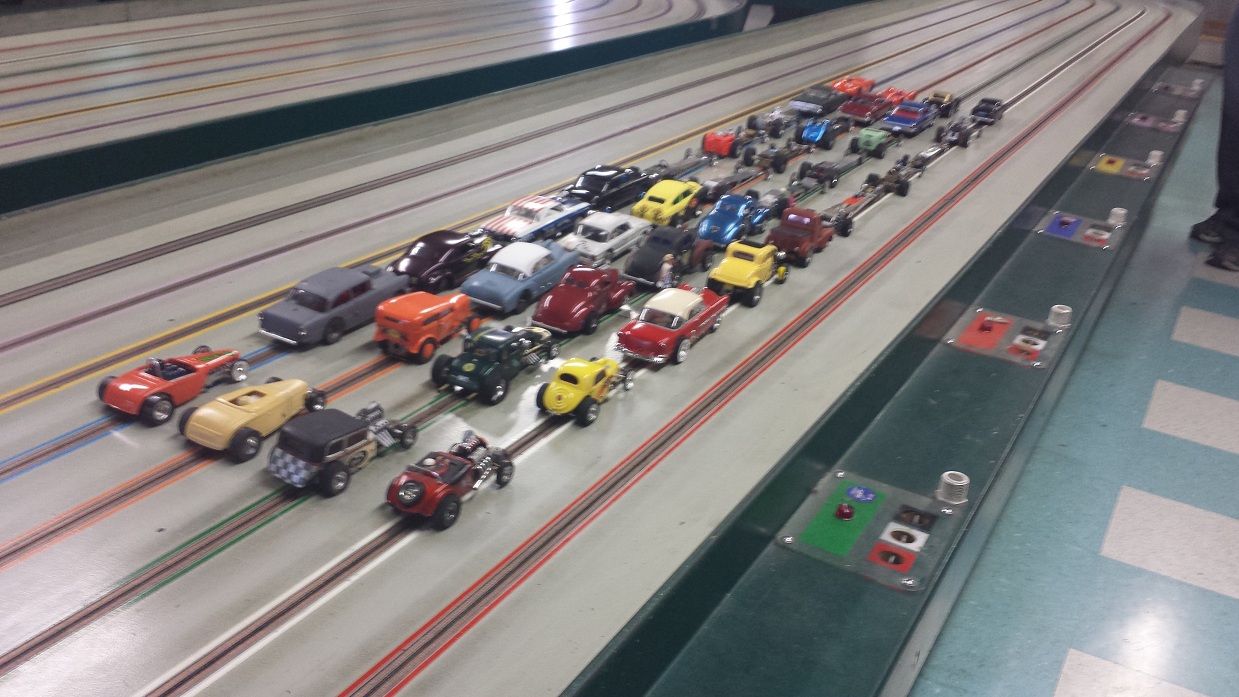 The first results are for the "Big Dogs" - D-DRAGSTER
Here's the field:
Fred Pierpoint - Low ET in class
1.247 ET @ 44.39 MPH
Original dragster restored and completed. Runs smooth and fast. Effortless looking down the strip. At 44 MPH hard to stop. Aluminum body dragster. Magnesium frame rails. Ram 857 with 3 volt armature.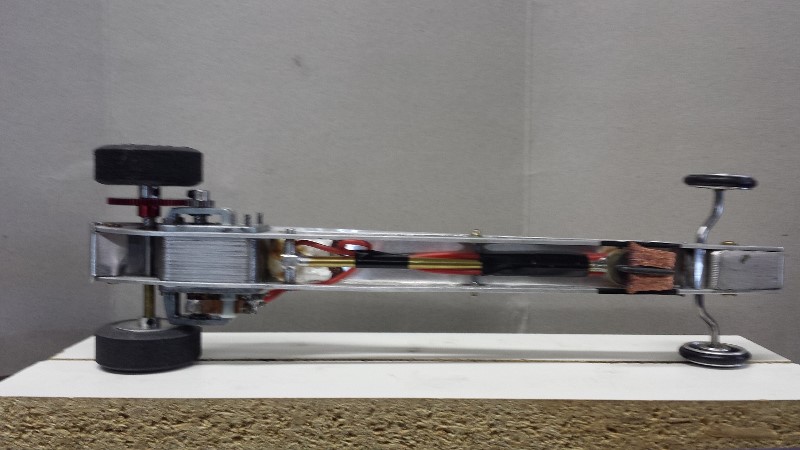 Dave Cummerow
1.351 ET @ 42.33 MPH
Dragster #1.  Repro K&B dragster frame, Strombecker Destroyer motor rewound by Havlicek. Very smooth dragster.
Johnny MacCall
1.503 ET @ 38.63 MPH
Multi-gear dragster. Vintage dragster. Lots of gears spinning with this one.
Rodney Chew
1.598 ET @ 35.78 MPH
Aluminum body and chassis. Short wheelbase. Stock Pittman 84-6 that has been blueprinted. Fast car for stock motor.
Paul Bass
Aluminum-bodied Texas dragster.
1.611 ET @ 32.41 MPH
Car wired "reverse" of our track and we first launched it backwards off the line! No damage other than body popped off. Another very smooth dragster. Geared just right. Went faster second weekend.
Ron Steege
1.652 ET @ 32.05 MPH
"Canopy" dragster. Original dragster restored. Very smooth running car. Another car with effortless-looking runs.Front wheels slightly up when launching off the line. Perfect weight transfer. Magnesium frame rails. Ram 857 with a 6 volt armature. 
Bill Bilancio
1.829 ET @ 29.90 MPH
"Chrome" body dragster. Very smooth and geared just right. Magwinder style dragster.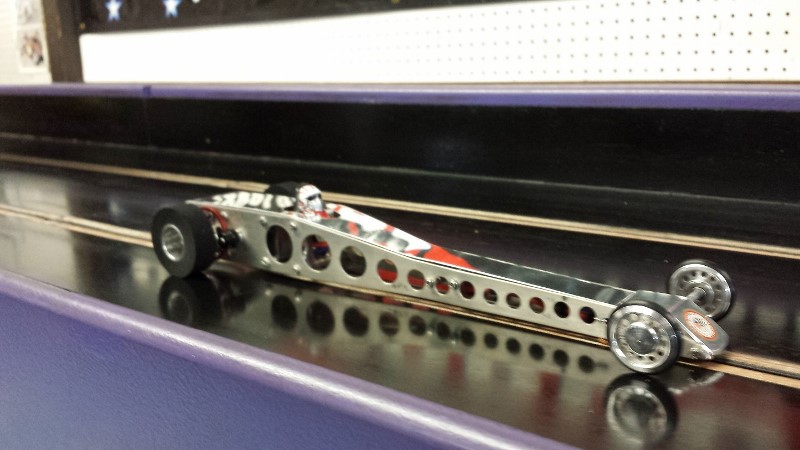 Rodney Chew
1.894 ET @ 27.06 MPH
Orange bodied dragster. Runs out of speed at the end of the strip. Armature tired? Pittman 85 with a 6 volt Ram armature.
 Paul Bass
1.894 ET @ 26.44 MPH
Brass dragster. Pittman or Ram motor. We knew to reverse the wires on this one. Nice-running dragster. Second weekend run was faster.
Charles Carnell
2.473 ET @ 29.33 MPH
Blue Fiat dragster. Kemtron 503 motor with K&B frame rails. This car tried to kill the house controller. We tested the car on the power supply and all seemed OK. On the first run there was a fireball from the front of the car and the controller. I added some electrcal tape to the frame. Our driver got three runs in with lots of sparks while going down the strip. Great-looking dragster.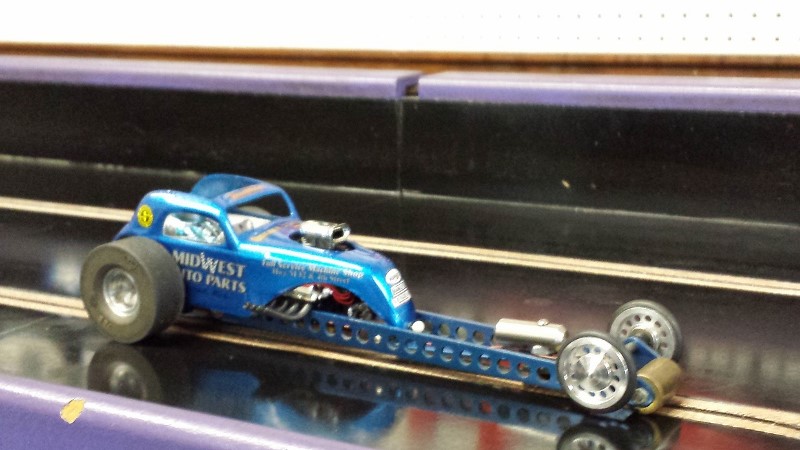 Johnny MacCall
2.627 ET @ 16.08 MPH 
Brass chassis. Kemtron 503 12 volt powered dragster. Blown Ford plastic engine. Could probably use different gearing and zapping the motor would help.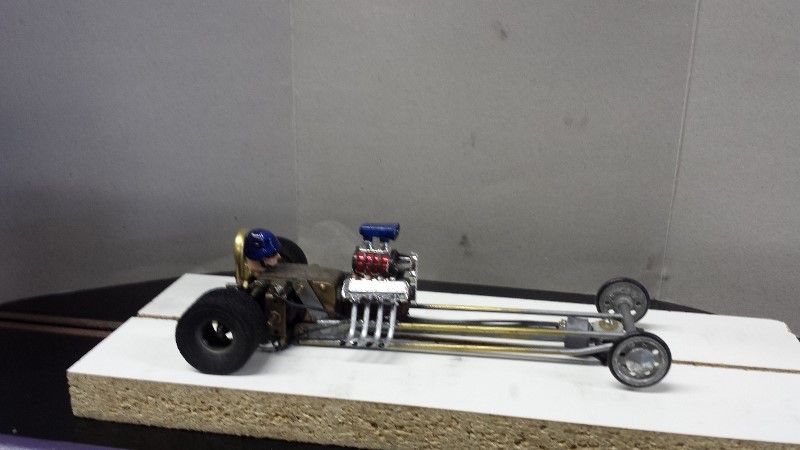 Johnny MacCall
2.732 ET @ 21.82 MPH
Green bodied dragster. Pittman motor with brass frame. Runs straight.