June 13, 2015 was the inaugural Unlimited Hardbody Race at All-American Raceway in Cottage Grove, Oregon.
Fourteen racers attended.  I showed up mid-morning just to check out the action and take a few pictures.  The race was nearly through the first rotation when I arrived.  Unfortunately, shortly after my arrival, Lightning-Larry's car suffered a terminal mechanical failure, and Larry departed.
Larry's withdrawal left a hole in the rotation, which would give an unfair advantage to those racers who would now race against an empty lane.  So I was enlisted to fill out the grid with Ron Johnson's back-up car and a loaner controller from Ron Eisenhower.   Thanks guys.
The Track
Race winner and Top Qualifier
Blazin' Bob dominated the race with the only wing-car hardbody entry.
2nd Place - Bad Bob
Bob's Porsche 917 chassis is one of several scratch/flexie hybrids in the race.
3rd Place - Greg V
Greg decided not to build a special car and raced his Ferrari Daytona sports car with an open-class super-16D.  He gave up speed and handling, compensating with driving skill.
4th - Scary Gary
Gary's car was (I believe) a loaner from John.  Gary taped over the co-driver's head, as it is not PC.
5th - Dustin's car started life as a Mustang GTP
6th - Stewart's 1957 Chevy was the only vintage entry.
7th - Giesel drove a black Ferrari F50... he was racing when I was taking pictures and I didn't get a shot of his car.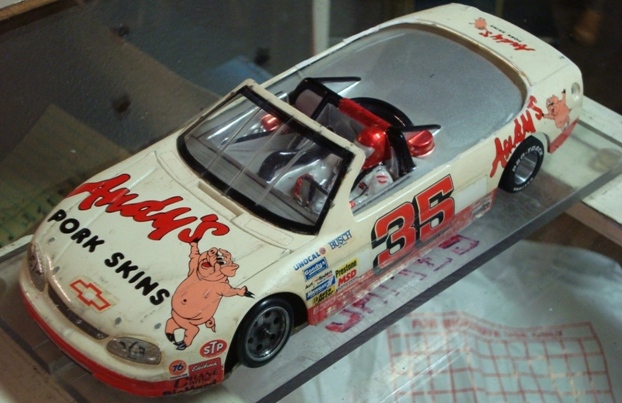 8th - Ron I ran a topless NASCAR Monte Carlo
9th - Bob Shafer achieved his goal of not finishing last is his first race at AAR.
10th - Also a first timer at AAR, Paul Painter was making good lap times by the end of the day with his concours winning mega-flared Ford Cobra.  I didn't get photos of his car, but it can be seen here: http://slotblog.net/...y-car-ac-cobra/
11th - Mark's heavily modded Mustang GTP sat idle for a couple of heats, as he attended to a minor medical emergency.  He returned to finish out the race with a re-bandaged finger and a double dose of pain meds.
DNFs
John's Porsche 917 had a good shot at 2nd place, when a spun pinion sent him to the pits.  He finished the race with his NASCAR and still managed the 4th highest lap total.
Ron J was in the top tier until a hit tweaked his chassis, binding up the rear-end.
James drove Ron's #2 car, finishing out the race for Lightning Larry.