I realize that this is not a super popular subject, but these are fun to build and play with. In NorCali, we run these five-six times a year in our regular rotation and we use a fairly liberal interpretation of the Pro Slot "big dog" motor. We require that the arm be a "Big Dog" or less (Puppy for example) but we allow bearings, shunts if you want, and usage of the JK Hawk set-up. We run these with coupe bodies, (Lola T70 coupe for example) and typically run them on our faster tracks although we have occasionally run them on flat tracks as well. These cars are generally 3-5 tenths faster than our Can-Ams.
This one is built to accommodate the Pro Slot motor and the Falcon (etc.) motors.
Starting point is an R-Geo nosepiece (.040) and guide tongue. The rest is .047" wire
The axle tube is 1.100" wide, spacing between rails in the front is 1.250" matching the nosepiece.
You'll note three indexing marks along the length of the frame. This enables me to keep centered.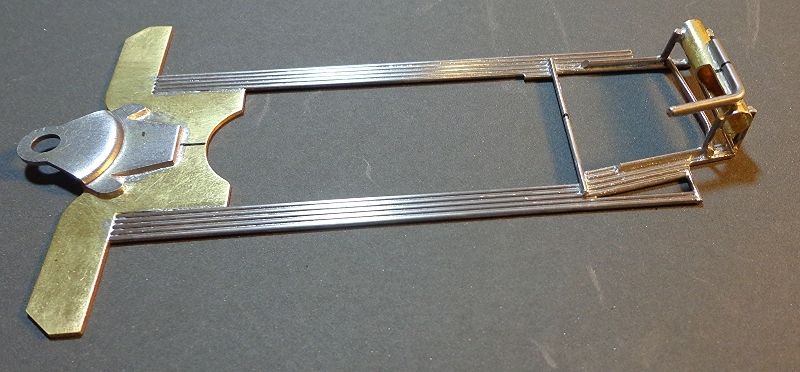 A key element is to build around the gears that you think you'll use. This FK is set up with a 12/40 combo.
I like to use the largest diameter gears that I can because the bigger gears allow a flatter motor angle.
This gear is a Fass 40t (long obsolete) and I have a stash of Fass 43s that I love to use when I can.
Figure this out in advance because an 11/37 (same ratio) will need a higher angle to your rear end.
I use 64 pitch gears because they are much larger in diameter than 72 pitch and thus easier to build around.
With this setup, I have a 13 degree motor angle and can comfortably fit the most useful ratios that I'll use.
Also note that the center of mass of the motor crosses over the centerline of the chassis.
Another key element of this build is that the gear side frame rails have two .047" half rails that fit inside the main rails. This is one element that allows the motor to be more centered.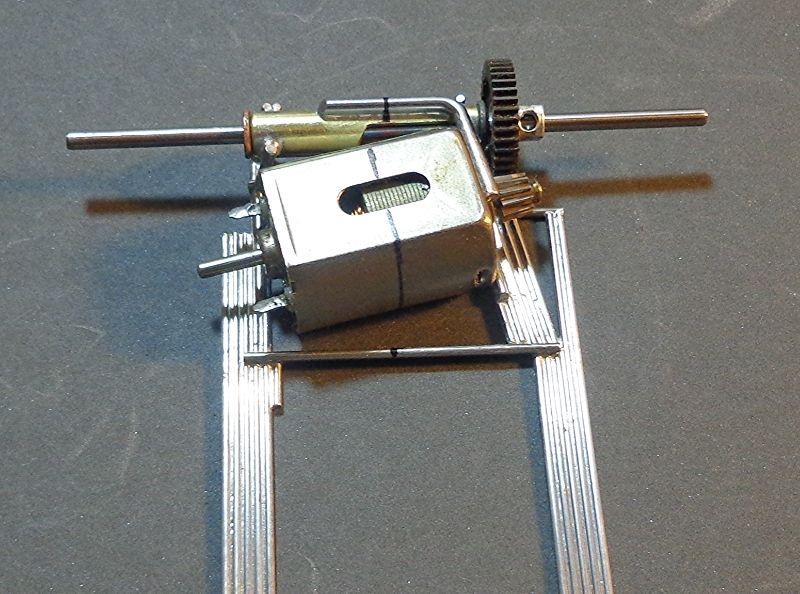 This view shows the axle tube supports and bracing.
Gear side, you have the two .047" half rail uprights at the rear of the axle tube, and a forward brace of .047".
Opposite side, you have the two inner frame rails that run to the back, and an .062" in the front.
Far rear, you have two transverse .047" braces that tie left and right main rails together.
Motor brace on top of the tube is .078" wire. This facilitates motor installation.
Forward perimeter of the motor box is defined by a pair of .047" cross rails.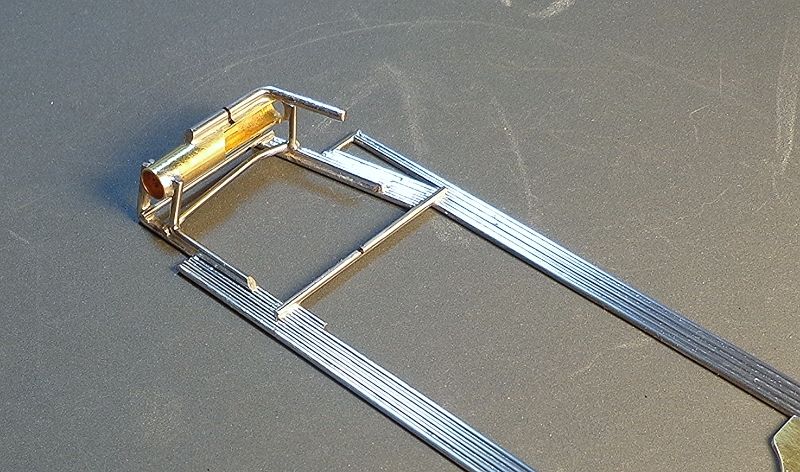 This is just a different angle of the points covered above.
Hopefully, this will de-mystify to some extent the considerations in building an anglewinder. From here on, the build is normal but as I finish it up today, I'll show some further progress as there will be some weight tuning features planned for this.