I haven't posted race results from my visits to Pelican Park since last November's Turkey Night Race, so it's time to play catch-up.
12/30/2015 - GTS - Modern Sports Cars the last race of 2015
The Consi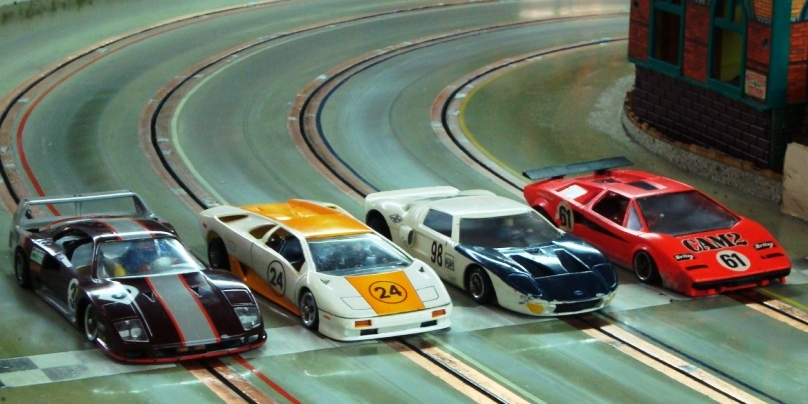 L to R: Deke's Ferrari F40 in the red lane, James' Diablo in white, Mike's Ford GT in blue, and Paul's Countach in yellow.  The 1/25th Diablo and Ford are noticeably smaller than the other two cars,
Deke's F40 was brand new this time out and seemed to have a "crash magnet" attached... every other car that crashed this evening seemed to hit Deke's Ferrari in the process, dashing his hopes of a Main Event finish.
Consi Final: James 1st in white, Mike 2nd in blue, Paul 3rd in yellow, Deke 4th in red.  Deke and Paul drop down to the Hooligan for a second chance at glory.
The Hooligan
L to R: Todd's McLaren in red, Dave's LMP in white, Paul in blue this time, and Deke in yellow.  Note that all four Hooligan cars are sporting rear wings. (!)
Hooligan final: Paul took the win in blue, Dave was 2nd in white, Deke 3rd in yellow, Todd DNF, mechanical failure.
The Main Event
L to R: Cully's Ferrari 458 in red, Basil's Ford GT in white, Leo's Enzo in white, and Tom's Bugatti in yellow.
Basil was freakin' fast all evening... the only driver to sweep the preliminaries.  Leo was 2nd in the premins and Tom & Cully were tied for 4th behind Deke... whose fortunes found him in the hooligan.
Main Event final: Basil 1st in white, Leo 2nd in blue, Cully 3rd in red, Tom 4th in yellow.