In 1967 the GE Silver Hornet motor was the great USA hope to displace the Mabuchi motor from the Pro racing events. This motor never caught on with the Pros and Dynamic's hopes for the motor were indeed, "just a Mirage". But Dynamic's Mirage Handling Body is a winner and works really well with the GE motor.
Here is a little background on the real Mirage car from its designer Pete Brock, a link to his website and a picture of the car in its original form:
The first USSRC racer designed by Peter Brock in 1963 was the super lightweight Nethercutt Mirage. Commissioned by SoCal racer Jack Nethercutt, just before the trend toward downforce aerodynamics pushed the sport into the Can Am era, the low frontal area Mirage was the last of the light weight/low drag road racers. Powered by a small aluminum Olds V8 the Mirage had one of racing's first monocoque chassis that even featured ultra light, riveted, sheet-metal wheels! Since it was being built by a small but dedicated group of volunteers the project moved very slowly. When it was finally debuted, two years late in 1965, the Mirage was already obsolete.
This is a very slick looking car which is typical for Pete Brock's designs.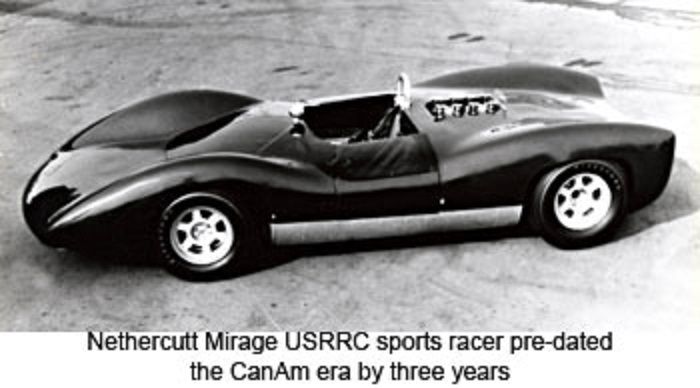 I'm going to try and give this motor a shot to see how fast I can make one run and especially how well I can make it handle. This has been done before with various "Dyna-Scratch" style brass rod and pan style chassis utilizing the Dynamic motor mounts and even monster Havlicek rewound motors.
With this build I'm going to forego the usual Dynamic frame entirely and do what I enjoy doing most, scratch building a brass rod chassis. It's going to be in the style of the cars in the 1967 Car Model Magazine LA Championship Series races.
But first, I need to get the motor in order. Here's the starting point for my project. It's a Dynamic Mirage RTR with the GE motor:
It's an eBay find that actually ran really strong on my track and has good power: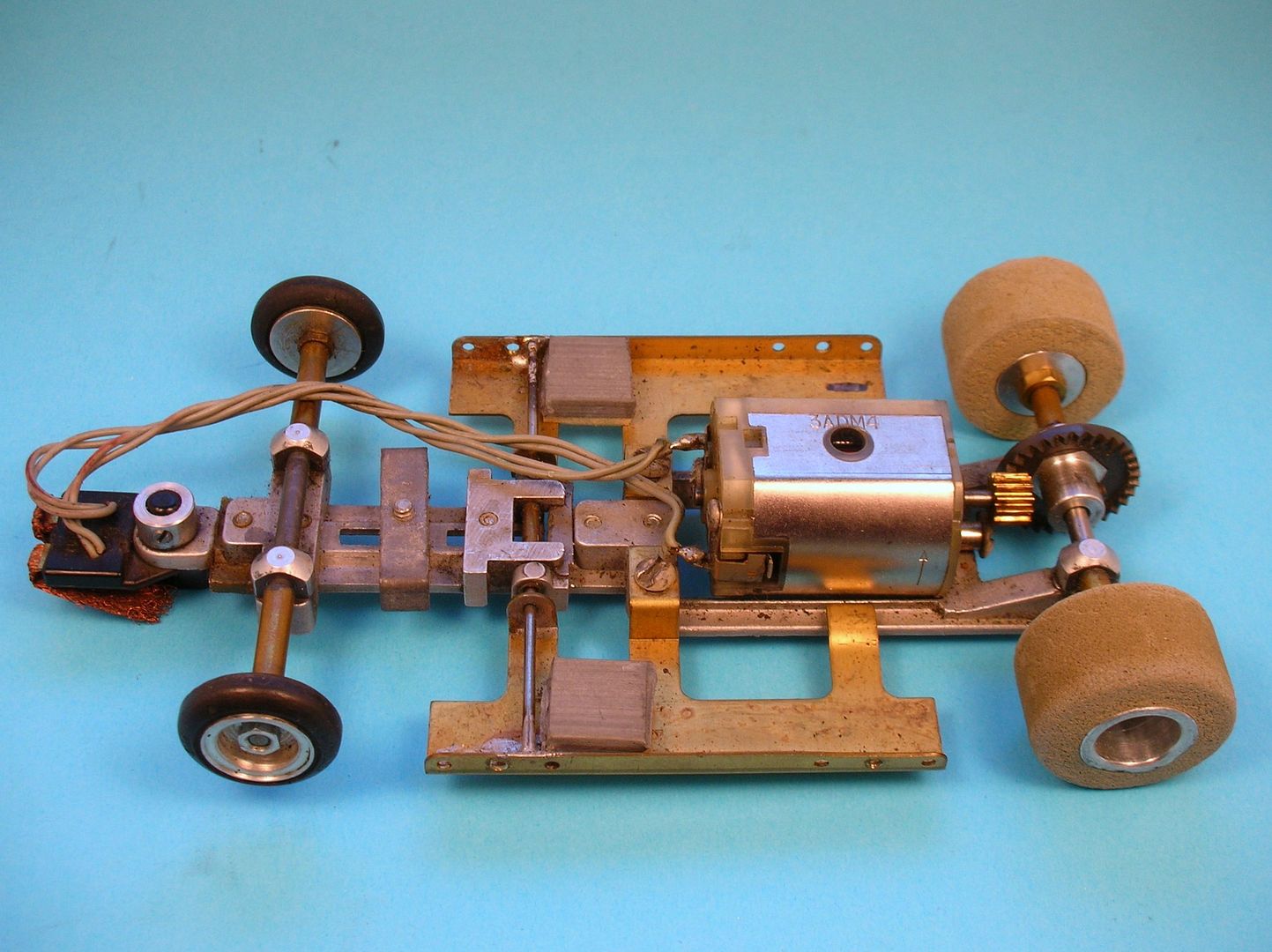 The motor was really filthy and it looked like it might have been messed with……I mean owner modified. It had 2 different size screws holding the end bell in place. I wouldn't be surprised if it has been pull apart and maybe one of the hotter arms Dynamic offered installed:
Here it is pulled apart: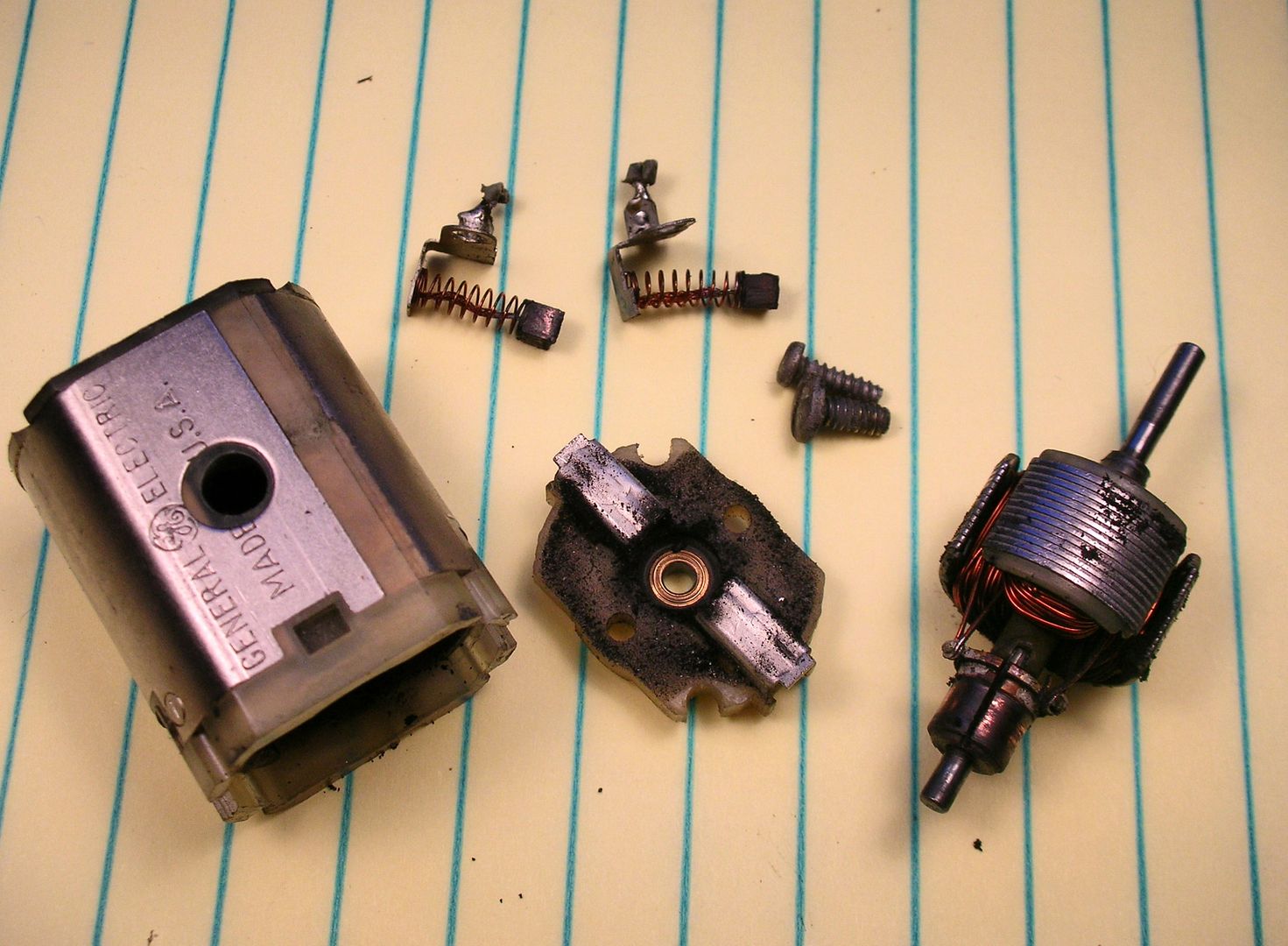 Man, what a mess!  

   What really surprised me was the wires wrapped around the commutator tabs have NO solder left on them! It's like it got so hot the solder just vaporized. But the car ran and ran strongly even with the wires just loosely wrapped around the comm tabs.  

I'm glad they didn't let go and lunch the motor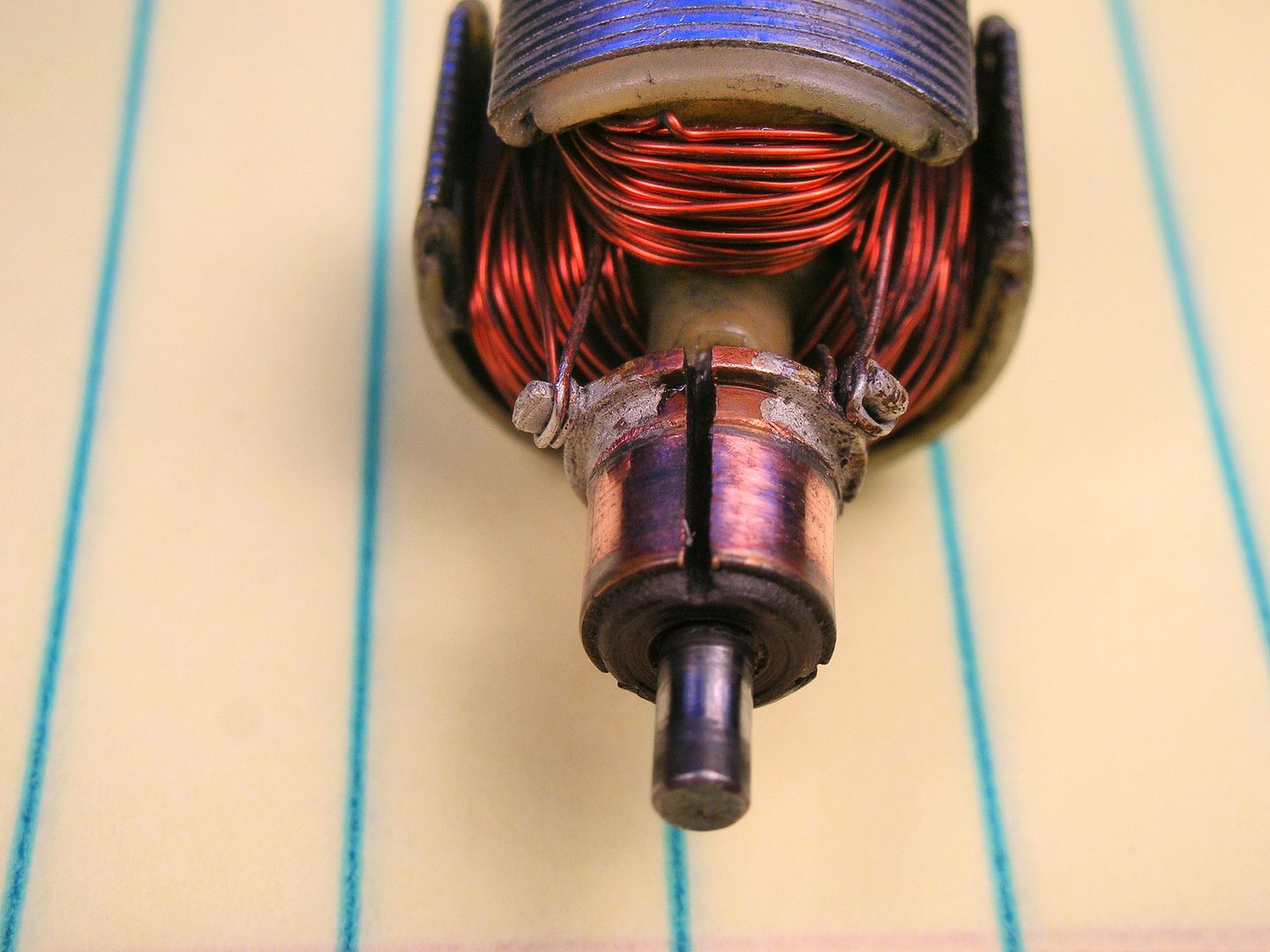 I re-soldered the wires with Slick7 highest temperature silver solder and the arm now reads .3 ohm on each pole:
This arm doesn't seem to have very many turns of wire wrapped on it. 
Next I'm going to disassemble a new old stock GE motor and see how it compares with this one.