CMF3 Slot Car UMDF Charity Fundraiser
 
What is this?
 
I wanted to raise some money to donate to one of my favorite charities, the United Mitochondrial Disease Foundation, or UMDF.
 
Most people have never heard, much less even know, about mitochondrial diseases; and, not being "front page news," they can always use the donations. The UMDF was very helpful to my wife, Suzanne, who died in 2009 from an autosomal recessive mitochondrial disorder you've probably never heard of, Mitochondrial Neurogastrointestinal Encephalomyopathy, or MNGIE ("men-gee").
 
So, what better way to help get the word out, and raise some money, than to hold a fundraiser drawing, and involve all the other slot car geeks out there! But, since there is a drawing, there has to be a prize you can win, right? Right!
 
What do you get?
 
The winner will get a complete ready-to-run retro "Can-Am class" slot car!
 
This is a complete slot car from the not-so-secret CMF3 skunkworks. Not some leftover car I no longer use, this is an all-new ground-up build of one of my favorite chassis designs. And this isn't some display case shelf-queen for collecting dust-bunnies, this car is ready to run and race. Just put on the body and rear tires, hook up your controller at your local track, and have some fun!
 
What does that include?
 
The specifics:
 
CMF3 1237-Cc3 scratchbuilt inline-drive chassis; features include:
 
- All-wire framing, constructed using 0.032" wire
- Dimensions: wheelbase = 3.875" / RA-G = 4.875" / guide lead = 1.00"
- Single central main rail with flanking articulated "buttress rails"
- Static lateral rear pans; dynamic medial central-forward pans
- Bite bar with adjustment housing
- Angled motor bracket
- Six-pin body mounting and "sissy bar"
 
Okay, while this ain't no "piece of slot car history," you have to admit there just aren't that many scratchbuilders around building chassis like this, so let's just say it is somewhat "out of the ordinary"…
 
Ready-To-Run includes:
 
- Red Fox guide, Sonic "Grape Nut", Big Mama braid, Koford 0.010" bronze guide spacers (initial set-up to 0.020" guide depth). TQ leadwire
- JK 8746PF front wheels/tires, trued
- JK 8713PP rear tires, trued (still in bottle)
- Koford 3/32" rear axle; Slick 7 0.005" stainless steel axle spacers; Avid ball bearings
- ARP 9-tooth angled pinion, and a set of Parma crown gears, 26 through 29 tooth (initial set-up ratio on the car is 9/29, a good starting point, after that you're on your own… and, like all CMF3 cars, the crown gears are dyed black…)
- JK Hawk Retro motor; not "cherry-picked," this is a "luck-of-the-draw" motor; told Ed at Fast Eddie's Raceway to just grab one off the wall; I broke it in like I always do, and put it in the car… not a lap on it… it could be a rocket, could be a dud, or, most likely, could be a decent motor like most of these… you'll find out after about 20-30 laps or so…
- Parma 1041B Ti22 body with interior and 0.005" rear spoiler; mounted, trimmed, and, of course, painted in aesthetically questionable CMF3 chevron paint scheme, this time in "easy-to-see", or "somewhat offensive", yellow/orange/red tri-colors
- Car weighs 100.0 grams ready to rock-n-roll! Remove the lead weights from the dynamic pans and it weighs 96.6 grams.
 
What does it look like?
 
Pictures! Pictures! We've got pictures!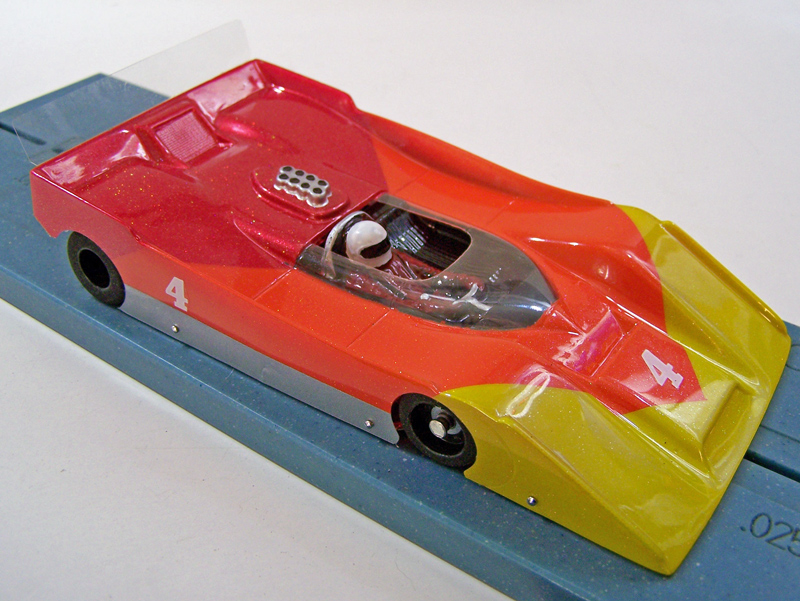 And it could be in your slot car box!
 
Sure, I could have just taken the money I spent on this thing and donated that, also saving myself some time and effort, but that wouldn't have been near as much fun. And, let's face it, slot cars should be fun!
 
Make a donation and have some fun, too!
 
What does it cost?
 
$5.00 (US) = one entry
$20.00 (US) = five entries
 
No limit! Get as many entries as you like!
 
Where / How do you sign up?
 
Step 1:  Go to the UMDF website: https://www.umdf.org/
 
Step 2:  Click on "Donate Now," and make your donation to the UMDF General Fund.
 
Step 3: When you receive your confirmation email from the UMDF, forward the donation confirmation email to me, Rick Moore (AKA CMF3), at: tlrtampa@verizon.net
 
It's that simple!
 
Be sure to include contact information as to your preferred method(s) of notification should you win. You can also include your mailing/shipping address, or we'll take care of that when you win.
 
For every $5 donated you get one drawing entry.
For every $20 donated you get five drawing entries.
The more you donate, the more entries you get! Get lots!
 
What is the last date for entries?
 
Entries (forwarded confirmation emails) must be received no later than Midnight local time (2400 US EDT) at the end of Sunday, September 17, 2017.
 
When is the drawing date?
 
The drawing will be on the following Sunday, September 24, 2017, and will be held at Fast Eddie's Slot Cars and Raceway in Pinellas Park, FL. The GRRR Retro Series will be holding races there that day. Lots of witnesses, for those less trusting. If you get the chance, come on down! But, of course, you need not be present to win.
 
What are you waiting for?
 
You make the donation directly. All the money from entries goes to the UMDF!
 
I'll happily cover any shipping charges; how's that for a deal! I just need to know where I'm sending it…
 
It could be to you!
 
C'mon, you know you want it…
 
Make your money do some good, and this slot car could be yours!
 
How cool is that!
 
Everybody wins!
 
Thanks!
 
Rick / CMF3