2017...
Started by
Phil Hackett
,
Jul 30 2017 11:47 AM
Posted 30 July 2017 - 11:47 AM
Cheater, Half Fast, Mike Patterson and 2 others like this
Click
HERE
to contact Sonic Products. The messenger feature on my Slotblog account has been disabled.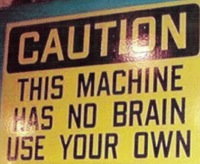 ---
Posted 30 July 2017 - 09:57 PM
A sorry comment on the level of human intelligence today, and truer than we might want to admit.
Cheater and Phil Hackett like this
My neighbors listen to heavy metal... whether they want to or not!!!
---
Posted 31 July 2017 - 02:12 AM
Soon you will be able to watch yourself having an auto accident on your GPS.
Remember the Steube bar! (ask Raisin)
SUPPORT YOUR LOCAL RACEWAY!!
"The denial of denial is the first sign of denial." Hank, from Corner Gas
Nelson Swanberg 5618
Peace be with all of us and good racing for the rest of us.
Have controller. Will travel. Slot Car Heaven
---
Posted 01 August 2017 - 09:35 PM
So I'm just taking out the garbage, and what do I see in the almost empty parking lot next door?
If you guessed, "Two girls boxing, both with real (sized) boxing gloves, while another girl and guy, took videos," you would be right.
They went at it, pretty furiously, for about 15 seconds.
Then stopped, started laughing, took off the gloves, and got in an SUV.
Mike Swiss
IRRA® Components Committee Chairman
Five-time USRA National Champion (two G7, one G27, two G7 Senior)
Two-time G7 World Champion (1988, 1990), eight G7 main appearances
Eight-time G7 King track single lap world record holder

17B West Ogden Ave Westmont, IL 60559, (708) 203-8003, mikeswiss86@hotmail.com (also my PayPal address)

Note: Send all USPS packages and mail to: 5858 Chase Ave., Downers Grove, IL 60516
---
Posted 14 August 2017 - 07:08 AM
A blessing in disguise:  Neurological problems have severely affected my hands with the result that a "touch screen" cell phone is useless to me thus I carry an old flip phone with real keys.  Advantages: Cheap phone, cheap plan (even on Verizon)  Disadvantages:  Since I don't do Facebook, Snapchat or any other social media, none.
EM
Alan Schwartz
---
Posted 14 August 2017 - 08:17 AM
I'm with you Alan.   Also using an old flip phone for something simple like phone calls only, keeps you from being tempted to check online every 4-5 minutes for facebooks, snapchats or other  ways to keep from having face to face live interaction with PEOPLE.
Ecurie Martini likes this
---
Posted 14 August 2017 - 12:46 PM
Alan, I recently "upgraded" from an *old* flip phone (an old Samsung Tracfone) to my sister's unused iPhone 4s. The biggest advantage I find of the smartphone is I can have music with me, I can text (rarely done but is useful when needed) and I can use a map if I'm unsure of the location of an address (another rarity). 
I don't need to upgrade. The 4s is more than what I need.. Yes, I have Twitter and use that app but really only at home and on the weekend when I'm eating breakfast. I'd still have the old flip phone if the carrier wasn't forcing 2G phones off the network.
Click
HERE
to contact Sonic Products. The messenger feature on my Slotblog account has been disabled.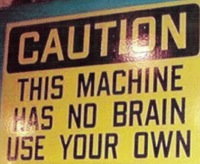 ---
---