GRW ball bearings
Started by
Phil Beukema
,
Jul 11 2018 08:59 PM
Posted 11 July 2018 - 08:59 PM
Are GRW bearings worth the extra $$$?
I don't see any 3/32", flanged and shielded on both sides??
---
Posted 12 July 2018 - 02:37 AM
They aren't worth it until the other ones fail....


Sent from my iPhone using Tapatalk Pro

---
Posted 12 July 2018 - 12:41 PM
Back in the day the GRWs were the best, not because they were more accurate, but they were longer lasting. Group 7 & 27 glue racing is hard on bearings, especially the can bearing. The bearing change interval was about double of the non-GRW bearing. So, while they cost more they may be cheaper to run over the long term.
Jesse Gonzales likes this
Click
HERE
to contact Sonic Products. The messenger feature on my Slotblog account has been disabled.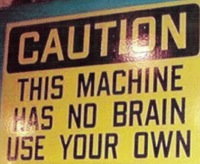 ---
Posted 12 July 2018 - 06:41 PM
Buy the best parts you can afford, this goes for ball bearings or any other part in your car or controller. It only costs a little more to go 1st class.
Jess Gonzales
---
Posted 12 July 2018 - 07:05 PM
Having quality BB's certainly can never hurt, but I've finished races, did well, and took apart motors that were rocketship the whole race, and the bearings were crap at the end (IOW, it didn't seem to hurt the motor's performance).
And I've run motors, noted their time, took them apart, replaced a lousy BB, and they didn't get any faster.
That said, if it was anything that resembled a big race, I would go in with decent bearings, not for speed, but for fear that a crappy bearing would break, and take me out of the race.
If I had XXX amount of time for maintenance, regluing a back magnet, would always take precedent, over replacing a bearing.
Mike Swiss
IRRA® Components Committee Chairman
Five-time USRA National Champion (two G7, one G27, two G7 Senior)
Two-time G7 World Champion (1988, 1990), eight G7 main appearances
Eight-time G7 King track single lap world record holder

17B West Ogden Ave Westmont, IL 60559, (708) 203-8003, mikeswiss86@hotmail.com (also my PayPal address)

Note: Send all USPS packages and mail to: 5858 Chase Ave., Downers Grove, IL 60516
---
Posted 12 July 2018 - 08:16 PM
While I was running open class wing cars in the 70's & 80's, all we used were GRW motor & axle bearings. There wasn't the proliferation of Chinese-made bearings there is today. Flanged bearings were installed using Loctite Retaining Compound 40, unflanged bearings got soldered in with 60/40 .Most of my old GRWs could be used today, if the chassis & setups were still competitive. Back then, Walt Labree of Hi-Pro in CT, was the exclusive East coast importer of GRW bearings. Walt, a Pratt-Whitney Aircraft machinist, had made a contact with them while stationed in Germany with the Army.
tonyp and Jesse Gonzales like this
Bill Fernald
 
"I'm not short, I'm just down to earth."
---
Posted 16 July 2018 - 07:20 AM
Phil, did you get satisfactory feedback? really GRW's are great ball bearings that bear strong consideration for BB motors and rear axles where allowed.
Jess Gonzales
---
Posted 16 July 2018 - 10:07 AM
Thanks, I found some nice 3/32" for $25.
---
---