CMF3 'just for fun' chassis
Started by
Rick Moore
,
Aug 27 2018 10:16 PM
Posted 10 April 2020 - 05:37 PM
That's a killer F1 chassis!
---
Posted 10 April 2020 - 06:53 PM
Dang, Bob, either you're taking notes or you've got one serious memory. LOL

 

The 1305-C and 1236-Cc2, both 1219-Series retro CanAm chassis, had the two converging main rails attach either side immediately lateral of the guide mount (as did most of the various main rails in the 1219-Series), as opposed to intersecting immediately behind the guide mount (as on the above A401-01).

 

Bob, glad you didn't know me back in the 70's, 80's, and 90's; you'd be reminding me of... well... let's not go there... LOL

 

Rick / CMF3
Yes Rick it was from memory, I was at work and didn't have reference to my notes.
I remember the 1305 for two reasons; I had asked Marty about an Iso chassis so he pointed me to you, and the amount of time you ran the 1305 when you were developing new designs every  few weeks.
Bob Schlain
---
Posted 22 April 2020 - 02:05 PM
1405-01; 2D, or Not 2D…
Screw the slings and arrows, take arms with Hakko and Dremel, and suffer another outrageous chassis design, it is 2D…
In this case one of the incarnations of the Chaparral 2D… In this case not the '66 Daytona version (with fin mounted rear spoiler), nor the '66 Nurburgring version (with the "snorkel" intake), but the intermediate '66 Sebring version. Something about the 2D in whatever version I've always liked, but I still don't think I could describe it even after all these years. In any case, and once again, this slot car polycarb body repop version is from that time before slot car bodies became exaggerated standard width/wheelbase bastardizations of race cars (but, honestly, I like the bastardizations too). What that means in this case is this Chappy 2D body at the base would only allow for a 2.625" wide chassis frame, but be able to cover >2.9" width for the rear tires (the track of the fronts was going to be a wait and see what looks better after the chassis got done). That's a lot of cases (all lower, not legal, none with beer…). The question, 2D, became what kind of chassis I wanted to put under it… It's a Chaparral, it should be something different…
And that's when things got weird.
First I decided to make a parallel rail all steel wire frame, with gapped rails filling a drop arm and the hinged side pans, sort of a steel wire semi-"jail door". Next, the main rail framing would extend forward of the front wheel wells to front wings shaped to fit the front of the 2D body, as well as into static quadrangular frames forward and aft of the hinged side pans, and also to extend the framing to fill the front wheel well lateral of the main rail between the forward static side pan and the front wings; those and the other steel wire "framed" sections of the chassis (i.e., not the drive sections, the drop arm, or the side pans) would be filled with thin brass sheet to also give the chassis a pseudo-semi-"lead sled" look to go with the "jail rails". That should look strange. And, to give it all a good swift kick in the rear the chassis would be an anglewinder drive sized for "FK" type motors; for aesthetics I would use the same symmetrical design for the chassis rear motor/drive framing as I had on the open-wheel A401-01 chassis. I decided to throw caution and reason to the wind and use 0.032" wire to frame this chassis. While I was drawing up the rough draft I opted for another strictly aesthetic touch incorporating the "same" framing angles used for the motor box for the framing edges between the static pans and hinged side pans…
And that's when things got really weird…
Anglewinders are either built for clockwise or counterclockwise motors, right? Right. You can't build a chassis for both CW and CCW motors, right? Uh… well… not sure why you'd want to even if you could… but… maybe…
Well, sitting at the drafting board I figured out that I could, if I wanted to... It worked on paper, at least… And then I drew it into the 1405 chassis design, so I guess I wanted to… I've no doubt this has likely been done before by someone and/or another, but I hadn't done it, so done it I would. As I drew out the plan I was fully aware that all my efforts in this regard didn't really matter, as the likelihood of my ever switching between CW drive motors (Falcon 7, PS P-Dog, JK HR) and CCW drive motors (TSR) on this car was about slim to none. Still, it added another bit of odd-ball symmetry, along with pointless functionality, that just made doing it that much more appealing. 
For you military history geeks, this thought process would be a mix of a Farragut "Damn the torpedoes…" and a McAuliffe "Nuts"…
The anglewinder drive on the narrow frame, along with the rear track dictated by the body meant I'd have some restrictions as far as rear tire width, which wasn't a problem as I had originally intended to use narrower tires on this car to see how they'd look on one of these "narrow" body builds; so for the 2D the rears were going to be 0.600" wide 1/32 "Euro" tires, with a 0.750" diameter (something readily available); the fronts would be used 0.225" wide retro CanAm/GTC fronts cut down to 0.6825" diameter (something I have an immediate availability to, and quite a few at that).
I'll leave out all the other weird ideas I had that didn't get included in this build…
And this is how that mish-mash of ideas came out; the 1405-01: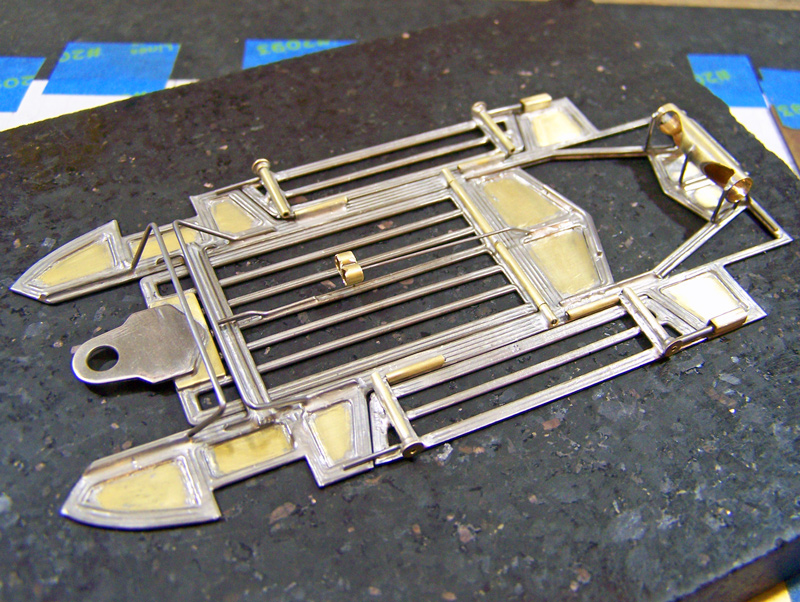 Perchance to dream… Nightmarish looking thing, ain't it?
And that's one short rear axle tube. There were a couple ways I could have addressed the short non-drive side spacer for the rear axle. I could have just stuck in a bunch of 3/32" axle spacers, but that seemed tacky. Or I could have just cut a piece of 1/8" tubing to stick in there, but that seemed chintzy. Instead, and staying true to myself, I decided to make a pointlessly more complex 7/32" tube with ball bearings in each end to fill the 0.28" space. While the value of this accoutrement is certainly debatable, it made me laugh, so it was worth it.
The sissy bar is another oddity on this build. Usually for a sissy bar I'll just run a 2-bend (or 4-bend, if a kink is requisite) piece of 0.024" wire and wrap the ends around the rear axle tube. On the 1405-01 there isn't all that much axle tube to speak of; however, since the 1405 uses the symmetric anglewinder rear assembly with the framed sprocket area making the chassis plenty wide enough, I opted to run the sissy bar from the sides of the chassis rear up and into the underside of the Chappy 2D's spoiler.
When it finally came time to decide what motor to put in this car I went with an old TSR, for no other reason than I just had to have this Chappy 2D with the drive gears on the seemingly wrong right side, where it would be visually bass-ackwards from all the other CMF3 JFF anglewinders. Besides, I can always change it to a CW motor any time I want to… That still seems weird… kind of cool, but definitely weird.
Specs crapola: All chassis framing wire is 0.032"; brass pans are 0.010" sheet. WB = 3.8125", RAX-GPC = 4.4375", GL = 0.625". Max chassis width 2.625"; rear tire track 2.960"; front tire track 2.875". Keeping with the 0.032" wire "light frame" theme, all hinges are 0.032" wire in 1/16" tubing. Drop arm (down) and hinged side pans (up) only move about 0.015" vertical. RTR mass is a mere 87.3 grams.
Oh, yeah, about those 1/32nd "Euro" 0.750"d x 0.600"w rear tires I thought I had… I probably should have taken them out of the bottle… maybe even actually looked at them… forgot I used them a while back… turned out the ones in the bottle were old, used, and only 0.720" d… so, if you thought they looked a little small in the photos, guess what… they are… oh well, not like I don't have plenty of time to get some… picture of an idiot in action…
Paint job, as usual, is another CMF3 "can't see it from my house" (well, actually I can) work of mediocrity. Purists will be only mildly pleased that the body is mostly white, but otherwise largely dismissive. And I'm still too lazy to get any nice interiors, maybe someday, so that pretty much sums that up too. The 3/8" high rear spoiler gave it the "slot car not model car" look; and, to remove any doubt, I left out any interior below the rear windows intentionally so all the slot car weirdness down below is clearly visible from above.
This ill has been borne. Time to fly to another chassis we know not of.
Later, slot car spamlets!
Rick / CMF3
Dominator, boxerdog, Geary Carrier and 1 other like this
---
Posted 01 July 2020 - 06:04 PM
1406-01; Porsche 917
Another one of those bodies I got from Victor/TrueScale years ago (there were quite a few, and still more…) that has been sitting around Team CMF3 World Headquarters (sounds better than "all that crap in the back room"), this one being a beautiful polycarbonate rendition of the 1971 Porsche 917K (listed on the TSR site as the "Porsche 917 TSR" back then). I can't even begin to estimate the number of times over those years I've pulled it out and contemplated yet another chassis for it… but this time I made it stick… probably just need to wash my hands (and/or between my ears)…
Eddie Fleming gets honorable mention, or partial blame, for this one, depending on your mindset. More analogous to: He threw the ball, and I chased it…
The idea for the 1406-01 Porsche 917 sports car chassis grew from the A401-01 Lotus 56B F1 chassis. The 1406 would have the same symmetric anglewinder rear drive section, and the same "V" main rails converging behind the guide mount. To expand the frame width in the rear there would be another wider angled "V" in the frame running from center line forward of the motor box to framed static pans forward of the rear tires. Front and side chassis components would be taken from the 1237-Series designs; front wings, triangulated side pans, buttress rails, and front axle rails. For aesthetics, the common medial rail of the front wings / side pans was given a slightly greater angle in relation to the mid-line, making this rail parallel to the main rails. On the 1406 the buttress rails and FAR's are full lateral in position, adjacent to the "side pans" (at the same angle as the main rails and side pans). This full-lateral buttress rail placement is a variation on the 1237-Series that needed to be tried, the thought being it would be better to work it out on a JFF build, and more fun (readers of that other annoying thread of mine take warning… there's a lot of poop going to hit that fan…). As such, and despite some reservations, the chassis frame would be made using 0.032" wire.
This 917 is a weird animal for a slot car body. Over the years I've considered all manner of dimensional possibilities for this thing, but, not surprisingly, I wanted it to be different, and it was obvious it would be different no matter what. On the 1406-01 the WB is only 3.625", with a RAX-GPC of 4.375", making the GL 0.75". That's SHORT for a 1/24 scale car, and especially so under a body that is 6.75" long; there's A LOT of rear overhang on this puppy. On a matter of lesser concern, the 917's body sides have a slight concave curve between the rear and front wheel wells that would need to be addressed and built into the frame sides.
Tires were another matter. Regular 0.8125" d retro tires in the rear just didn't look big enough for some reason; so I went for BIG, using some JK 8785's trued to 0.875" diameter. At that point it was between the wide 0.8125" d retro stock car fronts, or 0.75" d retro F1 fronts; the F1's got the final nod.
My thinking going into this build was that everything about it was all wrong… like that would stop me…
This was going to be fun!
It was! The 1406-01 Porsche 917 TSR: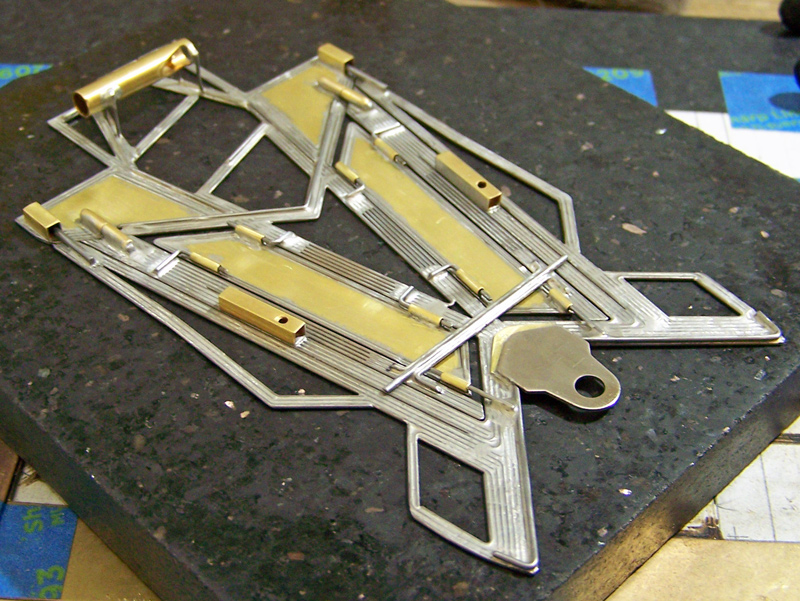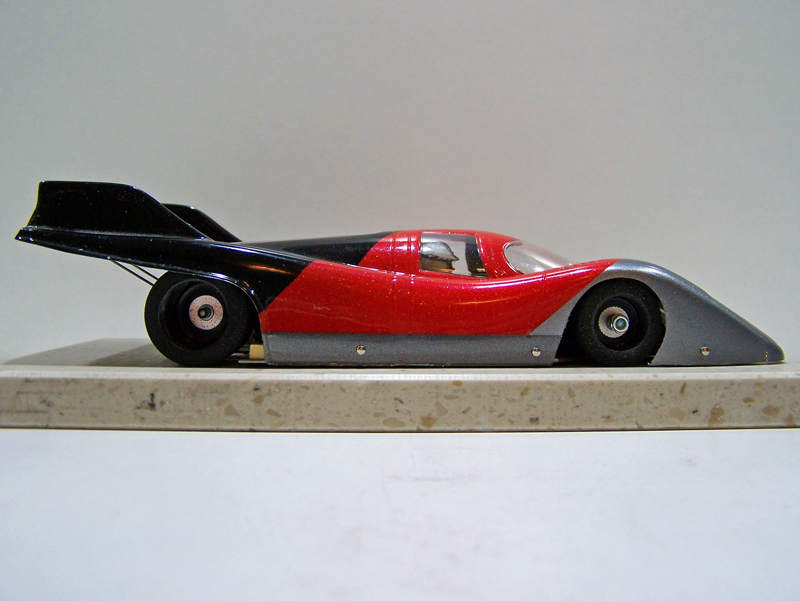 I put 0.024" wire framed 0.010" brass sheet dynamic pans on the 1406-01 between the FAR's and the main rails, with more fore-aft travel than usual, thinking this might help offset or dampen some of the small-wire short-frame with big tires problems I kept visualizing. Who knows… The rear static pans are 0.032" brass plate.
With the body's long rear overhang (approx. 1.56" behind the rear axle line), I considered building some system of raised wire support struts extending from the chassis rear from which to run a sissy bar to the rear spoiler, so that it would be vaguely similar to the actual 917K. Eventually I decided that would be too much junk-in-the-trunk of this thing, and resorted back to a simpler-smaller 0.024" wire sissy bar running from the rear axle tube.
For ponies, I had some PS 4002-FK's sitting here at the CMF3 Skunkworks, and this seemed like as good of a car as any to use one. All buttoned up and ready to run it came out to 101.3 grams.
The way the body was popped gave it a "rear window" that doesn't exist on the actual 917K. One plan was to cut it out and place a piece of lexan underneath, without any attempt to put in something to look like the 917's cooling fan, instead painting it a translucent anodized silver (like I had on the rear deck "panel" on the Competition Asp) so the slot car bits underneath were semi-visible. But the more I looked at it the more I wanted to keep the shape of the "pop", leaving this "window" in place, opting not to leave it clear but going with the translucent anodized silver to accentuate the fact it isn't supposed to be there. Not being a purist I had no problem with this minor discrepancy. I still like the way it looks. Other opinions may vary…
So, along with that, another mind-numbingly unimaginative CMF3 tri-color chevron paint job of mine, using bright gun metal, metallic mica red, and black, with gun metal side pods, and translucent anodized gold for the headlamp covers. The interior I found for this is old, obviously used, and just happened to fit. You're welcome.
With all due consideration of my own circumstances within the current epidemiological event, I do not have the option to be nonchalant regarding the matter, so home is where I'm at for the foreseeable future. Guess I'll while the hours away with the tunes cranked up and building some more chassis… what a shame… We'll see if the opportunity presents itself for a quick excursion to Fast Eddie's to throw some more moolah into his coffers...
That's coffers, not coughers…
Stay safe, and have fun.
Rick / CMF3
---
Posted 01 July 2020 - 07:30 PM
Ill proudly tale the blame on that one Rick.
Beautiful car and work. 
Eddie Fleming
---
---