There have been some changes since 2018.   The guys I race with are all 70+ and never ran slot cars till about 4 years ago.   We ran hard bodies at the local track which was a moderate punch bowl.   They managed to run  fair on that  track.    On my track they had a hard time getting thru the flat corner without coming off and taking out other cars.    You can't teach an old dog new tricks.   They just  couldn't get around it, so I cut it off.  I replaced it with a curve that has a little banking and 5 inch lane centers and a 6 inch wall!   That has worked much better.
  I also added a couple extra walls coming down the main straight for about 6 foot.  Those hard bodies hit the floor and you can count on them breaking.  We'd probably lose one  every session.  I switched over to vac bodies and soldered bumpers on all the cars to protect them.   Since all the guys had mostly H&R cars, I used  their existing chassis with new bodies.   They took impact much better and handled much better than top heavy hard bodies.  That all made it easier for guys to get around the track.      I build and maintain most all the cars so it saved me a lot of work.  All the motors are the $2 imports that are about  26k rpm fk 180's. All the chassis are H&R, LVJ, and other solid brass flat chassis.  No moving parts on the chassis.  I do have a DS lap counter/timer installed and I test every car on a clean orange lane and try to get a fast lap time of 4 seconds.  All the cars run nearly identical lap times.
  Last improvement was stapling fish pond netting over both infields to catch cars heading for the floor that way.   At the same time I added second controller stations outside  each end at at the start finish line about 10 foot from the bank.   I did this when we started racing again in June. With that distance and masks we felt pretty safe.   When a guy we know got covid and 2 of our group met and ate lunch with this guy several times a week, the rest of us figured we better take a hiatus again, so we haven't raced since Sept.  We're about all signed up for vaccine by the middle of Feb, If that works out we think we can race again in March if we just wear masks and be careful.  It will be good to get everybody together again.
We race for fun and with the formats we use we run 50-75 races a night and everybody wins some. I think I have our basic formats and rules printed up.   If I can dig  them out I will past them in another thread.  We have 6-8 guys race most weeks and the guys not racing become the race director and thee the catcher at the flat end.  the catcher picks up a deslotted car to keeo it from causing a wreck with others. He puts the car back on when that race is over.
Here are some of the hot rod style cars we race.  Mostly all open wheel coupes or roadsters.  Not great detailing, but I maintain about 40 cars all together so they don't get much detailing and everybody is happy.
We are not sophisticated slot car racers, just having fun like most of us did when we were kids.    
Hot rod style cars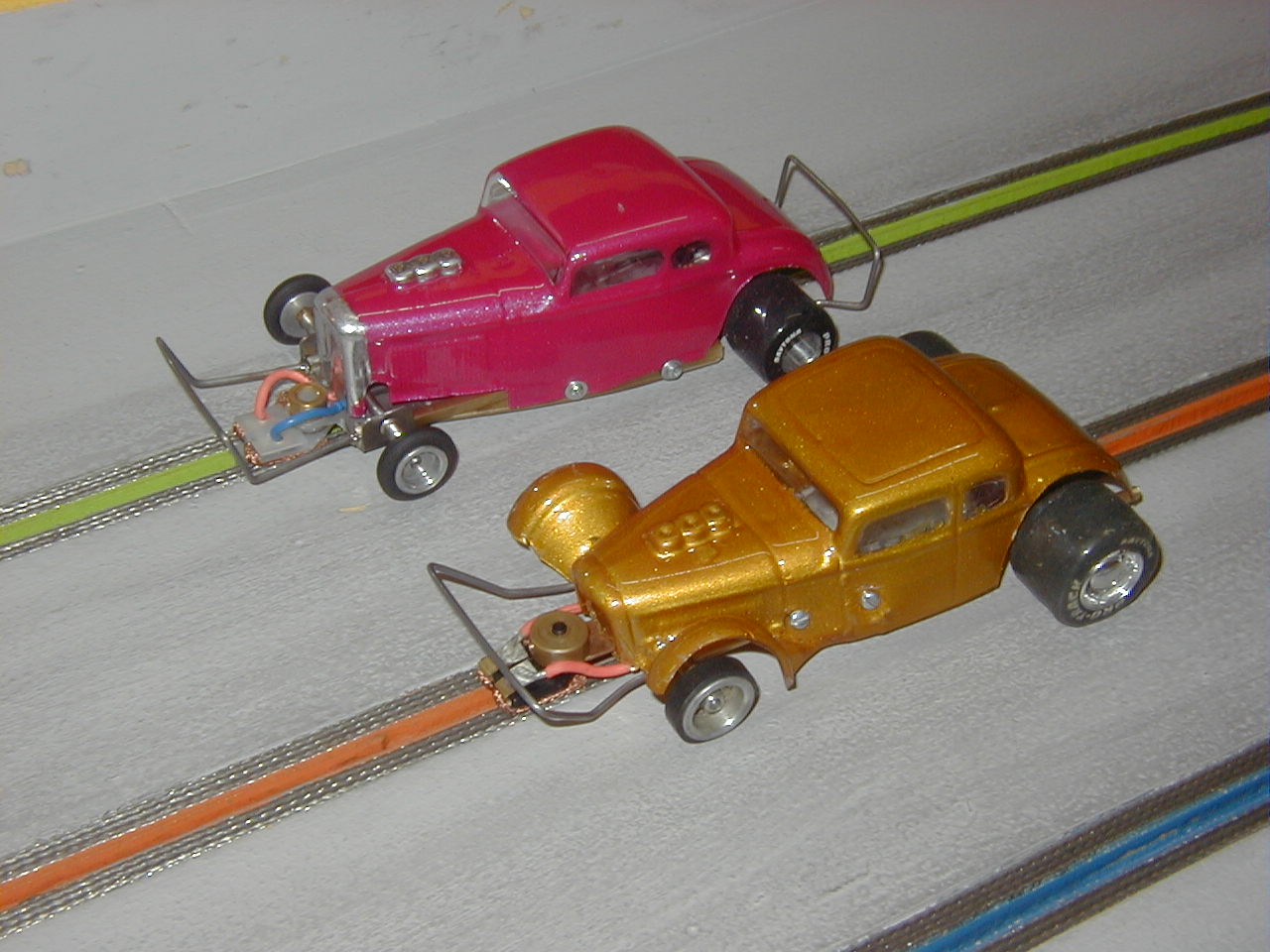 The red Mustang runs in what we call pony car class.   Camaros, Mustangs, Vettes
My favorite type of car which I only run with one other guy who is an experienced racer.