I'm generally of the mindset to throw it against the wall and see what sticks
I made some extra bucks as a proxy landlord in Santa Ana, ~'73 or so, in a little fourplex within spitting distance of El Toro airbase. One of my more interesting chores was cleaning up a recently-vacated apartment, where the lessor was in the habit of tossing a strand of spaghetti up to the ceiling to test for doneness; and then didn't bother to take it down. For many years, evidently.
Anyway, applying this test to our chassis would mean--they're ready to eat.
OHH KAAY.
So:
Got some very satisfyin' building time in today, to the temporary relief of the Dust Bunny Militia currently encamped in my living room. I put up a new IRRA Roadkill F1 chassis, based on that long conversation with tonyp that I mentioned earlier:
The idea here is to date the vertical flex from a point just for'd of the motor, & use multiple rails to limit horizontal flexure and twist. Reasoning that two rails are twice as multiple than what I've been using, I dug into the .055" tube and went crazy. Other pertinent numbers are: bracket, rear plate & guide tongue .050" stock, pans .040" & center pan .031".
Funny how few 1/16" single-rail chassis we see anymore--smaller, multi-rail is the current fashion. This one splits the difference, really for no good reason. I want to see what happens here, and then think about what to do next.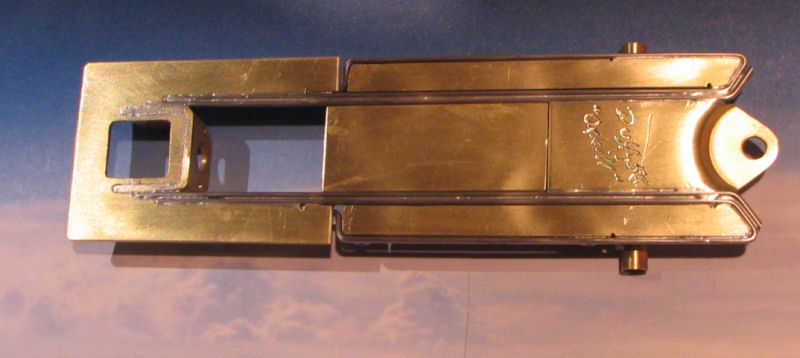 See the little notches in the side pans: they limit how far the solder joint wicks along against the perimeter wire. --Mostly. You see the left-hand outer side, at the bottom of this pic, my wick was a bit more persistent. I've broken it loose and routed it out with a razor saw, but candor forces me to tell you it was there once.
Unfortunately I can't get to the track this week to play with this. I'll tell you what happened next week.
Duffy