Building the R-Geo Shark F1 (update: newest version tested)
Started by
JimF
,
Apr 12 2016 01:05 PM
Posted 28 April 2016 - 11:14 AM
You can get .047 brass from K&S

---
Posted 28 April 2016 - 11:39 AM
Very interesting design.  I'm thinking maybe replacing one of the brass rails with a steel one and then soldering them all up might work nice.  If I may ask, where did you get the 047 brass?  

 

Looking forward to seeing how the testing goes on this one...
Yeah......me too.......I'm thinkin' could go either way. I suspect that I may be working toward more of the rails soldered up as I go along with it.  BTW, as Cap mentioned, .047 brass is a stock size for K & S (labeled as 3/64").
Jim Fowler
---
Posted 28 April 2016 - 12:14 PM
Are you installing center pan ? That would stiffen it up some? Maybe? I think its going to good....I have ideas too but don't want to change your thought process on this.
Rick Bennardo
"Professional Tinkerer"
scrgeo@comcast.net
R-Geo Products
LIKE my Facebook page for updates, new releases, and sales: Rgeo Slots...  
Lead! The easy equalizer...
---
Posted 28 April 2016 - 12:52 PM
Yep, center pan is made up and ready. The way I build 'em, I don't think the center pan stiffens it up much because the center crosspiece is free floating. If I soldered that up.....then it would be stiffer fershure.
Jim Fowler
---
Posted 28 April 2016 - 12:59 PM
A little more on what I was thinkin' here. The Samson rail configuration was a fantastic innovation from Dennis. It always works and the combo of brass/bronze and steel unsoldered is great. However, it is pretty stiff. So......if the damping properties of the brass can be preserved while getting a more flexible/bitey frame......maybe all to the better.......Uhhhhh.....Maybe.
Jim Fowler
---
Posted 05 May 2016 - 01:27 AM
First tests on the latest version shown in post #23.................
Test venue this day was Fast Track Hobbies in Rocklin Ca. I didn't have time to get to Motown in Modesto to recreate the first test and besides, the tracks at FTH offer their own sets of different challenges. Here are the two test tracks.........................
Speedway track is the "Purple Angel" this is about 165' lap length and is (I think) unique. Most of the turny section is interconnected so the car is more or less continually changing direction. The high bank is at the beginning of the main straight and direction of travel is right to left down the main straight. FTMP this drives like a very fast flat track and it is faster in lap times than both of the King tracks in our area.

Flat Track is the "Yellow Dragon" and as can be seen here, this is a technical challenge for driver and car. This track is about 135' in lap length.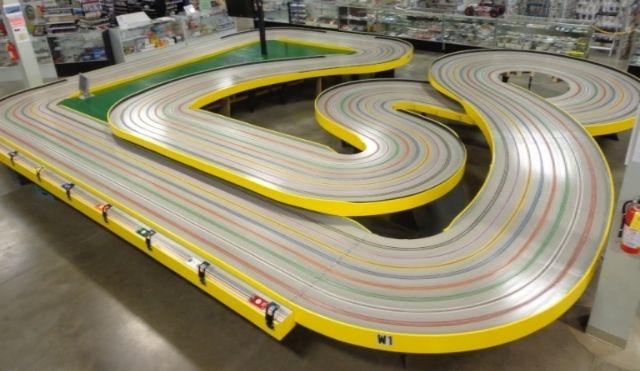 I started on the Purple Angel intending to test with a Retro Hawk. However, conditions were very dry and loose. I took a flexi car and glued the tires and ran it, glued and ran, glued and ran, glued and.......well you get the picture. Eventually, I got a lane to sort of work with the RH but it was still hard to tell what the car was doing so I put in a Mini Brute and the slower motor allowed the car to work pretty well. I took the three cars shown below and tested each car with the same motor, tires, gear set and body. We have raced F-1 with Mini Brutes on this track in the past and the best race time that I recall was about 5.38 sec. with good track conditions.
Test cars...............All cars tested in light configuration with center weights out as shown. Mini Brute motor, 9-28, JK 8703 PP tires, Parma Matra body.
Left = R-Geo "Toronto" concept car.
This is a multiple winner on speedway tracks. Best time here in past was 5.38. Weight 96 gr all up.
Best time = 5.48, best 5 lap sequence = 5.50 - 5.60. Good, considering conditions but a little twitchy and hard to hold on to.
Middle = Shark  "Hybrid Rail #1".
Proven flat track winner, never tested here before. Test weight 104 all up.
Best time = 5.53, best 5 lap sequence = 5.53 - 5.58. Not quite as fast as Toronto but better race car.
Right = New Shark (Hybrid Rail #2?)
Never tested anywhere. Test weight 100 all up.
Best time = 5.42, best 5 lap sequence 5.43 - 5.48. Easiest to drive of all three and fastest. Most stable of all cars in bad conditions.
Retested with center weight in - 112 gr all up. Best lap 5.48, best sequence 5.48 - 5.55. Slightly slower but still second best car.
----------------------------------------------------------------------------------------------
Flat track testing: If the conditions on the Angel were uhhhhh.......challenging, the conditions on the Dragon were great. This is a fairly new track to me and I've only raced on it once but I've worked on it pretty hard. My best race time with an F-1 in the past is 6.08 sec. I wanted to test three cars but time wasn't there so I only did two. Test cars as shown below with center weights in place. Same running gear as above except 9t pinion swapped out for an 8t.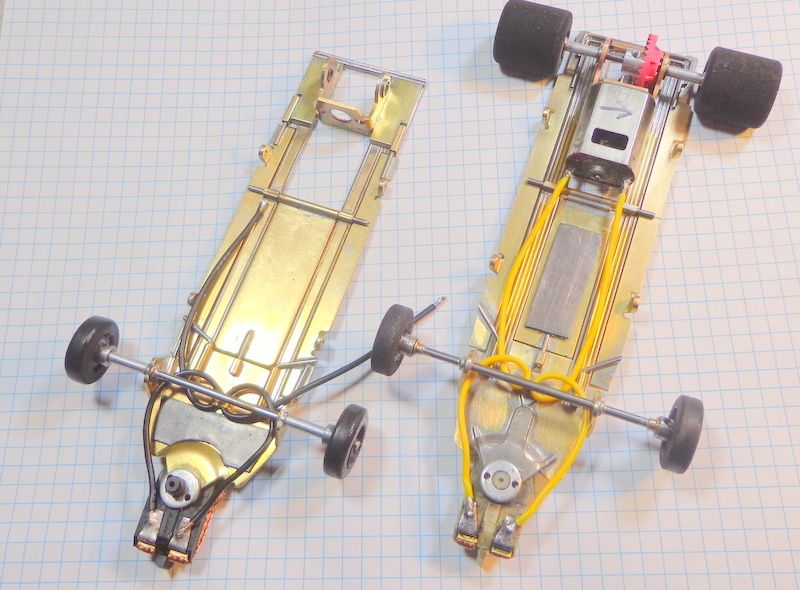 Left: Shark Hybrid rail #1. Test weight 118 gr.
My most recent flat track winner. Very good on technical type tracks, never tested here before.
Best time 6.08, best 5 lap sequence 6.08 - 6.14. After testing this for 30 laps, I thought "Wow, I couldn't ask for better"
Right: Shark Hybrid rail #2. Test weight with center weight, no lead 113 gr.
Brand new car, first laps on a flat track.
Best time 6.04, best sequence 6.07 - 6.13. Easier to drive and more stable than Hybrid #1
Added lead on the center plate to get weight up to the 118 (same as Hybrid #1)
Best time 5.98, best 5 lap sequence 6.03-6.04
Obviously, this car needs more testing and tuning but for first go out of the gate....excellent. We have an F-1 race on a speedway track in a bit over a week. This car along with the Toronto will get set up in speedway trim for that race. I don't plan to full solder any of the rails until I've tested this car on other tracks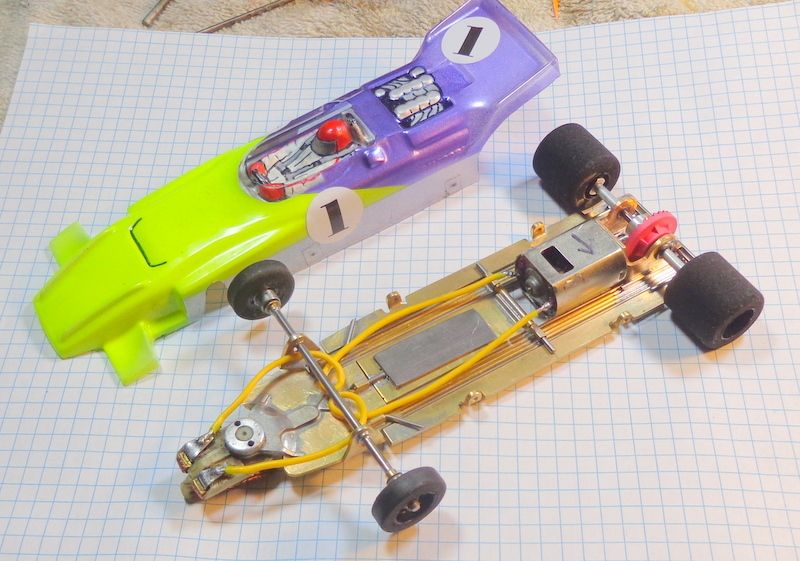 Tim Neja and George Kimber like this
Jim Fowler
---
Posted 05 May 2016 - 10:13 PM
JIm, excellent report! The Hybrid#2 with the brass/wire combo is coming along nicely. IMO I was thinking the 2 brass rails soldered and wire rails open, but now I am second guessing that thought. Now you have more wondering if more rails will be better still? but I think you may be maxed out, maybe could squeeze one more .039 rail inside?..............
Rick Bennardo
"Professional Tinkerer"
scrgeo@comcast.net
R-Geo Products
LIKE my Facebook page for updates, new releases, and sales: Rgeo Slots...  
Lead! The easy equalizer...
---
Posted 05 May 2016 - 11:49 PM
There is no more room inboard for even an .039. My micro rail car has two inboard of .039 and the motor just fits. One of .039 and one of .047 won't make it. Of course, for more rails, one could go outboard and narrow the pans, but keeping the pans stock.....5 of .047 or 7 of .039 is max.
I'm interested in more rails as well. I immediately started thinking about more rails in a Can Am configuration. Possibly 7-8 rails/side of .047...........say a 3/4" bracket, then......two wire--three or four brass--two wire. All open for starts, then maybe solder the wire pairs leaving the brass open.......or???
As far as this one goes, there's more to do yet. With three middle rails of brass, one (center) could be replaced with wire. (wire-brass-wire-brass-wire) (or), the inboard wire rail could be soldered to the inner brass rail, (or) outboard wire to outer brass. Before I start messing with it though, I want to test it with a stronger motor and on a faster track.  
Jim Fowler
---
Posted 06 May 2016 - 08:39 AM
Jim,
What is the rail build up of the Hybrid rail 2 chassis. In your opinion is this the better configuration for a flat track?
Rod.
Rod Morrison
---
Posted 06 May 2016 - 11:48 AM
Rod:
If you mean what is the rail size, it is 5 X .047/side. Counting from the inside out, it is one of piano wire, three of brass, one more of wire. So far this rail configuration on this particular car, has proven very good on the one flat track tested on that particular day. However, I have several others that are excellent as well so saying it's better sort of depends upon the individual track on that day and also what you are comparing it to.
Jim Fowler
---
---