Received on my front step last night at 6:30 and I worked on it until 10:30 assembling the chassis and taking pictures. The following is my thoughts and a basic assembly review. That is part one. Part two will be later and involves mounting the body, paint, and detailing. Part three will be a road test and part four... the "hop-up"!
Initial look at the box art shows this to be beautiful! Vintage colors, no expense spared on printing and packaging.
Parts under a blister just like the old days... and still hard to remove from same...
Two types of window glass are provided: injection molded clear (including headlights) and vacuum-formed and tinted full glass. This is handy as there is no provided interior details whatsoever.
Decal sheet seems complete and is extremely well printed. Appear thin enough to disappear under clear coat... that is if I plan to go shiny. Frankly, I plan to go period dirt track.... but that is later.
Little baggies of parts...
Two-piece guide? Some assembly required here...
In this day and age, why AMT engineers choose to re-invent the wheel I do not understand. But... it does go together with little fuss and seems like it'll work fairly well.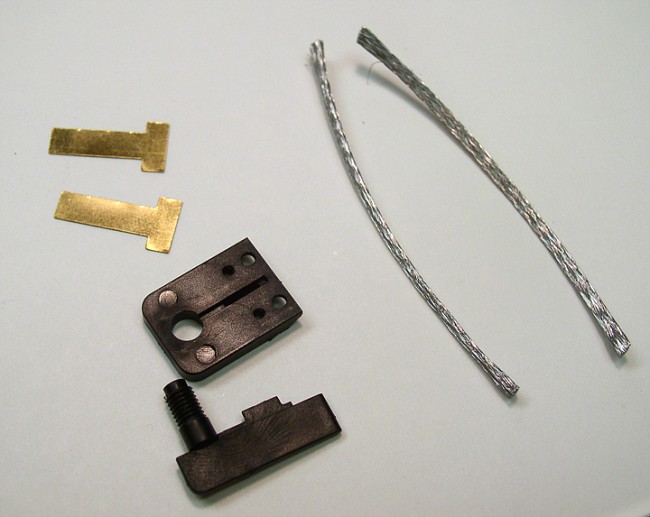 The guide is after all, patterned after Parma almost to the dimension. Nice that the threads go all the way down though eliminating the need for a threading tool. Parma item will not fit the chassis without modifications to the chassis as we will see later.
Wheels are plastic/nylon material. No set screws. They press fit onto the axle like some of the 1/32 kits do.
Inside dimension just about perfect for a set of inserts. Tire are soft rubber and will provide fairly good traction with this motor. Front and rears are the same material and all four wheels same size.
Motor has little markings and the magnets are no where near as strong as those in a TSR motor. However, spinning up on the tester shows it to have plenty of torque. This explains why it comes with a 3.75 to 1 ratio. The aluminum adapter is there to convert the motor screws from vertical to horizontal. This is interesting to me. Why not simply make the chassis with horizontal holes in the first place?
But... that means it fits this motor with no mods...
This motor, BTW, is in my hop-up kit for part four!
Continued...