Tho't I'd show a bit of masking magery.
Sometimes these things don't dawn on us. I've done a similar procedure when applying tissue markings to my flyer models, but it only came to me tonight that I could do something like this here.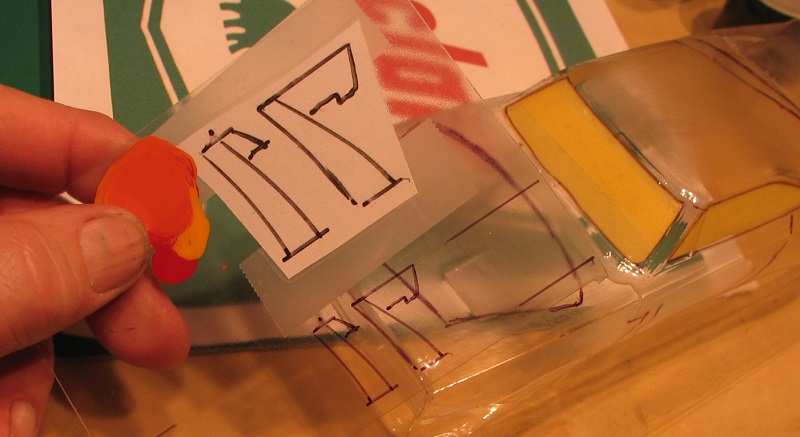 I wanted my race number to be large & brassy and in my "second" color, so it's easier to mask & spray than to match afterwards. Too lazy to go into a graphics program & work up a full template, I just sketched a 71 in my "font" on a clear scrap; flipped it over & laid tape on the backside and hey!presto, instant reverse mask.
But first, I ran a 150% copy (even my cheep Canon desktop printer has a front-panel function for this, look around on yours) for my rooftop number: just lay the clear scrap backwards on the tray and you get a reverse.
This gives me a pretty good match of "font" and proportion throughout all the numbers.
The roughest part was laying the things in on the inside of the shell so they lined up; but as long as the tape's in a relatively smooth spot & not over some really distorting bump or other, it won't hurt to pick up & reposition several times: in a flattish area the tack will be enough to hold when you spray.
Duffy