A while back I was asked if I had time to build a car for someone. Things were getting quiet and I needed the money so I said yes. During the intervening 2 months jobs flooded in and the side job at the sign shop increased my hours.
Now I am booked solid with plenty of new projects in the pipeline. 

The most close to completion is an Ed Lewis sidewinder that will be painted soon as I can figure out what he put on THIS CAR:


The article in the June '70 CM doesn't show a pic of the finished car and my feeble collection of Car Modeler and Model Car Science didn't pull up a race report showing the body that was mounted on this chassis... or ever a glimpse of a painted Ed Lewis body.

So... I appeal to you, my faithful audience to please post whatever your grey matter can recall. Thank you. 
 

In the mean time, I started cutting brass....

The amount of info I know about Champion motors can be written on my thumb nail.
This motor can and endbell have good clean bearings that show little to no use.  The color of the endbell is unknown since the Electric Dreams Historical site doesn't call out dates and the info... while useful... is a bit lacking.
Sorry Doc. P.

The arm is a nice REHCO/Mura/Certus item that looks to be about a #24 single. Not super hot... but clean and useful since I have no decent Champion arms available.
Brush tubes will be swapped out for big foot brush tubes as were the norm at the time.



FASS gear and rear axle tube ready for assembly.

Installed.

I don't know about you.... but it's going to be a Bi*ch carving a relief in that magnet.....
 

Time to 'get Jigged up'....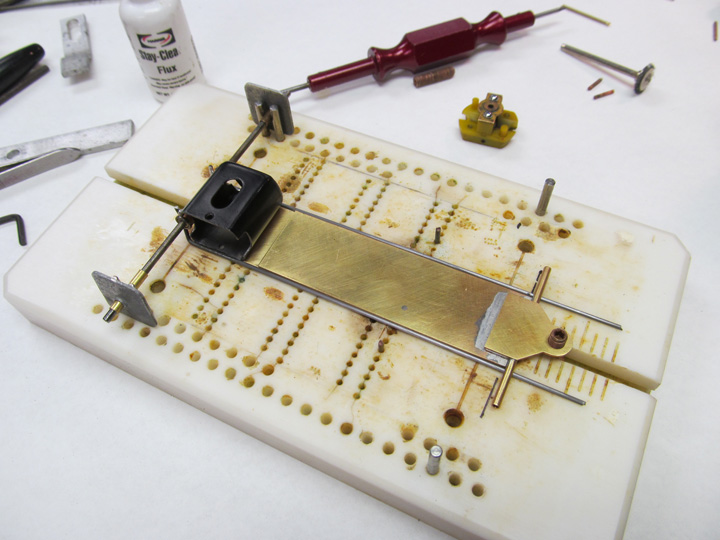 Please stay tuned...