A216-e2
Time to move on to the next chassis in the F1 progression.
After much (way too much) convoluted contemplation, I made two changes in this design/build progression step… Let's see if I regret it…
The big change, the "planned" one, on the A216 from the A214 is the incorporation of Front Axle Rails (FAR's). Unlike the 1239 et al (with each left and right FAR having medial and lateral rails flanking each buttress rail), the FAR's on the A216 are 3x wire single rails only lateral to the buttress rails (the buttress rails positioned more medial to allow location for the FAR's), and the left and right FAR's are connected with a spanning rail. This adaptation was done largely due to the space considerations of the narrower F1 chassis. This also allowed the continued inclusion of dynamic pans, which on the A216 are 0.032" brass plate (instead of the A214's 0.010" brass sheet backed with 0.032" wire).
The second "unplanned" change was, while keeping the wheelbase the same (3.875"), to increase the RAX-GPC and guide lead by 0.125" (5.00" and 1.125" respectively), hence the "e" in the chassis designation. There are numerous reasons I've been wanting to try this on a F1 chassis with FAR's, but the leap in the progression was spurred on by some mathematical guess-timations that were telling me the RTR A216-e2 might weigh as much as 105 grams, which got me thinking a 0.032" wire framed version (A216-e3) just might be possible… that's a big "might", but this was worth the jump to investigate that possibility that I previously I thought would absolutely not be possible… So much for absolutes…
Anyway, the A216-e2 looks like this: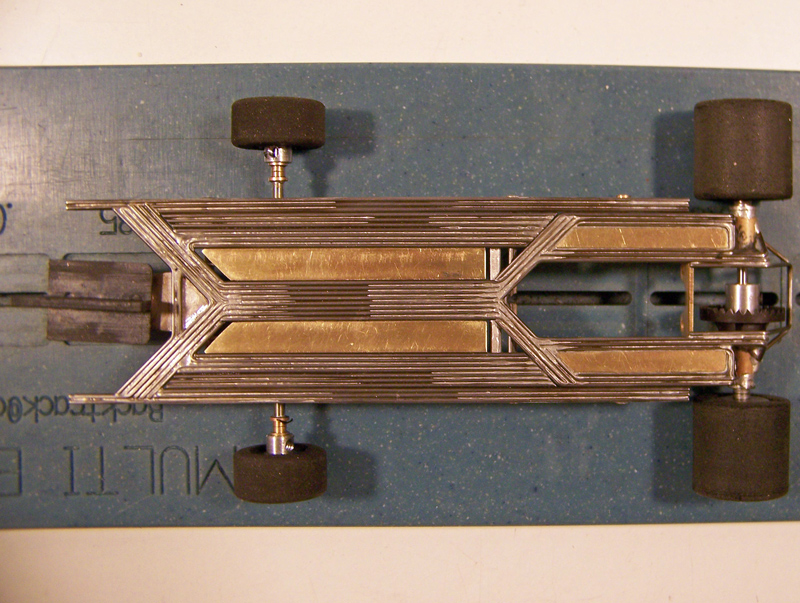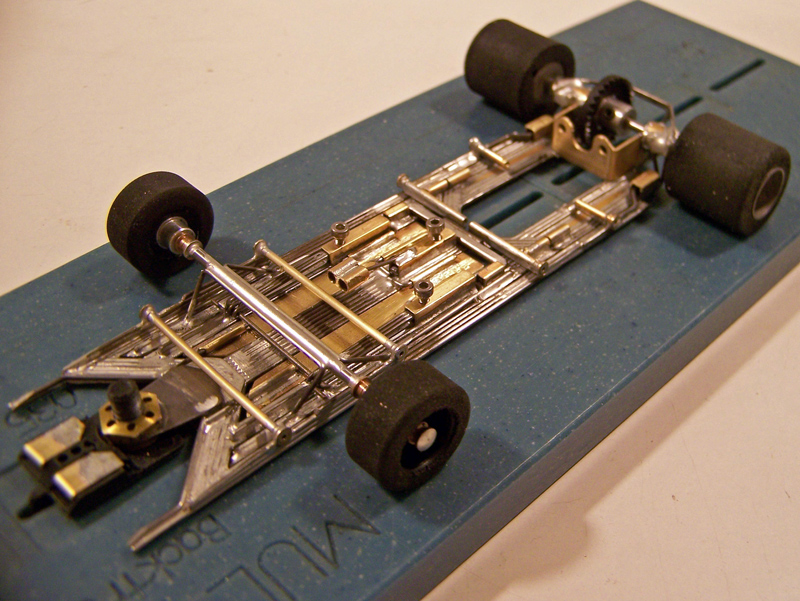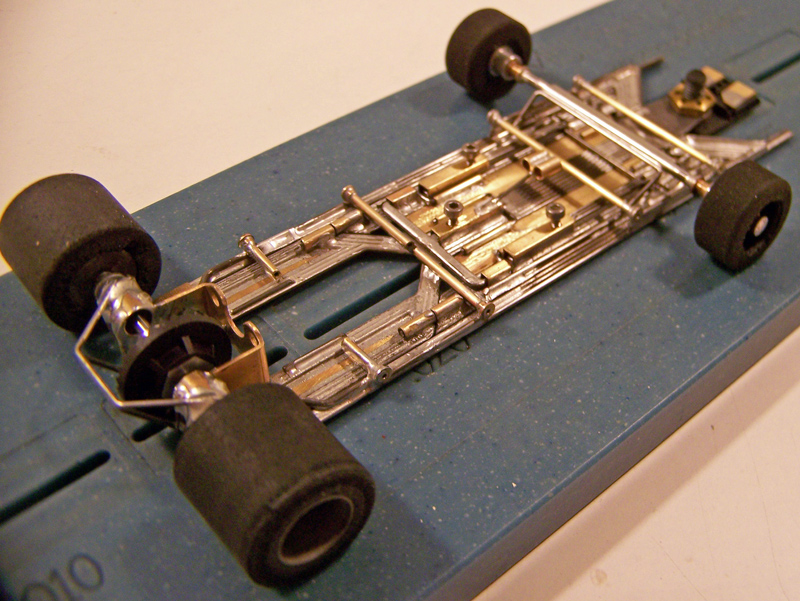 Now for the big question; envelope, please: The 0.039" wire framed A216-e2 RTR car came out to 103.3 grams.
I'm guessing a 0.032" wire framed A216-e3 might be in the 96 – 98 gram range… or about the same as the A214-c2… This just might be a real possibility…
But first things first…
Test run:
Simply put, the A216-e2 is every bit as good as the excellent A214-c2, with the exception that it is easier to drive… which I found hard to imagine… but there it was. The lap times are very comparable, with the A216 only about 0.01s quicker (despite having a motor I never thought was worth a flying… uh… rhymes with lap…), but able to turn fast laps even easier and more consistently than the A214… seems weird saying that. And that was "out of the box". There will be more testing and tuning, certainly.
Hmmmmmm… 0.032" wire…
Rick / CMF3