This is my first new build in some six months and my first posting with my new (finally) computer. This new car is both longer and stiffer in flex than most of my other recent stuff. It is also my first full scratch in a while (I've been using kit nosepieces and sometimes the kit pans)
This is a 4x1 inch wheelbase built with fairly rough track conditions in mind. My theory being that shorter and more flexible may be marginally faster on smooth tracks but possibly tougher to drive on rough ones. This is ready for some clean-up of excess solder, a stint in the tumbler, and some testing.
Top view shows the JK offset bracket and S7 guide tongue. Rails and all bracing is .078". Flat plate in front is .032", weight tabs at rear are .063", hinged pans are .016". This car will hit the track at about 118 grams with a TSR motor and this O/S #414 Ferrari.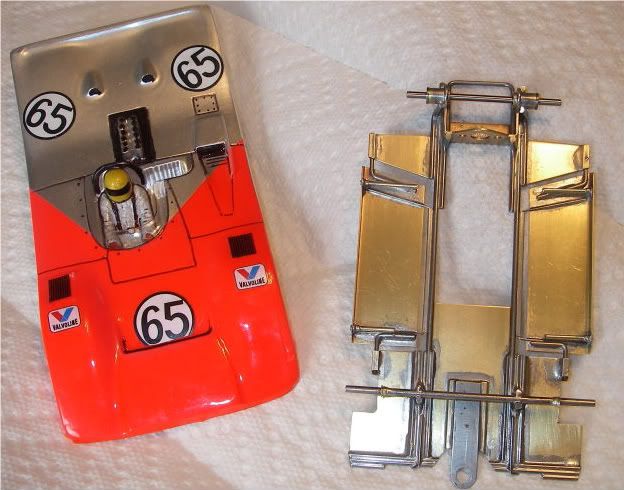 This view shows the combo bracket brace, weight tab inside the bracket. The pan retainer tubes shown here are 1/8" sq. tubing with the stop bar being .055" wire.
Front end setup shows a very long nosepiece and long .078" upright bracing. The little notches in the center slab are where the solder joints stop. I can go back and solder up the rails behind these notches but I think it's stiff enough as is.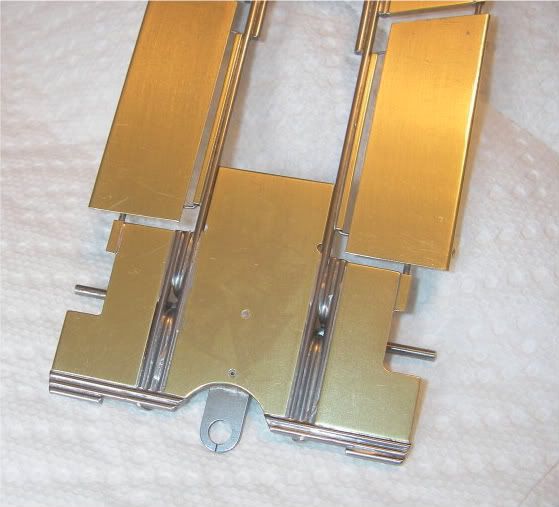 I know this won't be
bad
but it may not be
good
either... we shall see.